As the world continues to evolve and traditional work norms begin to fade away, many members of the workforce are working from the comfort of their own homes. According to a
2018 study conducted by CNBC
, 70% of people globally work remotely at least once a week, while 53% work remotely for at least half of the week. This drastic increase in telecommuting has put home office interior design on the forefront as people start to look for ways to make their work spaces more comfortable and dynamic. 
In recent years the link between design and psychology has been the focus of home office interior design trends. As new information comes to light about the effects of your surroundings on your mind, people are looking for ways to increase their productivity by incorporating certain elements into their office space. 
Having a well-designed home office can drastically increase your productivity, leaving you more time to do the things you love in your home. Here are 8 home office interior design tips for creating a stylish and motivating environment to conquer your workload. 
.
1. Location
Finding an area of your home that facilitates focus, productivity and comfort is essential to creating a well designed home office. You'll want to choose a location that has limited distractions, and with solid air flow and good light.
If you work better in silence, you may want to consider being tucked away in a quiet corner of your home. While if you work better with a lot of activity around, you may want to station your workspace in an area of your home with more traffic flow to simulate a bustling office.
If you plan to host client or partner meetings from your home office, make sure you have a large area with ample seating to accommodate your guests. Many factors come into play when choosing the location of your workspace and it really comes down to your personal preferences and work style. 
2. Storage
Home offices can quickly become a cluttered mess of loose papers and tangled cords without the proper storage solutions. Having plenty of deskspace, shelving units, and file cabinets can help you stay organized and increase your productivity by saving you the time of searching for that one bill you know you saw in a pile of paper somewhere. When it comes to home office interior design, your storage solutions should make your life easier, not more complicated. Try to find office furniture that is both functional and fits your personal tastes to make it both inspiring and practical.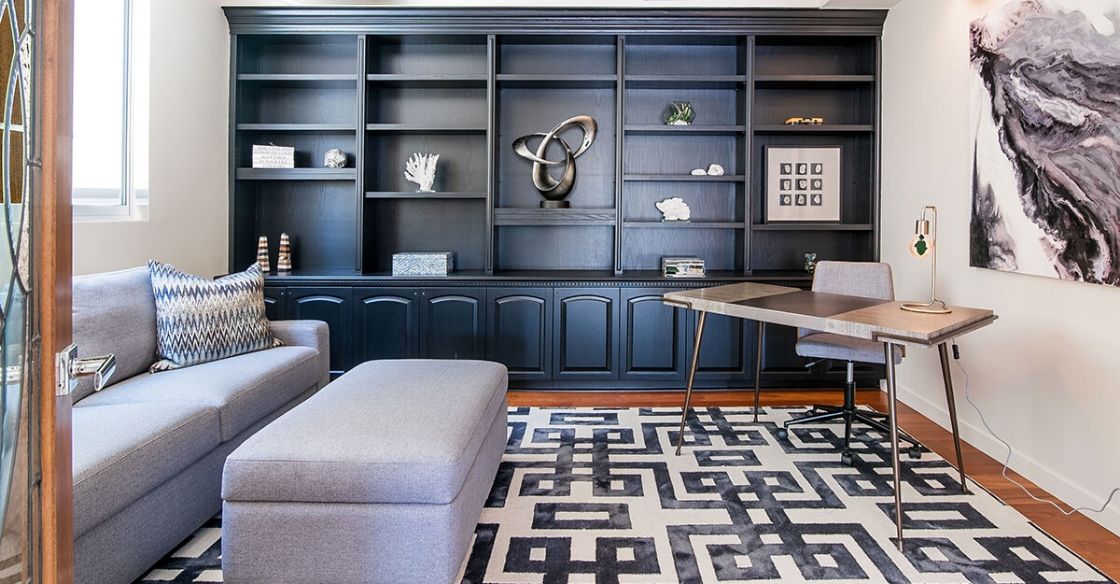 3. Shed some light 
Dark and stuffy areas are not conducive to your productivity, happiness, or health when it comes to home office interior design. According to a study conducted by the Department of Design and Environmental Analysis at Cornell, those exposed directly to natural light in their workspaces reported an 84% decrease in eyestrain, headaches, and blurred vision symptoms. Natural light also has the ability to improve overall mood. With this in mind, try incorporating skylights, large windows and other sources of natural light into your home office space as much as possible. 
4. Invest in your desk chair 
Approximately one third of our lives is spent in the office and most of that time is spent sitting at a desk. For this reason, the desk chair you choose can have a huge impact on your health, comfort and productivity in your home office. Splurging on an ergonomically sound office chair is worth every penny and your back will thank you down the road. 
5. Organize your tech
Working from home requires your tech to be in tip top shape at all times so that you can easily communicate with your coworkers and clients. Investing in a quality split screen desktop and multifunctional printer will really add a flair of professionalism to your home office interior design. A mess of tangled cords can make an office feel cluttered, so be sure to use cord winders, tubing or wire organizers to keep your cords organized and safe from pests and damage. 
6. Get inspired 
Incorporating inspirational materials within your home office interior design can help you stay motivated while working. Because you have the creative freedom of designing an office all for yourself, your inspirational accents should be completely unique to you. You may want to put up motivational quotes, portraits of your career icon, artwork from your children, or little notes from your loved ones. Integrating anything that inspires you into your home office design will help you stay motivated and focused during your day. 
7. Incorporate a pop of color 
Throw caution to the wind when it comes to choosing the color palette for your home office. Don't feel confined to traditional "office beige" and aim for colors that benefit your emotions and behaviors. If you feel energized by bright colors, try out a yellow accent wall or red furniture pieces. If you need more muted colors to focus, try out warm neutral tones and incorporate smaller pops of color elsewhere in your design. Forget the status quo and make sure your home office interior design is a functional and welcoming space that you actually want to spend time in.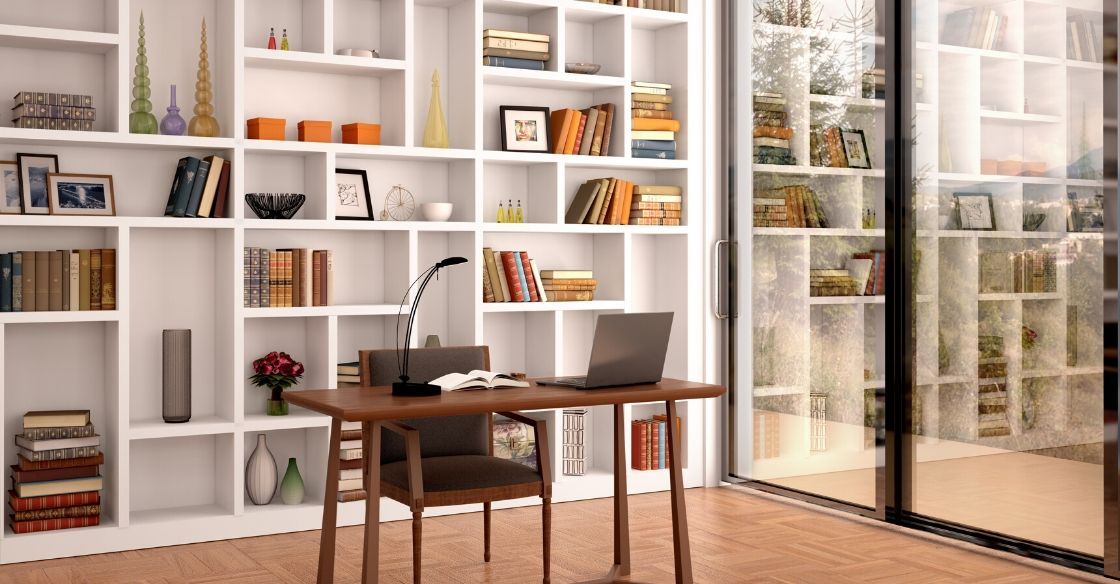 8. Get cozy 
The best part of working from home is that you get to stay comfortable all day long. Your office space should be just as cozy as the pajama set your likely working in. Incorporating ambient lighting, a coffee station, greenery, a large throw blanket, and comfortable seating areas into your home office interior design will make you feel more relaxed. Finding a balance between comfort and functionality will help you stay on task while remaining nice and snug during your work day. 
Home office interior design can play a huge role in your productivity, health and overall wellbeing. It may be tempting to just stick a metal desk in a small room and call it a day, but taking the time to cultivate a dynamic and relaxing workspace will pay off in the long-run. 
Designing a home office can be daunting, but our team of world class designers here at Nativa Interiors can help you bring your vision to life. Meet digitally with a designer today to get started on your home office interior design renovation.