Although it's often one of the smaller rooms in most homes, bathrooms are a fantastic place to flex your interior design muscles and create a serene space to pamper yourself. When it comes to luxury bathroom design, using unique interior design techniques and optimizing space is key. From paint color to hardware, there are many updates you can make to modernize your bathroom design.
Whether you're renovating to increase your home value before putting it on the market or you just want to treat yourself to a spa-worthy powder room, this list will give you the inspiration you need to get started. Here are nine bathroom design tips from our expert team of San Diego interior designers to inspire your next renovation.
Modern Minimalism
You know when you walk into a pristine bathroom at a luxury spa, and a wave of serenity passes over you? This is the power of modern minimalism! Less is more when it comes to this interior design trend. Clean lines and a neutral color palette give this South Granados bathroom a contemporary, chic feel that begs you to take some well-deserved me-time.
A freestanding porcelain tub, classic marble countertops, and glass finishes will create the illusion of an upscale spa right in your home. Add some organic elements like an oversized potted plant or reclaimed wood pieces to counteract the sterileness of traditional minimalist bathrooms. These elements in this popular bathroom design style work together to create a nice, refreshing bathroom to relax and wash the day off in.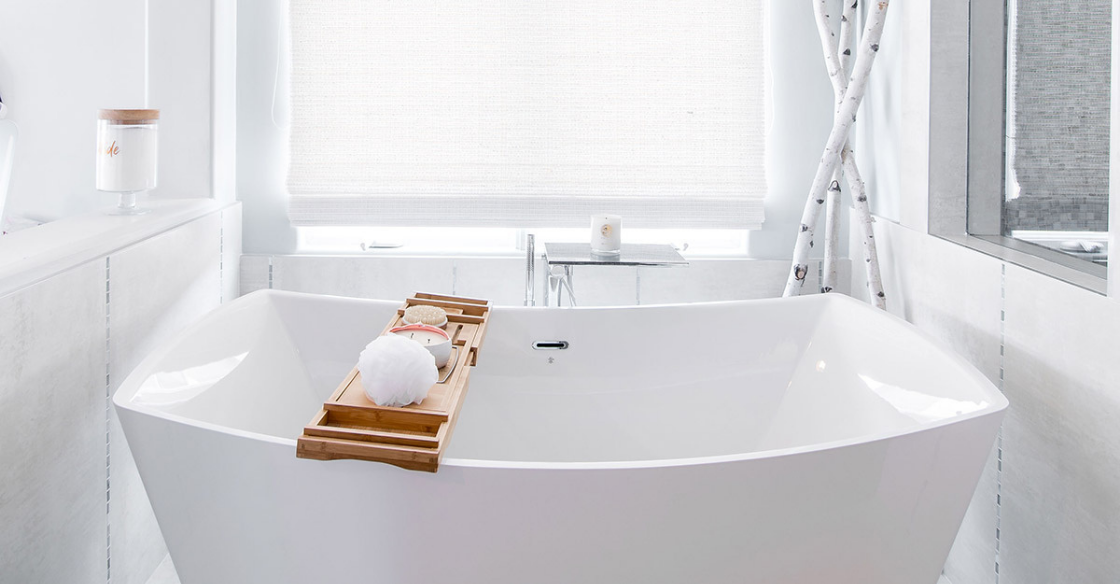 Statement Wallpaper
Statement wallpaper is one of our favorite bathroom remodel trends that instantly transforms any space, no matter the size. Using a bright patterned wallpaper as your bathroom's focus will give it a bold and professionally designed feel. Banana leaf and other tropical flora wallpapers are trendy right now, so pop some behind your vanity or cover the entire room to create a statement your guests won't soon forget.
If you want to up the ante on the drama, opt for black wallpaper and lighten up the rest of the room with light finishes. To really pull off this look, choose an accent color from your wallpaper and find other decorative elements like a matching tissue box or rug to tie the design together.
Unique Finishes
If you're renovating on a budget, minor upgrades can make a major difference when it comes to bathroom design. Swapping out your current hardware for more trendy finishes like brass or copper can drastically transform the look and feel of your powder room. The blue gemstone drawer pulls in this traditional bathroom bring warmth and color to an otherwise neutral space. Whether you're going for a more industrial style or a Mediterranean oasis, metal finishes are an affordable upgrade with a huge payoff.
Walk-In Shower
Creating a luxurious walk-in shower equipped with all the bells and whistles will automatically upgrade your morning routine. Install large floor-to-ceiling glass doors and organic stone tiling to set the scene for your luxury shower. A rainfall or detachable showerhead paired with misters and a floating bench will give the illusion of a private little grotto on a tropical island. Add a bundle of fresh eucalyptus around your showerhead, and you'll feel like you're in a spa at a luxury resort.
Trendy Tile
Changing out your tile can upgrade the look and value of any bathroom design. Geometric bathroom tiling adds texture and symmetry to a space. Honeycomb, terracotta, and mosaic glass tiles are all great modern options. Try to use a tile shape that helps make the room look wider, especially if you have a more narrow space.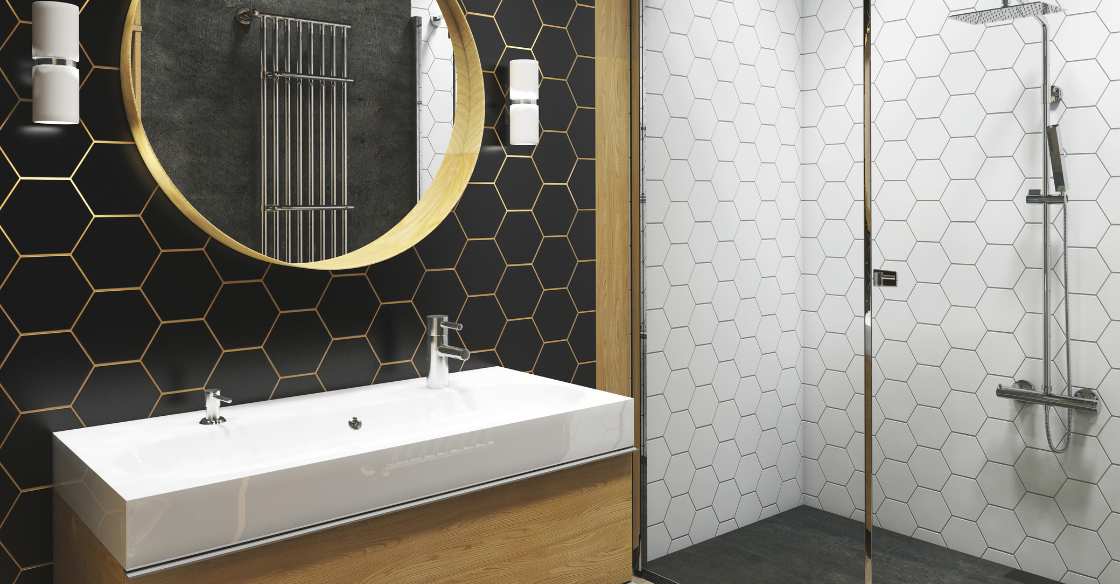 Comfortable Seating
If you have a large bathroom, this tip is for you! To create the ultimate private-hotel-suite look, add a few luxury furniture pieces that are both functional and beautiful. Place a stool beside the bathtub, a chair with a fur throw near your vanity, or place large upholstered benches in empty spaces as we did in this Santa Luz home. Ample seating in your bathroom will allow you to kick back and relax while you get dressed, put on lotion, or just soak up the comfort of your new luxury bathroom.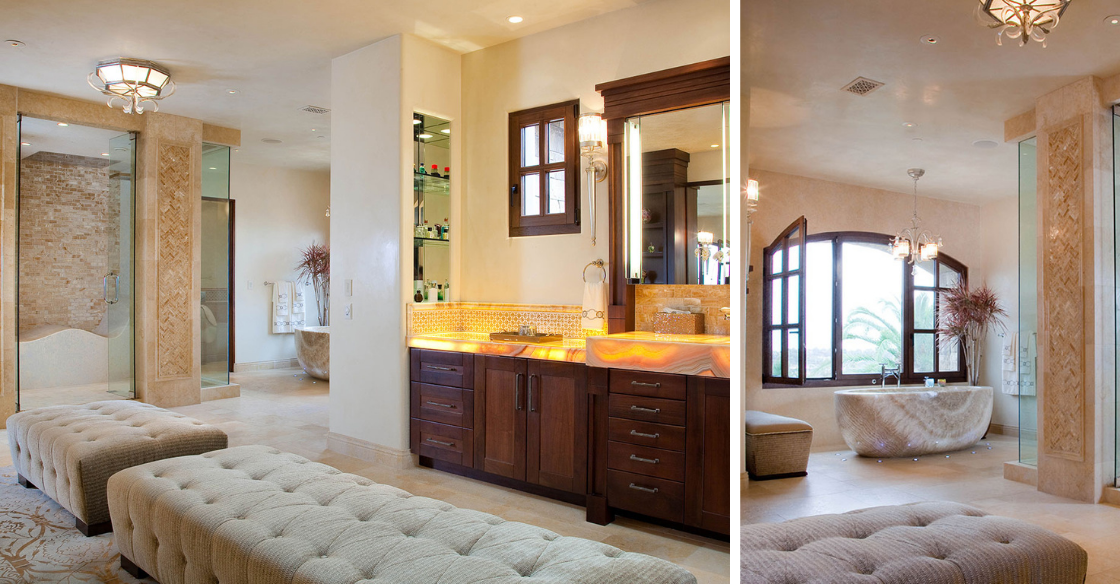 Pendant Lighting
Installing pendant lights is a sure-fire way to up the elegance in your bathroom design. A stylish and dynamic lighting option, hanging two or three pendants, is a welcomed change from the traditional look of a vanity bar light. Pendant lights are also an excellent option for vaulted ceilings since they help to draw the eye down.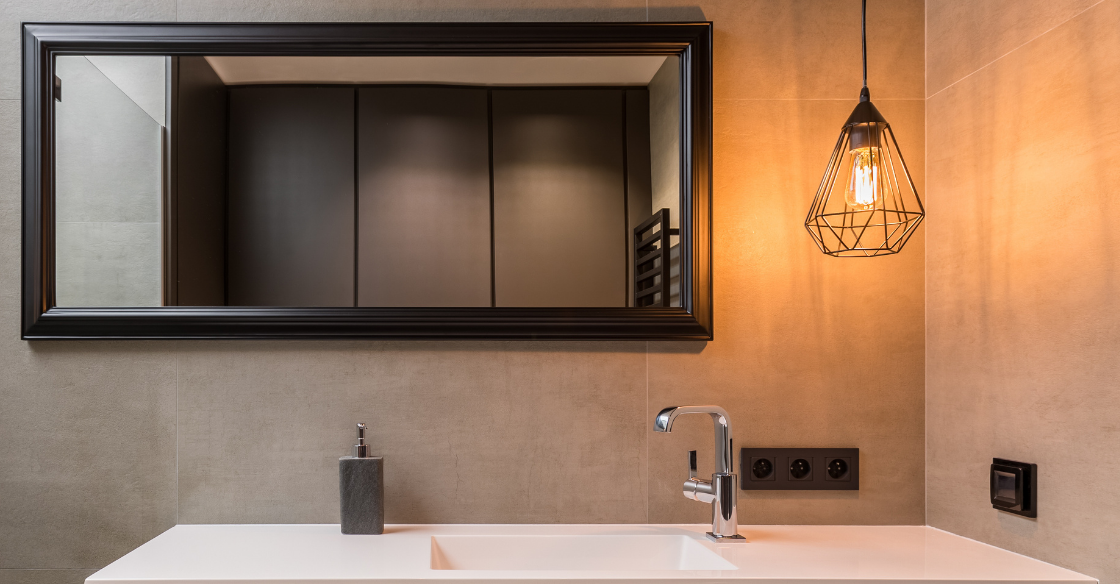 Luxurious Freestanding Tub
No luxury bathroom design is complete without a massive freestanding soaking tub. If you'd like to spice up your powder room beyond a traditional porcelain tub, opt for copper, concrete, or even marble. Choosing the right material is important, but your tub's placement is really what makes it shine.
Place your tub beneath a window or below a piece of statement art to create a stunning focal point. In this Coronado home, we placed this gorgeous tub between two walk-in showers to create clean symmetry. If you'd like a touch of privacy, consider adding a decorative room divider.
Maximize Storage
To create a clean and organized bathroom look, installing functional storage solutions is a must. Built-in cabinets are a tried and true storage option that frees up a lot of floor space. Another great way to introduce a ton of storage without custom cabinetry and shelving is by sliding in an etagere. Exposed shelving also allows you to display some decorative elements like picture frames, trinkets, plants, and candles. Put unsightly items like toilet paper, cleaning supplies, and other bulk items behind closed doors, then show off your décor and towels on the open shelves. Painting the inside of your cabinets in a bold shade is a great way to introduce a pop of color to neutral bathrooms.
San Diego Bathroom Design Experts
Creating a stunning yet functional bathroom design can be tricky, but it's worth it to have an in-home luxury getaway. The award-winning high-end interior design team here at Nativa has gained its experience over the last 20 years through more than 1,000 projects servicing clients in southern California, across the nation, and internationally. Diverse in taste & style, whether you are looking for Mediterranean, Modern Mountain, Contemporary, Transitional, or Coastal décor style, we'll be able to pair you with the best representative to match your needs.
Connect one-on-one with our designers to discuss how we can help you with your next bathroom renovation.