Spring is here and it's time to shake off those wintertime blues. The change of season is a good excuse to revamp, spruce, and enhance your interior design. And many will agree that spring is the best time to do it. After months of cold, dreary weather, there's just something about spring that feels rejuvenating. If you have the urge to spruce up your home and embrace the sunlight, you're not alone.
Today, we have some tips on how you can integrate spring colors and designs into your interior.
1. Sprinkle Spring Colors
Spring is the season of renewal and rebirth, so you should mimic the same thing with your interior. The best way to do this is to use bright colors – think of pastel, neon, and bright accents.
For example, you can swap your dark and cozy winter throw pillows for bright, turquoise pillows. While you're at it, replace your cashmere and cable knit throws for something lighter and more vibrant.
Many award-winning interior designers recommend Pantone's Rose Quartz and Serenity for interior choices as far as spring colors go. Both hues are gentle and airy while adding a certain softness that comes with springtime. Otherwise, the 2020 Pantone Color of the Year, Classic Blue is also an excellent choice for its versatility and sophistication. 
2. Add Spring Texture
For the spring, one of the well-known design trends during recent years is natural materials. With that said, wicker furniture, a luxury bench, grasscloth walls, and painted brick fit the bill. Spring is about generating depth and interest by integrating texture within the home.
However, it's understandable when you don't want to fully commit your entire space to the trend. In this case, you can start small and incorporate a textured lampshade or a light, embroidered throw for a shot of lightness and rejuvenation – which is perfect for spring.
3. Decorate With Flowers and Add Greenery
One of the easiest ways to update a space is to add a bouquet of fresh flowers. Nothing screams spring more than bunches of daffodils and tulips. The key is to take advantage of flowers that are available at your local grocery store. This is a great tip because it doesn't get any easier than decorating with fresh flowers but it makes all the difference.
On top of that, it's never a bad idea to add greenery to your home interior. Growing greens during the winter can be hard due to the crisp air and lack of daylight. With the coming of spring, start fresh and get spring-friendly plants. 
One tip: make sure you get a plant that's ideal for your light to ensure they last through the spring season.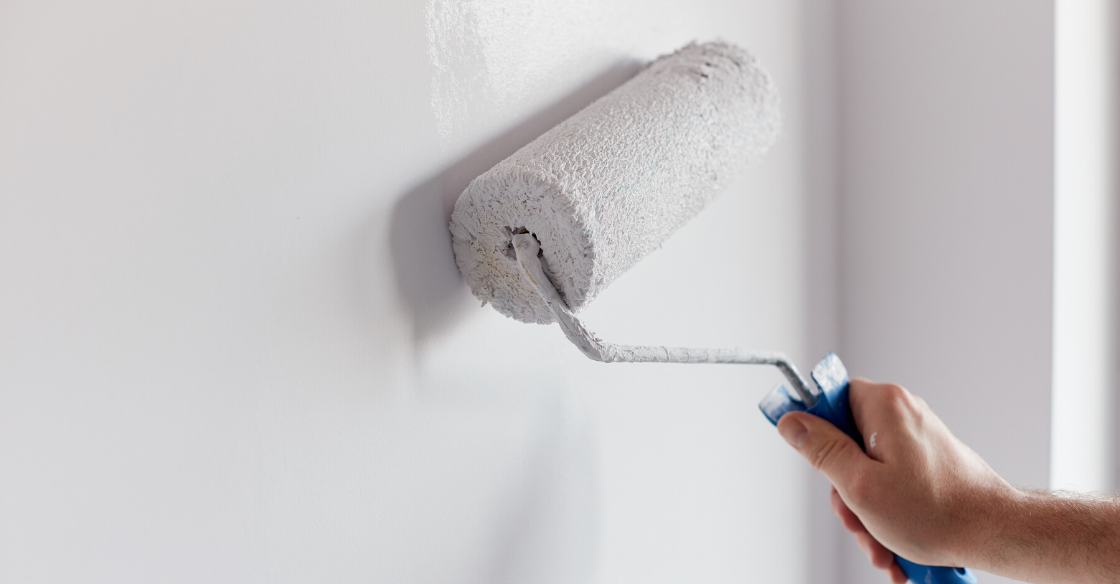 4. Fresh Coat of Paint
Nothing says spring like a fresh coat of paint. If you have a weekend to spare, consider repainting a room to instantly update and spruce up the space. In this case, it's hard to go wrong with a fresh coat of paint to revive your tired furniture or walls. That outdated console table? Liven it up with a fresh coat of paint.
For other spring colors painting ideas, a green living room is also a good consideration although it's not exactly a very bright hue. Green is the color of rebirth and rejuvenation and is a great hue for welcoming spring.
5. Heavy Throws and Bedding Need to Go
Designated blankets and throws are easy ways to separate your seasonal décor. While heavy blankets, flannel sheets, and faux fur throws feel amazing and cozy during the winter, you need to swap them out as spring approaches. Anyway, once the temperature ramps up, your heavy throws and bedding will be unbearably warm.
For the spring season, get a more breathable sateen for your sheets and tuck away your heavy throws. Interior designing isn't just about the looks but comfort is important as well. To adhere to the spring colors, try to layer whites and pale pinks to add a pop of color into your bedroom or living room while keeping things neutral.
6. Update Your Tableware
Another quick and easy way to update your home in spring is in the kitchen. Ideally, you want to rotate your dishes and cups for the different seasons. For spring, use the lighter dishes and cups – all-white pieces are really popular. Alternatively, bright plates and bowls with spring colors are also great for the warmer weather.
Make Your Interior Design Bloom For Spring
These are some of the ways to incorporate spring colors and design in your home décor. With these ideas, you'll be embracing spring and freshen up your home for the warmer season. Contact Nativa Interiors today as our experts can also help you with your decorating needs.