Nativa Predicts: 2022 Interior Design Trends
As we usher in the new year, design lovers everywhere are excited to explore the new, highly-anticipated 2022 interior design trends. Gone are the days of minimalism, neutral color palettes, and mass-produced items.
This year, maximalism will take center stage as the desire for self-expression grows. This year's design trends will be packed with personality and comfort, from vintage accents to curved furniture to textured walls. The nature-inspired design will also continue to influence trends in a big way. Overall, we're embracing anything that exudes warmth and comfort this year.
Our world-class interior design team has curated a list of our favorite 2022 interior design trends to help you give your home a little face-lift for the new year.
Sustainable Luxury Furniture
Eco-friendly design will continue to be a priority in 2022. "Fast fashion" furnishings made from low-quality materials will fall to the wayside. Instead, people are gravitating toward sustainable pieces with a longer lifespan. Rather than mass-produced furnishings that you will likely need to replace in 10 years, invest in custom furniture made from high-quality and responsibly sourced materials. Luxury furniture may be pricey upfront, but it pays off to have a durable piece of furniture that will hold up for years to come. This will reduce your carbon footprint and give you a stunning new addition to your interiors.
Earthy Browns
Bright and bold shades will continue to make an appearance in 2022 color schemes, but the overall palette will stay fairly organic. As people continue to intertwine nature and design, earth tones will be pervasive but we expect rich shades of brown to be the star of the show. Designers will display terracotta, chocolate, chestnut, and caramel browns in everything, from fabrics to paint colors. Whether it be a sumptuous Italian Leather Chair or deep chocolatey walls, these deep browns will envelop interiors with warmth. When paired with warm greens like olive and jade, this color palette creates a calm, timeless, and elegant foundation.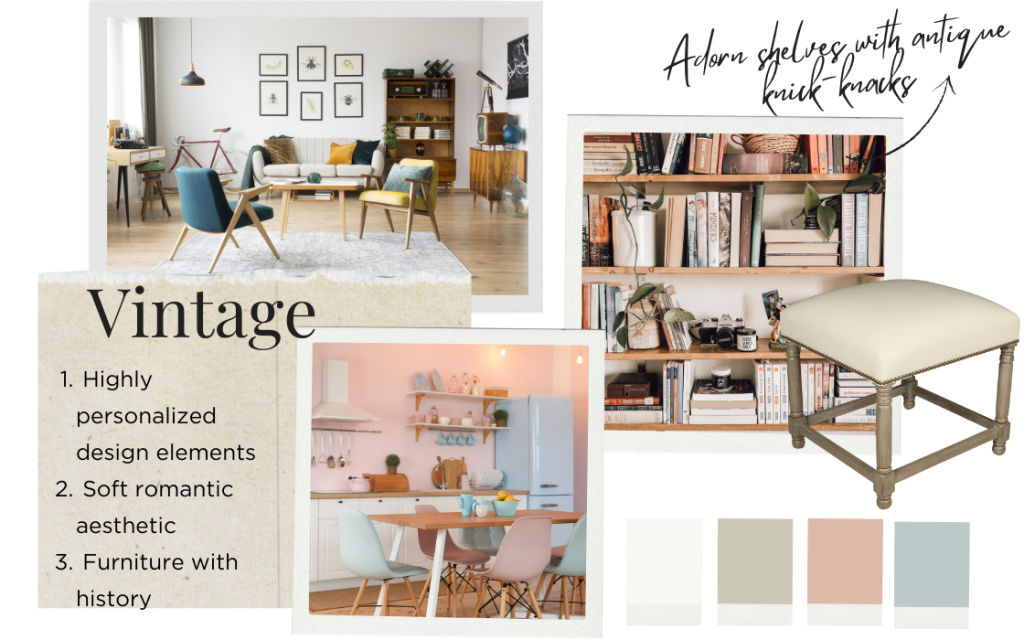 Vintage Decor
Many people will be digging up family heirlooms, scouring estate sales, and browsing antique shops to find unique furnishings and decor in 2022. Vintage furniture is an environmentally friendly way to add some self-expression to a space. Giving antique items a new life reduces our carbon footprint while bringing a rich sense of history and personality into a space.
Ornamental Wood Floors
Because many of our homes have to function as living quarters and workspaces, balancing expressive maximalism with calm and comforting spaces has become a priority. While the popular mosaic flooring and intricate tiling of the 2010s adhere to the maximalism trend, they're far too busy to mesh with the simplicity of biophilic design. For this reason, classic wood floors are back in vogue. Ornamental herringbone floors add a timeless, textural touch to modern rooms without being overpowering or distracting. Wood floors create a warm, natural base that you can customize to fit any taste or style.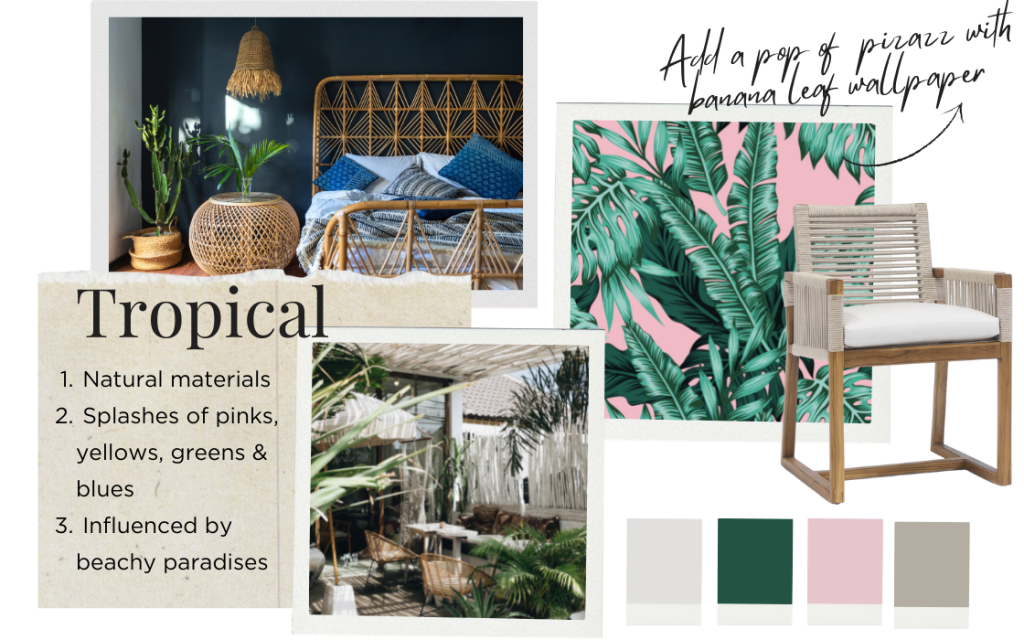 Tropical Interiors
After years of travel restrictions, many of us are looking for ways to bring a vacation-like atmosphere into our spaces. Tropical interior design takes influences from beachy paradises like Hawaii and French Polynesia. Tropical color palettes usually consist of a neutral base with splashes of pinks, yellows, greens, and blues. Upholstered furnishings, lush plants, tropical prints, and furniture made from natural materials like rattan, bamboo, and wicker create a cheery yet laid-back environment. If you're not quite ready to convert your entire home into an exotic getaway, create the perfect backyard oasis with a teak outdoor furniture set, woven pendant lights, and a fire pit.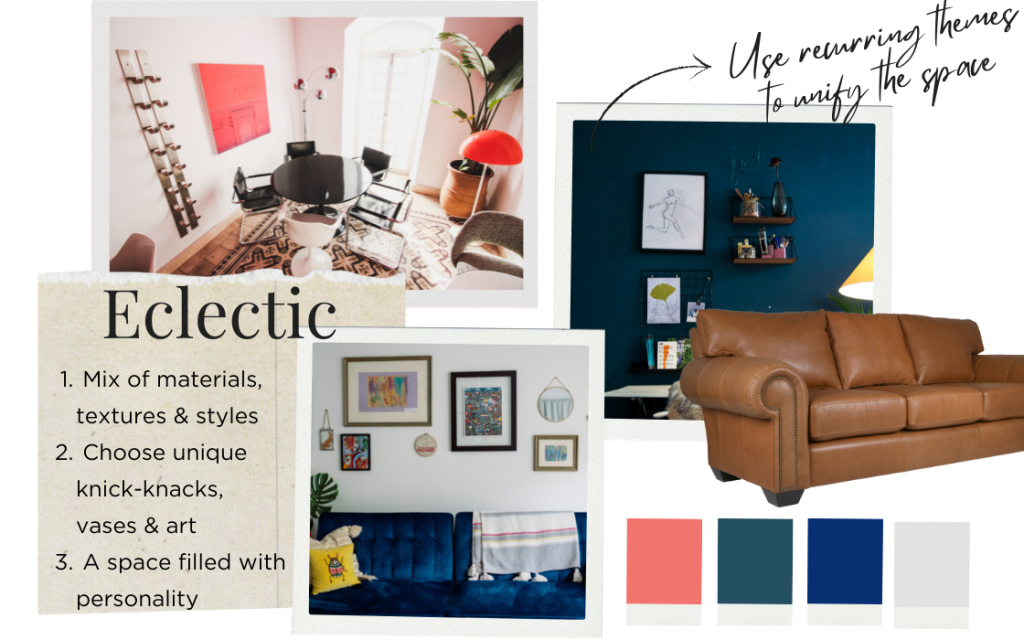 Mix & Match Design Styles
The collective desire for unique and distinctive interior design has led to an increase in mixing materials and design styles. Blending interior design styles is a great way to create a one-of-a-kind space that speaks to you. Some styles work better together than others. For example, a mid-century modern living room with Art Deco accents works, but a Victorian bedroom with southwestern influences would completely clash. Follow the 80/20 rule when mixing styles in your home: 80% should be one style type and 20% other styles.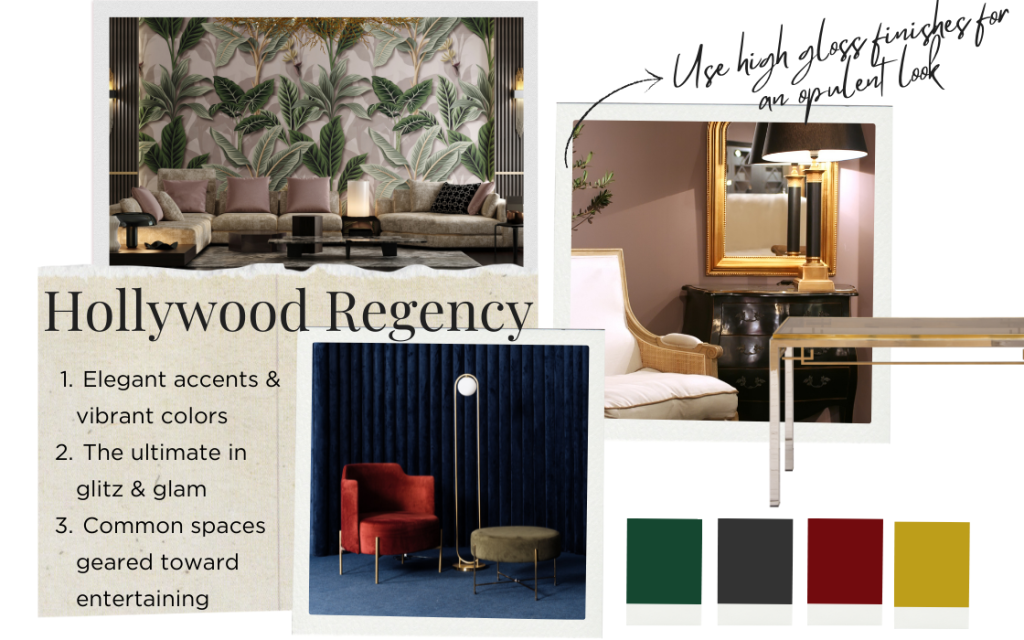 Extravagant Light Fixtures
In 2022, sufficient illumination is no longer enough to make a chandelier shine. We are leaving dainty cable pendants with frosted glass behind as we move into an era of self-expression and maximalism. We expect light fixtures to become major art pieces that express the personality of interior spaces this year. Besides the direct function of the fixtures, look for artistic pendants made from blown glass, rope, ceramics, and other interesting materials that create a wow factor. Small pendants still work when clustered in small spaces such as powder rooms or narrow hallways, but in spaces with voluminous ceilings, oversized and dramatic lighting is the way to go.
Soft Lines and Curves
As a response to our need for more comforting designs, arches and curved lines will make their way into 2022 interior design trends in several areas, including cabinetry, architecture, and furniture. Traditional straight-lined furniture shapes give way to curved set-ups that are softer and more dynamic. A curved form is subconsciously read as safe, friendly, and welcoming. For example, this Picasso Dining Chair's curved back slopes beautifully down to the legs, creating a soft, yet eye-catching sense of motion.
Natural Textured Surfaces
The great return to nature has created a resurgence in natural surfaces. Organic materials create a sense of ease and warmth in a space and as an added bonus, they're eco-friendly. We expect textured materials such as stoneware, terracotta, and marble to be used across the board, from backsplashes and countertops to furniture and accents. For example, this handcrafted Torben Live Edge Dining Table provides the perfect texture and elegance while giving off a very organic feel. Textured walls will also be a big player in 2022, including plaster finishes, concrete, brick, and wood.
Experts In 2022 Interior Design Trends
This year will bring endless opportunities for creativity in your interior design. Are you planning a big renovation project this year? We want to help!
The award-winning high-end interior design team here at Nativa has gained its experience over the last 20 years through more than 1,000 projects servicing Southern California and clients across the nation and internationally. With a diverse range of tastes & styles, whether you're looking for Mediterranean, Modern Mountain, Contemporary, Transitional, or Coastal décor style, we'll be able to pair you with the best representative to match your needs. Connect one-on-one with our designers to discuss how we can bring these 2022 interior design trends into your home.