Interior design has been evolving for over a millennium, resulting in hundreds of unique styles and movements. From Art Deco to Midcentury-Modern, interior design styles are classified by specific cultural influences, architecture, color palettes, furniture, and decor elements.
Our world-class designers have curated an A-Z glossary of the most popular interior design styles to help you discover which one is right for you. Choosing the style you identify with most will help you effectively communicate your vision when working with an interior designer.
Whether you're looking for interior design inspiration for your next project or just dipping your toes into home decor, this comprehensive guide will teach you the defining features of prominent styles as well as ideas to incorporate them into your home. Let's get started!
BONUS: Scroll to the bottom to read an FAQ with our design team and take a quiz to help you discover your interior design style.
Art Deco
Influenced by 1920s French art, Art Deco is a design aesthetic reserved for those seeking an air of daring opulence. Characterized by bold colors, geometric shapes, metallic finishes, and decadent accents, Art Deco adds a touch of glamour to any space. Sleek materials like polished bronze and chrome, along with angular patterns like chevron, zigzags, sunbursts, and animal prints, are staples of this vibrant interior design style.
Art Deco Interior Design Ideas
Implement Art Deco with jagged, pointed edges, oversized furniture, sleek metallic fixtures, and boldly patterned wall art. Pair a graphic wood dining table with plush yellow dining chairs for an elegantly artistic entertaining space.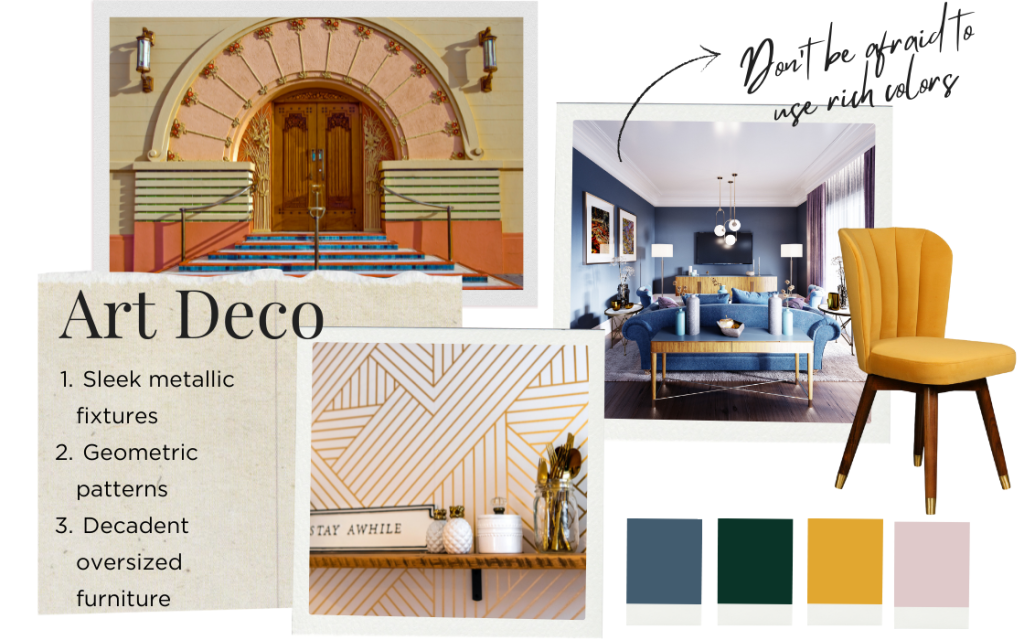 Bauhaus
Originating in Germany in the early 1900s, Bauhaus is a school of thought that blends art and science to satisfy human needs. It combines functionality with organic elements and vibrant design. Bauhaus unifies creativity with modern architecture.
Elements are chosen based on aesthetics, along with how well they fulfill their purpose in a space. Bright colors and bold patterns are juxtaposed with sleek shapes and organic materials such as leather, glass, and wood for a glamorous and unique interior design style.
Bauhaus Interior Design Ideas
Drape a geometric patterned blanket over a graphic wooden recliner chair for a modern yet functional seating option. Incorporate glass pendant lighting, colorful wall art, and a monochrome rug for a true Bauhaus-style space.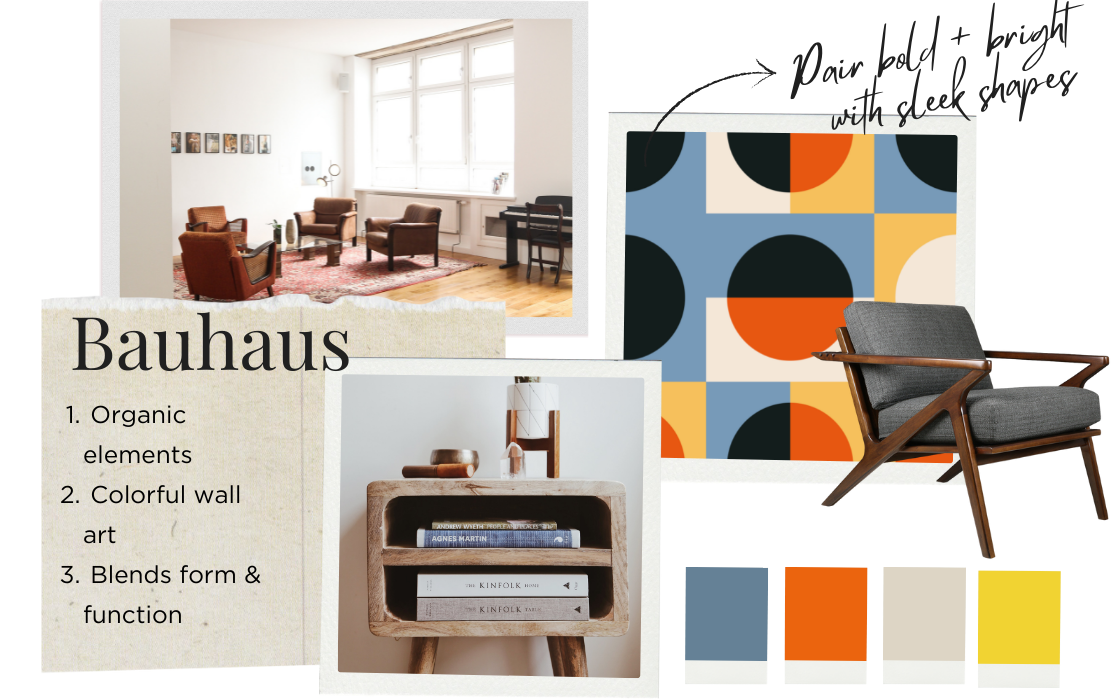 Bohemian
Bohemian homes have a unique layered style that creates an effortlessly laid-back atmosphere. A neutral color palette with pops of color and greenery galore are the cornerstone elements of this style. Ecological elements, natural fabrics, intricate patterns, and organically shaped furniture creates an eclectic aesthetic reflective of nomadic vagabonds.
Bohemian Interior Design Ideas
A mix of different furniture styles made from natural materials like bamboo and rattan is a good fit for this style. Use psychedelic textiles, warm colors, fringed lamps, thrifted trinkets and vintage-inspired pendants to create a relaxed yet highly stylized environment.


Contemporary
Contemporary interior design combines and edits styles from various periods to create a timeless yet constantly evolving environment. Unlike the complete absence of decor in Modern design, contemporary interiors use a simple backdrop as an opportunity to integrate current trends in real-time. For example, sleek gray cabinetry may be paired with marble tile to contrast Venetian and Modern styles while leaving room for minimalist accents.
Contemporary Interior Design Ideas
Furniture in classic silhouettes and a neutral color palette offer a blank canvas to add textured fabrics, ornate sculptures, and organic elements. An emerald velvet couch with exposed wooden legs paired with a streamlined coffee table perfectly exemplifies this style.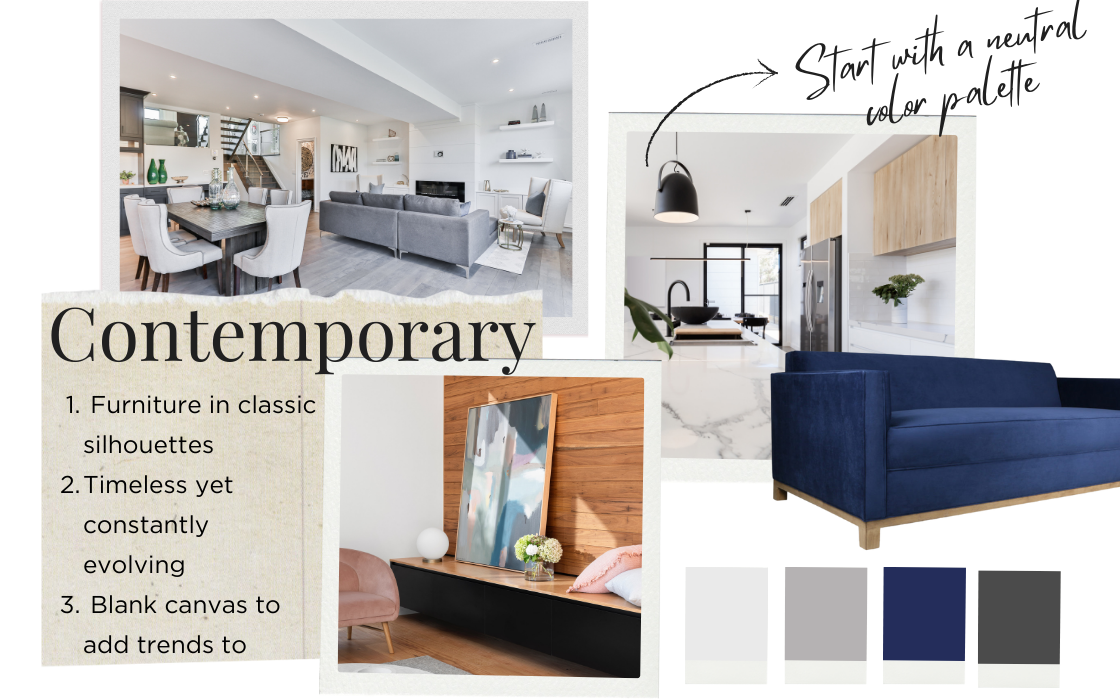 Coastal
The relaxed and breezy vibe of the California-cool coastal style is a mainstay in San Diego's interior design. Crisp whites, blues, and greens with pops of pink make up the color palette, while natural materials like sea glass, wicker, and driftwood create a beachy atmosphere. Nautical accents like sand dollars, seashells, and tropical fauna bring a sense of authenticity to the style.
Coastal Interior Design Ideas
Look for furniture made from natural materials with distressed finishes, such as a rattan chair or Beachwood dining room table. Use a sea glass chandelier, nautical patterned pillows, and a sisal rug to create a beachy ambiance in any area of your home.


Cottage
This cozy style evokes a light, airy feel reminiscent of French vintage, shabby chic, and rustic design. Lightweight fabrics like linen and cotton, vintage accessories, distressed wood, and a light color palette work together to create a warm and comforting atmosphere. The charming farmhouse aesthetic of cottage design lends itself well to smaller spaces with ample natural lighting.
Cottage Interior Design Ideas
Comfort is key in this style. Wood-paneled floors and walls with a cozy cream sofa and pastel lounge chairs lay a relaxed yet quaint foundation. Decorate with ornate woven rugs, farm sinks, and natural accents.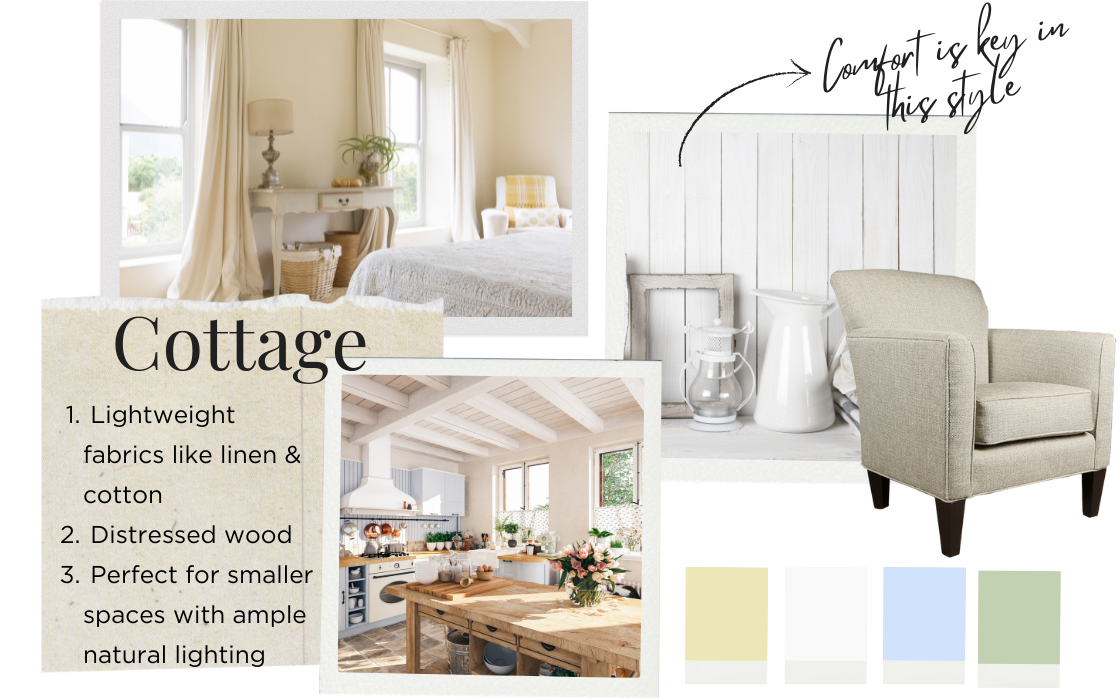 Eclectic
Eclectic home design uses a mix of materials, textures, and styles to create a cohesive and unique aesthetic. In complete contrast to minimalism, it combines various colors, shapes, and textures to create a stylized environment filled with personality. Designers typically use recurring themes such as a specific color, shape, or pattern to tie this hodge-podge interior design style together.
Eclectic Interior Design Ideas
Stage a timeless leather sofa with a plush rug, antique-inspired chandelier, and pop art for a spontaneous yet pulled-together look. Look for unique knick-knacks, vases, art and vintage-inspired furniture to round out this look.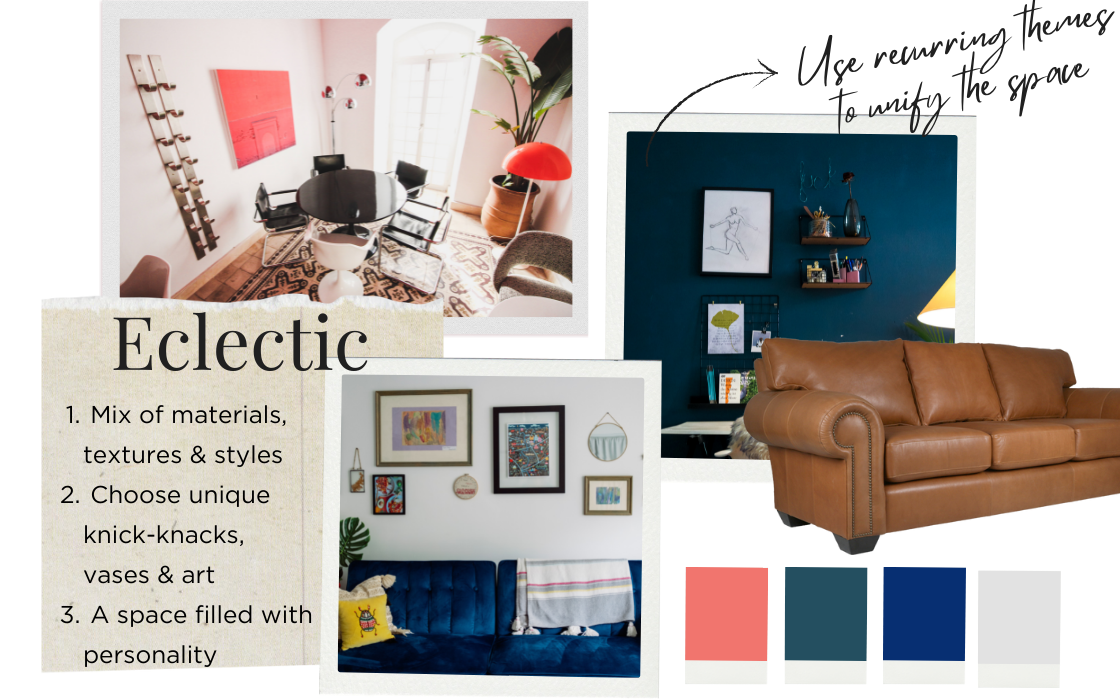 Farmhouse
Like cottage design, farmhouse interior design uses warm neutral colors and a combination of vintage and organic accessories. Weathered woods, clean lines, open shelving, shiplap walls, worn paint, and rustic metal finishes like bronze and copper are common elements of this style.
Farmhouse Interior Design Ideas
Curate the perfect combination of rustic and modern elements with warm wood furnishings, bronze wall sconces, bright white couches, and farmhouse sinks. Incorporate details like a pine bookcase, oak dining table, mason jars, and gingham, floral, and striped textiles throughout the home for a cohesive look.


French Country
Influenced by country homes in Southern France, French Country emphasizes symmetry, balance, and sophistication to create the pinnacle of laid-back luxury. Ornate molding, lustrous finishes, curved lines, stone and stucco, french doors, and soft shades like beige and eggshell set a refined tone, while warm woods paired with floral patterns bring a rustic feel to the design.
French Country Interior Design Ideas
Find furniture with dark glossy wood and curved legs to perfectly balance masculine and feminine elements. Hang wrought iron chandeliers, floral drapes, and scenic artwork for an upscale appeal.


Hollywood Regency
Elegant accents and vibrant colors take center stage in the glitzy style of Hollywood Regency. Jewel-toned colors like deep reds, bright yellows, and dark purples are contrasted with high gloss finishes for an opulent look. Common spaces are geared toward entertaining and arranged to encourage interaction, such as conversation pits and formal dining rooms.
Hollywood Regency Interior Design Ideas
Shop for luxury furniture pieces with glossy finishes, printed wallpaper, glass cabinetry, geometric-shaped mirrors, and velvet textiles that work together to bring a sense of drama. Accessorize with crystal-clad chandeliers, fringed lampshades, and silk drapes to achieve voguish glam.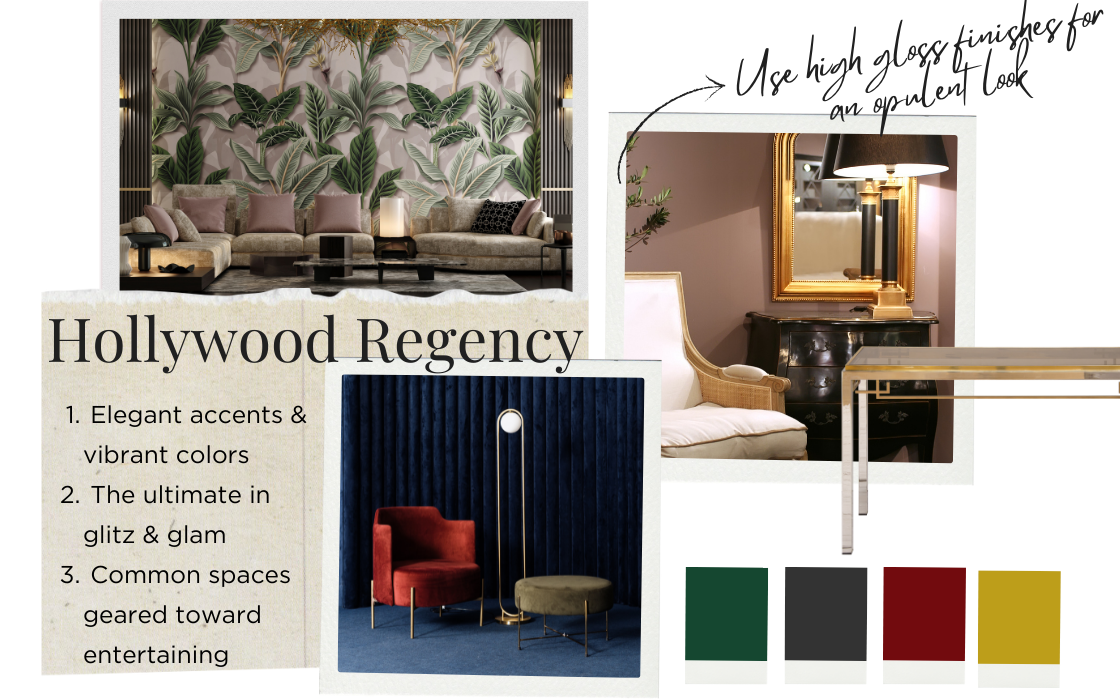 Industrial
Industrial interior design uses a combination of metal, glass, and clean lines for an effortlessly cool and modern aesthetic. This style lends itself well to urban interiors with a spacious layout, high ceilings, and exposed pipes and brick. Color palettes usually consist of greys, blacks, and whites with rare pops of blue and green. As the defining characteristic of this style, metals like bronze, steel, chrome, silver, and iron are used for light fixtures, countertops, stairwells, and finishings.
Industrial Interior Design Ideas
Hang gold pendant lights over distressed leather chairs and metal-legged bar tables for a chic and moody seating area. Add minimalist wall art, patterned rugs, and greenery to bring a touch of brightness to the space.


Mediterranean
Mediterranean design blends Spanish, Greek, and Italian interior design styles with vibrant colors, terracotta tile, bold patterns, and organic accents. Shades like turquoise, emerald, mustard, olive, rust, and plum make up the lively color palette. Wrought iron banisters, balconies, and fixtures are typically used to contrast the softer elements of this style.
Mediterranean Interior Design Ideas
Start with ornate wood furniture built low to the ground, exposed wooden beams, and mosaic tiling on floors, countertops, mirrors, and backsplashes. Accessorize with detailed rugs, ceramics, natural fabrics, and vignettes with wine bottles, fruit, and flowers.


​​Mid-Century Modern
Mid-century modern design focuses on maintaining the simplicity and flow of 1940s American homes. Clearly defined indoor and outdoor spaces are seamlessly integrated with doors, picture windows, and dividers for a functional layout that honors the original architecture of homes. Clean lines, graphic shapes, a muted color palette, and nature motifs are prominent elements of this design style, while statement furniture pieces act as artistic focal points.
Mid-Century Modern Interior Design Ideas
Achieve mid-century modern kitchen interior design with navy velvet barstools, wooden cabinetry, marble countertops, and potted houseplants. Retro and contemporary elements such as a mohair rug, glass pendant lighting, asymmetrical furniture, and patterned wallpaper pull this style together.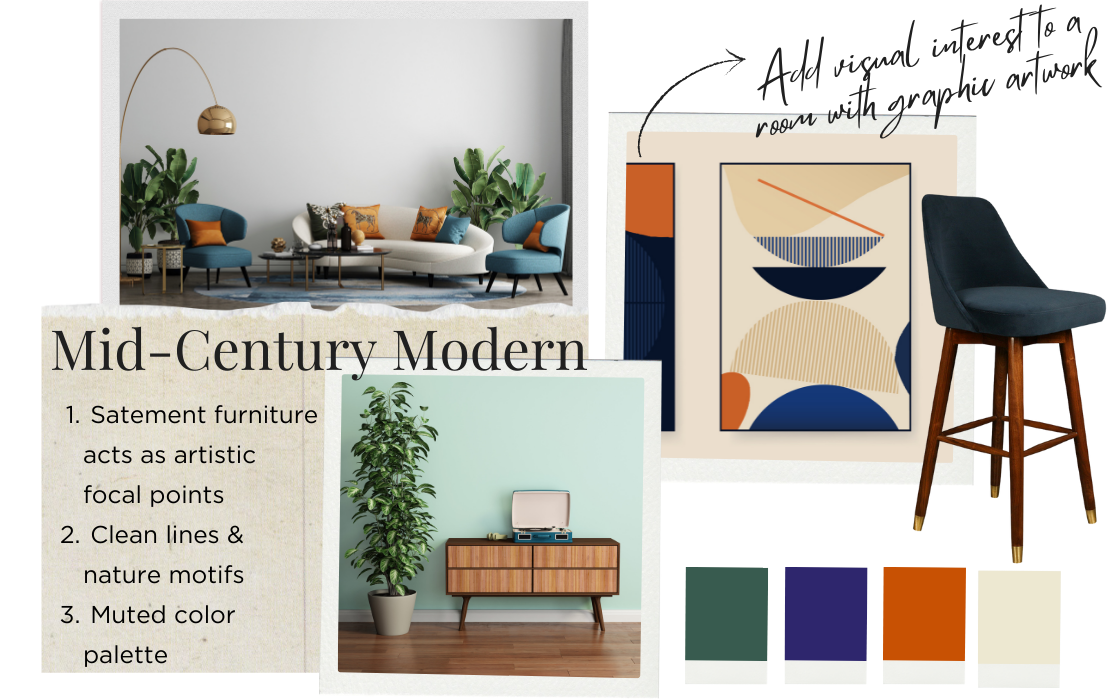 Minimalist
With influences from Japanese Zen philosophy, minimalist design emphasizes the value of space and the absence of decor by creating clean, pared-down environments. A monochromatic color palette enhanced by natural materials creates effortless beauty and simplicity. Functional furniture pieces with clean lines often double as storage to maintain a clutter-free space.
Minimalist Interior Design Ideas
Minimalism cultivates a sense of peace and relaxation in bedroom interior design. Taking a less is more approach, a simple tufted height bed with crisp white bedding, white oak nightstands, soft glass pendant lighting, and potted banana leaf plants create the perfect relaxed ambiance.


Modern
Modern design, otherwise known as international style, is a good fit for those who prioritize form and function over decor. Modernist furnishings are both functional and decorative, with organic silhouettes and chrome finishings. A streamlined artistic design is created with technology-inspired elements such as square shapes, clean lines, glass, steel, concrete, and neutral tones. In contrast to minimalist interiors, modern homes incorporate splashes of color like pink, orange, and blue through accessories.
Modern Interior Design Ideas
Contrast a sleek, dark kitchen with bright red accent chairs and contemporary wall art. Layer a round glass coffee table with matte black vases and your favorite books for a classy modern vignette.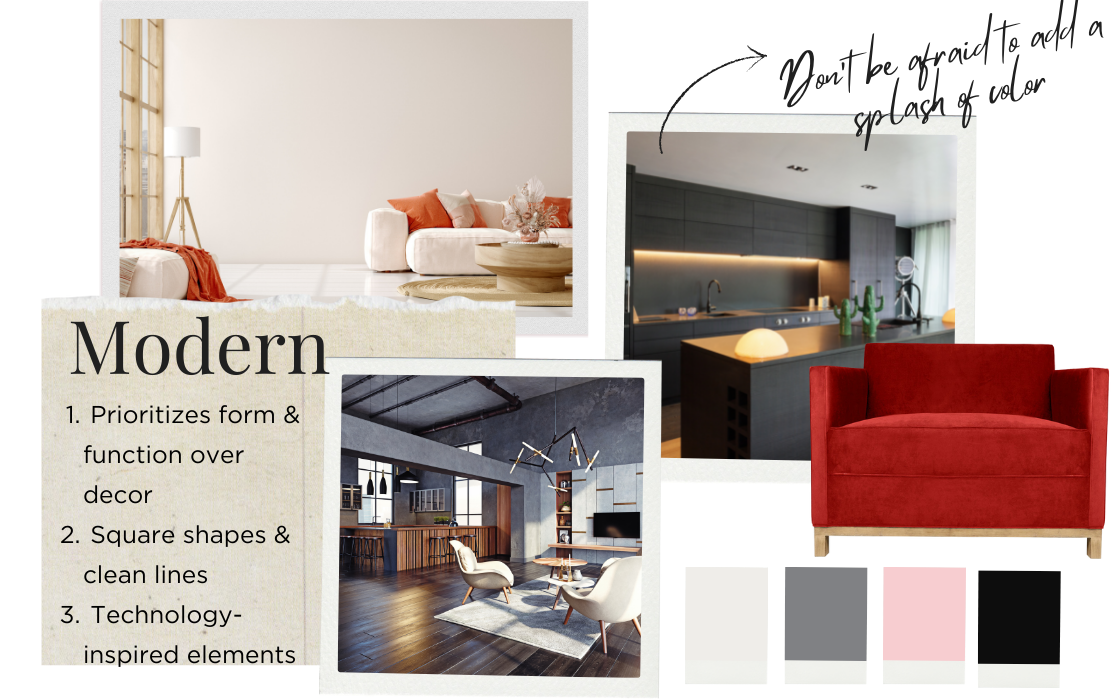 Rustic
Rooted in an appreciation for the beauty of nature, rustic design uses organic elements to create a warm and rugged atmosphere. Furnishings and textiles made from natural materials like wood, cotton, brick, stone, concrete, and a neutral color palette allow the innate beauty of the natural elements to shine.
Rustic Interior Design Ideas
Create a rustic living room with a stone tiled fireplace, oak furniture, and a geometric rug. Bring in a sense of ruggedness with accents such as faux furs, reclaimed antlers, woven baskets, and iron light fixtures.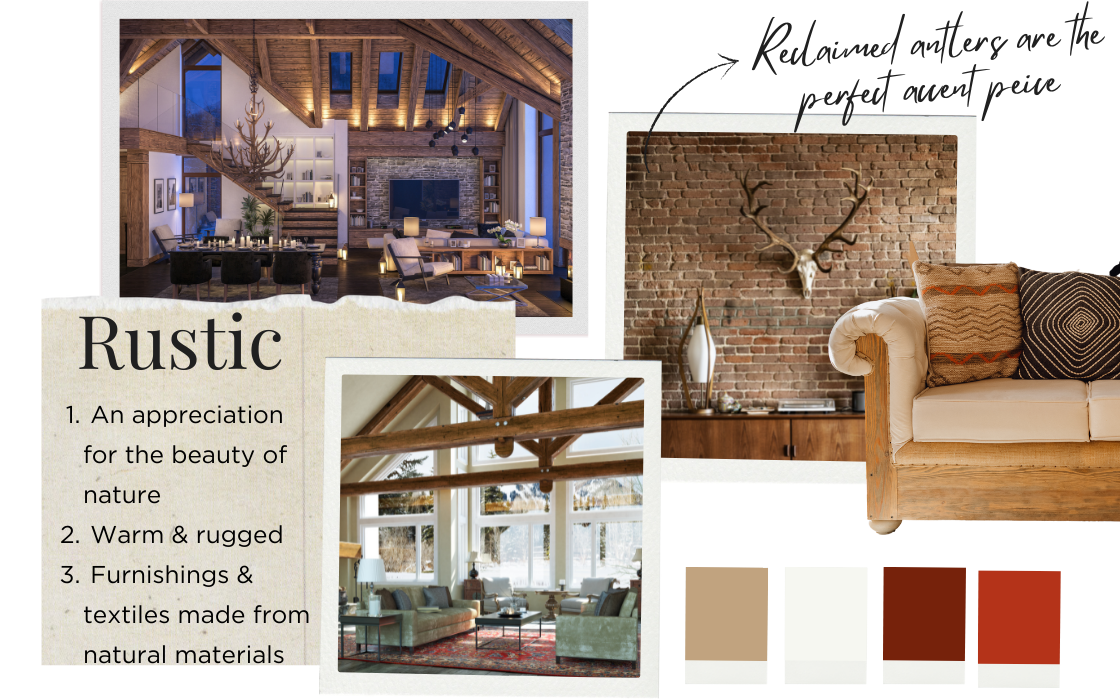 Scandinavian
Scandinavian interior design operates on a Nordic principle called "hygge" which describes environments that encourage feelings of warmth, contentment, and comfort. Clean lines, light-toned woods, muted colors, and functional furniture pieces characterize this minimalist design. Scandinavian design primarily uses sustainable materials, making it a widely accessible style.
Scandinavian Interior Design Ideas
Create the perfect Scandi living room with a cozy sofa, chic Danish chairs, fuzzy sheepskin rugs, cable knit blankets, a wooden credenza, and hanging plants.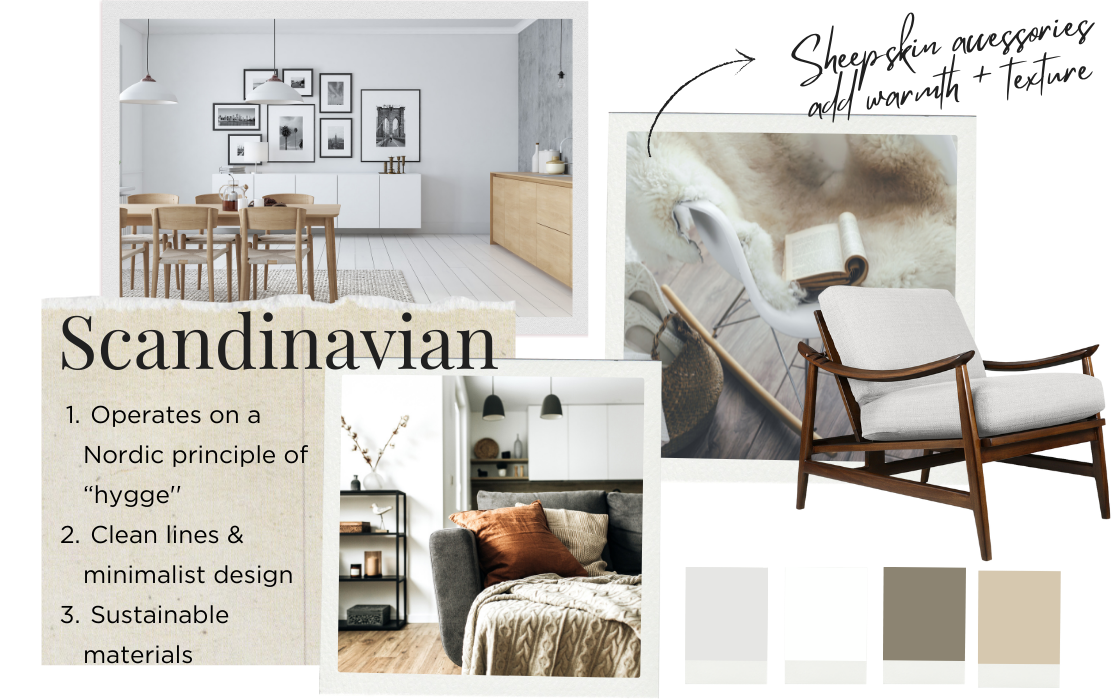 Shabby Chic
Shabby chic design is a relatively new style that combines rustic, vintage, and glam elements for an eclectic look. Color palettes typically consist of shades of brown and white along with soft pastels. Distressed furniture and antiques create a lived-in feel. A mix of delicate and durable materials like wood, wicker, wrought iron, cotton, and linen can be found throughout this style.
Shabby Chic Interior Design Ideas
Design a shabby chic kitchen with a live edge dining room table layered over an antique rug. Add vintage-inspired teacups, a crystal chandelier, and an assortment of different dining chairs for a perfectly imperfect setup.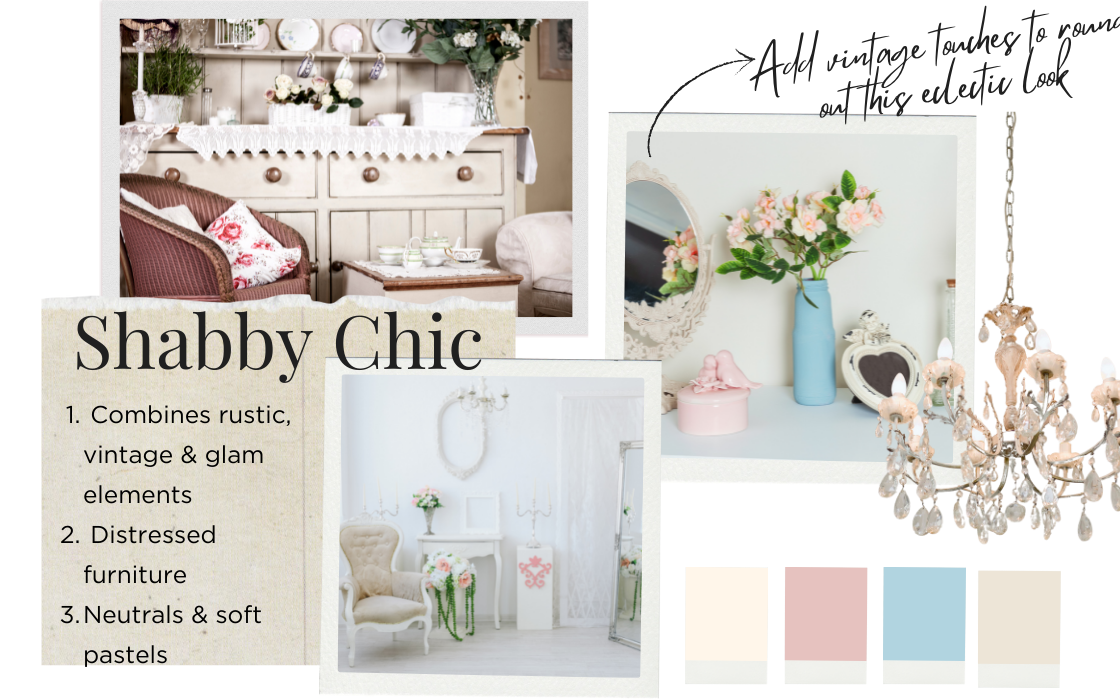 Southwestern
Southwestern-style homes are inspired by traditional Mexican art. Warm, earthy colors like oranges, reds, browns and bright hues of yellow and turquoise make up the color palette. With influences from Spanish colonial and Tuscan styles, southwestern furniture tends to be elegant and ornate with stained woods and patterned upholstery. Mosaic tiles, leather, suede, wood, ceramics, wool, and woven fabrics are used to bring texture to the design.
Southwestern Interior Design Ideas
Go for leather furniture, wrought iron sconces, and terracotta tiling. Incorporate rustic patterns through curtains, rugs, blankets, and throw pillows. Add accent pieces like bronze candlesticks, ceramic pots, and greenery to pull your Southwestern design together.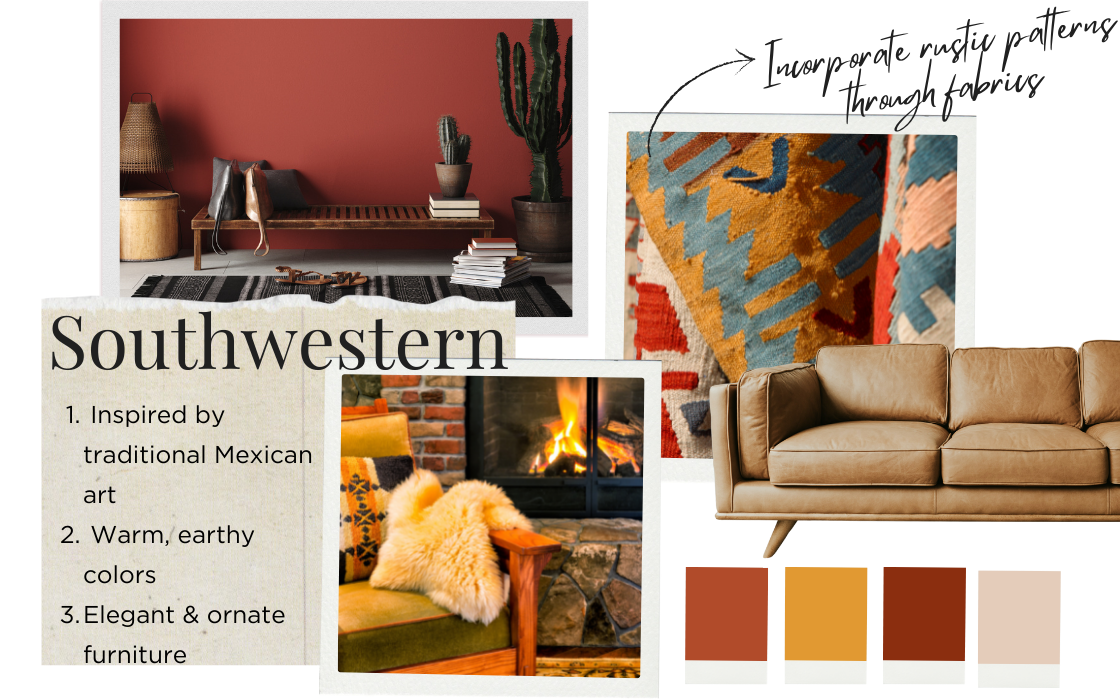 Traditional
Traditionally styled homes use a cohesive theme to chicly combine various design elements from classic periods (i.e., Victorian, Tudor, and Georgian). Antique dark wood furniture with detailed carvings, muted colors, traditional architectural elements, and vintage accents often star in this style. These eclectic elements are limited to a specific color palette and materials to maintain a unified look.
Traditional Interior Design Ideas
Place a sturdy walnut dining table alongside floral drapes gathered with tasseled cords in an upscale traditional dining room. Accessorize with vintage chandeliers, silver candlesticks, oil paintings, and fresh flowers.


Transitional
Transitional interior design is a mix of both traditional and contemporary styles that blend for a timeless look. Furniture embraces masculine and feminine attributes with both clean and curved lines. Graphic patterns, a neutral color palette, sleek lighting, and textured materials like cotton, leather, wood, and corduroy work together to create a classic yet modern design.
Transitional Interior Design Ideas
Creamy white couches, colorful curtains, upholstered chairs, sleek lighting, geometric patterned throw pillows, glass tables, and metallic finishes work well in transitional homes.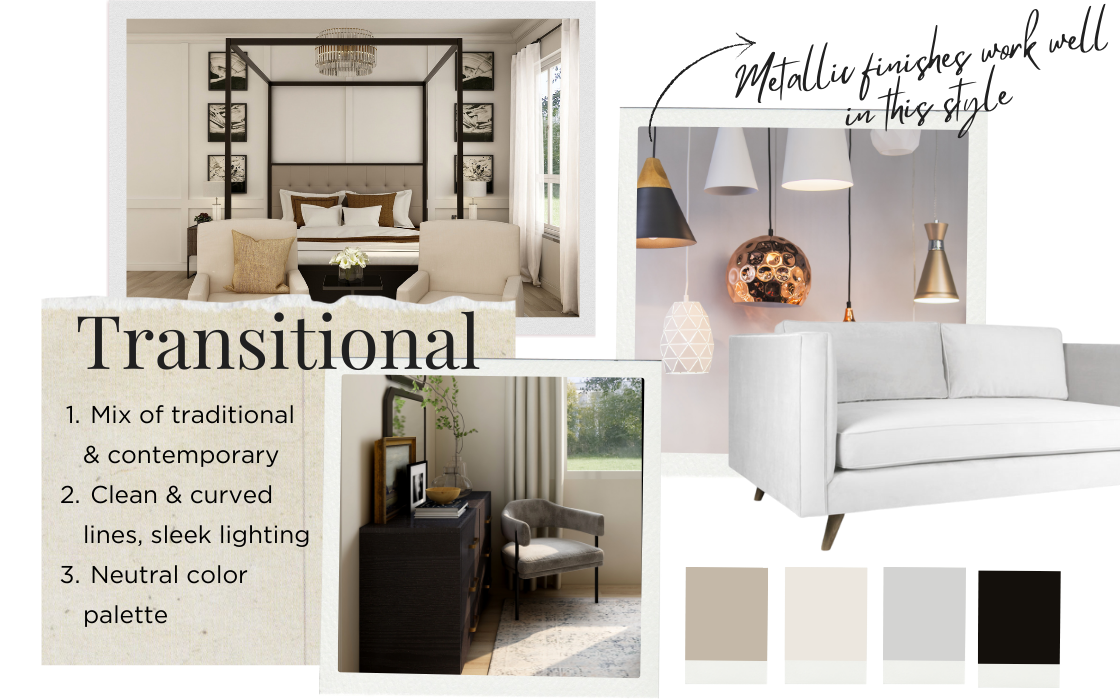 Tropical
Tropical interior design takes influences from beachy paradises like Hawaii and French Polynesia. Tropical color palettes usually consist of a neutral base with splashes of pinks, yellows, greens, and blues. Upholstered furnishings, lush plants, tropical prints, and furniture made from natural materials like rattan, bamboo, and wicker create a relaxing, airy environment.
Tropical Interior Design Ideas
Create the perfect backyard oasis with a teak wood outdoor furniture set, woven pendant lights, and a fire pit. Add a pop of tropical pizazz with banana leaf wallpaper, patterned throw pillows, and a braided rug.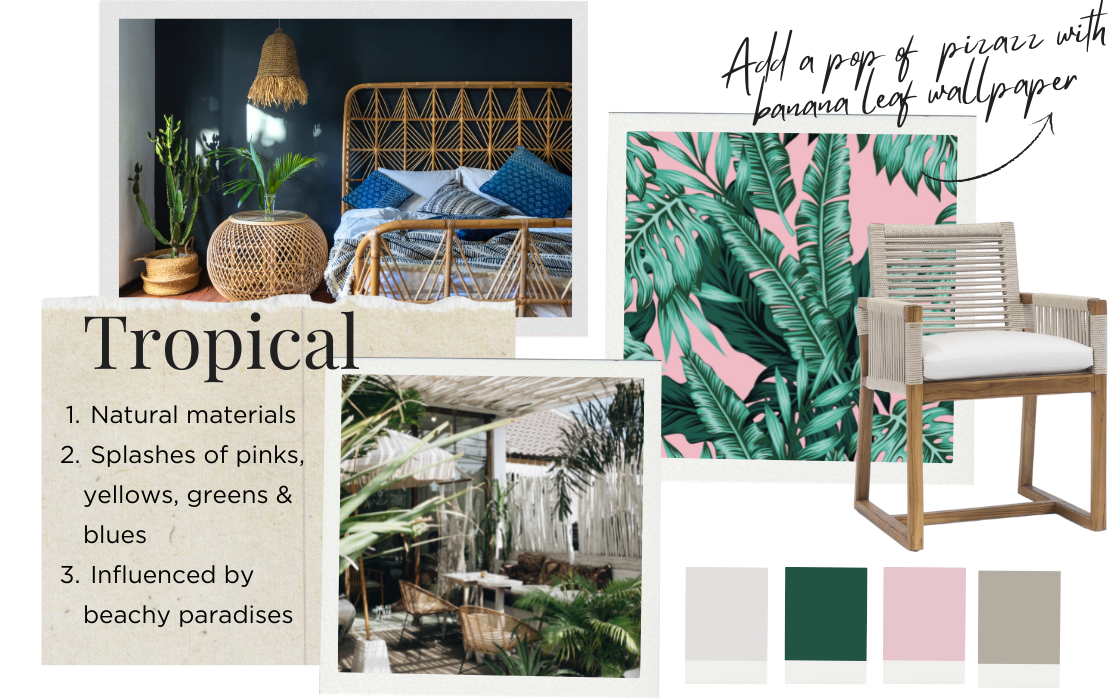 Victorian
Complex, warm, and dramatic, Victorian interiors are all about luxury, excess, and elegance. A daring color palette of yellow, teal, purple, red, and brown leaves ample room for creativity. Ornate ceilings, gilded finishes, regal light fixtures, and sumptuous textiles like velvet and silk mark this style. Furniture made from dark glossy woods like walnut and mahogany are often carved with complex designs for added character.
Victorian Interior Design Ideas
Create a Victorian-style parlor with a tufted sofa, velvet accent chairs, and walnut side tables. Hang an antique chandelier, classic paintings, and ornate wall sconces to complete your regal seating area.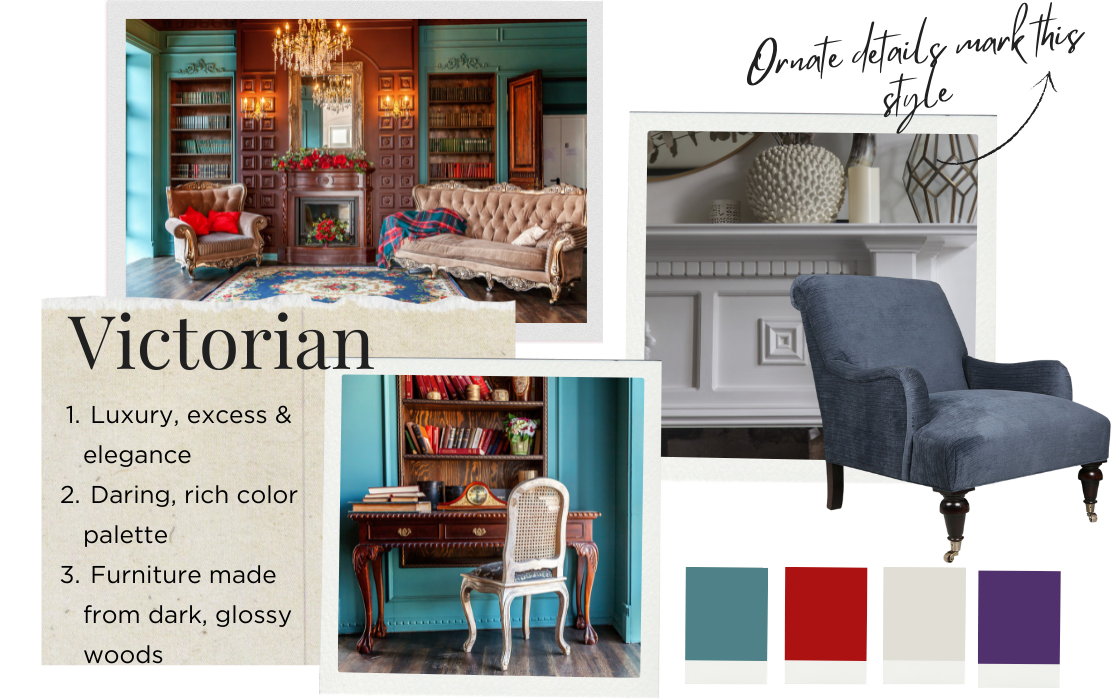 Vintage
Vintage-style homes pull inspiration from 1940s design for a soft romantic aesthetic. Antiques, frosted glass, fringe lamps, vintage-inspired kitchen appliances, upholstered accent chairs, and lace curtains are common in this style. Open shelving adorned with antique knick-knacks, ceramic vases, woven baskets, photographs, and flowers are often used as highly personalized design elements.
Vintage Interior Design Ideas
A porcelain clawfoot tub, upholstered footstool, and antique vanity complemented by gold metallic finishes create the perfect vintage powder room. Hang a gilded mirror and floral curtains to complete this look.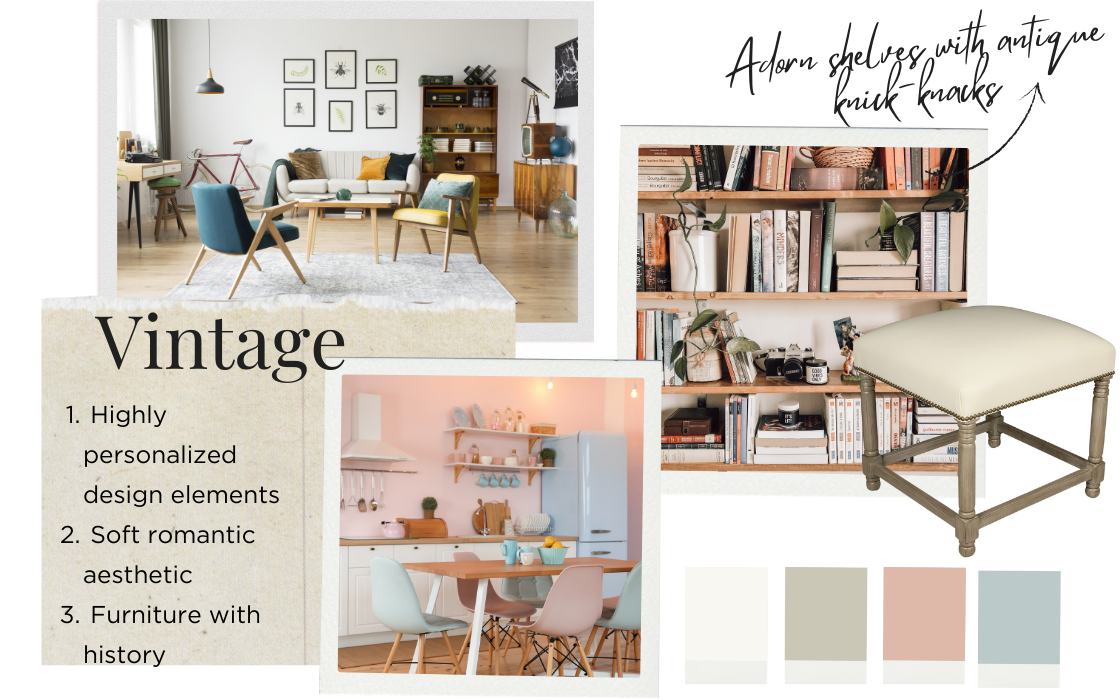 Zen
Japanese zen interior design strives to bring meditative tranquility to the home. Hardwood floors, natural lighting, and a neutral color palette of beige, grey and white set a harmonious backdrop for this relaxed style. Furniture and textiles made from organic materials like cotton, linen and wood are accented with minimal wall decor.
Zen Interior Design Ideas
Design a designated meditation space with a plush rug, cozy cotton accent chairs, and patterned floor cushions. Add ambient lighting and an extra layer of decor with rattan sconces, mirrors, an indoor water fountain, and mini bonsai trees.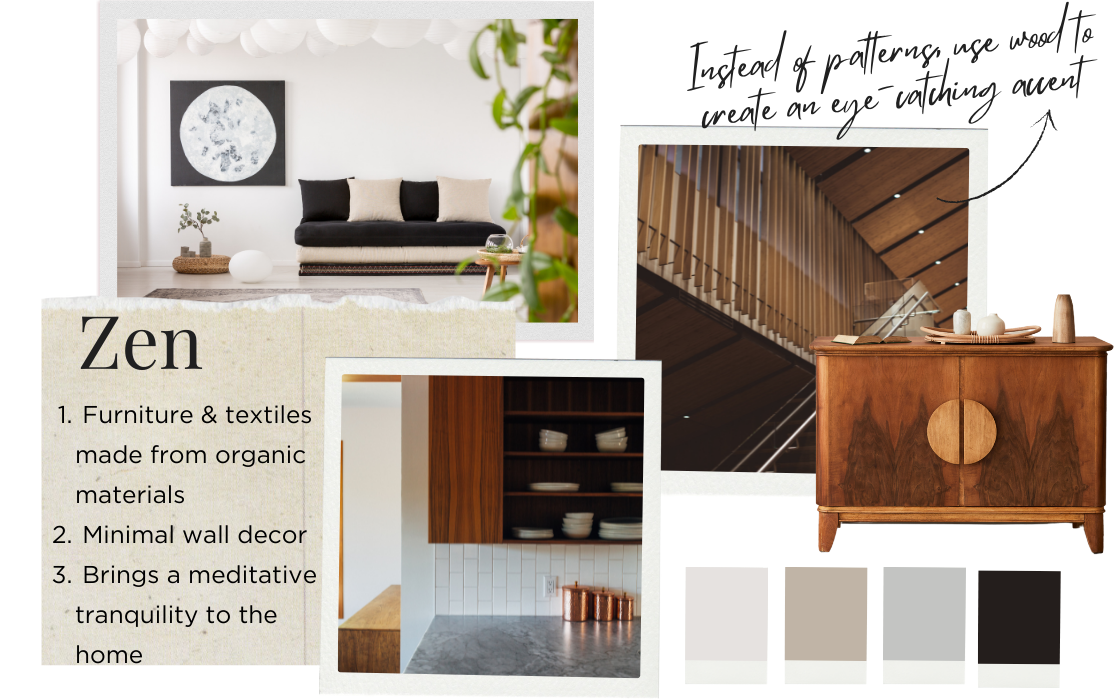 What's Your Interior Design Style?
Now that you have the ultimate guide to the most popular interior design styles the next step is incorporating your favorites into your decor! Over the course of over twenty years and thousands of projects, our experienced team of interior designers has mastered how to create the perfect residential or commercial space. Meet with us to learn more about how your dream interior design style can become a reality.
Interior Design FAQ
What is the most popular decor style for interiors?
Modern interior design is the most popular style. It's an umbrella term that encompasses other popular styles like minimalism, mid-century modern, and industrial. Modernist designs emphasize simplicity and functionality while still allowing for creativity and personalization, making them a big draw for many people.
Can you combine different decor styles in the same room?
Of course! Blending interior design styles is a great way to create a one-of-a-kind space that speaks to you. Some styles work better together than others. For example, a transitional living room with coastal accents works, but a Victorian bedroom with southwestern influences does not.
Follow the 80/20 rule when mixing styles in your home: 80% should be one style type and 20% other styles.
​​​​
Can you use multiple design styles in different rooms in the same house?
Yes! If you can't land on one or even a few styles, creating themed rooms with different interior design styles can turn your home into your art gallery. This works best in private areas that are clearly defined, such as bedrooms and bathrooms. Consider using a limited color palette or unifying pattern to create a cohesive thread throughout your home. For example, a Farmhouse bathroom would be a quaint addition to a rustic home or an Art Deco bedroom in a mid-century modern home.
What are the Seven elements of Interior Design?
A balance of the seven elements of interior design is necessary for a cohesive scheme in any style. The seven elements are:
Space

Line

Form

Light

Color

Texture

Pattern