Autumn is officially in full swing and one of our favorite ways to transition your home decor from summer to fall is through a seasonal color palette. Classic fall color schemes typically include sophisticated autumnal shades like reds, browns, and greens; however, as of late, more vibrant and unexpected colors like burnt orange, plum, and mustard yellow are being used in fall home decor.
Fall is the perfect time to give your interior design a cozy refresh for the colder months ahead. Incorporating fall color trends through dramatic focal points or small accents is an easy way to update your home and get into the spirit of the season. The following are six of our favorite shades to try out in your luxury fall home decor this year.
Plum
Starting off with a unique fan favorite, plum has become one of the most popular shades in luxury fall home decor. A deep, warm shade of purple, plum brings a sense of opulence and depth to any room. This elegant color pairs well with classic autumn shades like brown, red, and green while also bringing an unexpected uniqueness to traditional fall color schemes.
Sophisticated enough to use throughout the year, plum is fitting in spaces of the home you'd like to introduce a more luxurious atmosphere into a bedroom, bathroom, or living room. Make the most of the richness of this shade by incorporating patterns and textures into your fall color scheme with accents such as a dramatic vintage-inspired chair or a graphic wallpaper. For a more understated look, accessorize your living room by placing purple-hued throw pillows on a neutral sofa or create a vignette with accents like wooden bowls, purple jewel-toned vases, and flowers.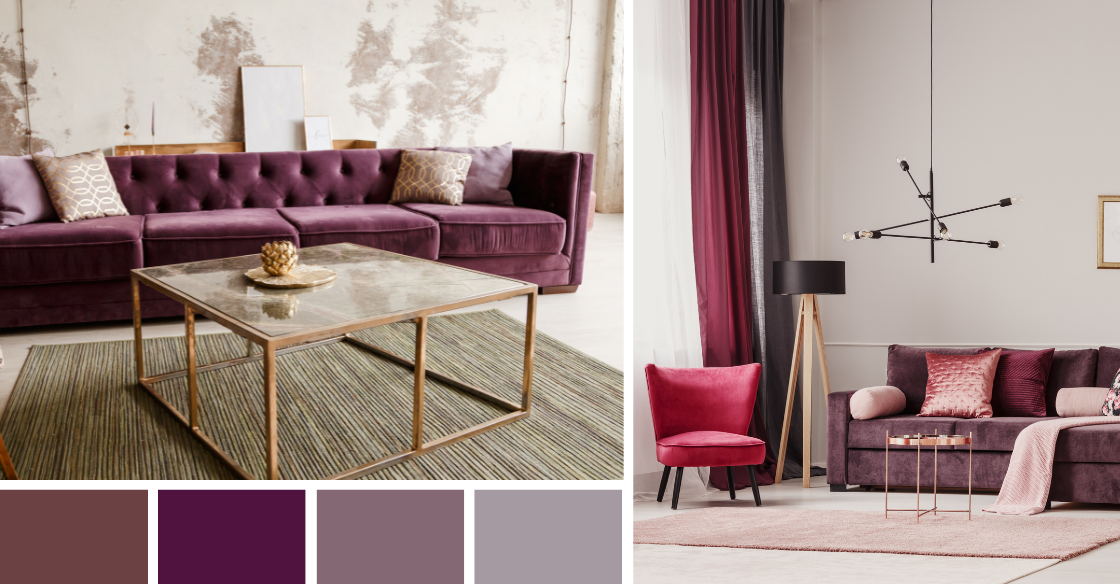 Mustard Yellow
This rich, sunny hue brings an undeniable sense of joy to autumntime. By creating bursts of brightness, yellows can energize and uplift you as the nights grow chillier this season. Mustard yellow works wonderfully in dark areas of the home like interior rooms or hallways that need a sense of lightness. Accessorizing with yellow is also perfect for any space in which you'd like to introduce a greater sense of warmth and cheerfulness like your kitchen, bedroom or home office.
Add sunshine into your fall home decor with showstopping pops or subtle accents of yellow. This hue is a surprisingly versatile fall tone because it works so well with cool dark colors, neutrals, and monochromatic fall color schemes. Incorporate large yellow statement pieces with a mustard couch or patterned gold area rug or leave traces of yellow with fresh sunflowers, throw pillows, and vases.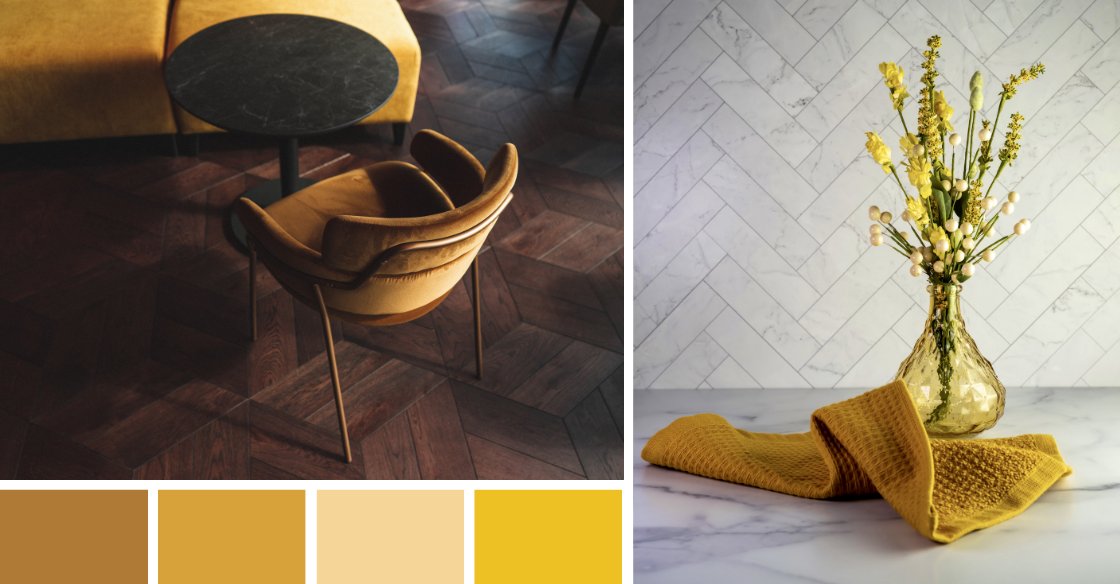 Warm Reds
Red is a classic autumn hue that brings unexpected boldness into fall home decor. Earthier reds like clay and warm chestnut are good grounding shades that create a sense of stability in a room. Vibrant orangey-red tones are perfect for pops of color while deep reds like burgundy and maroon are sophisticated enough to take up a year-round residence in your home.
Perfect for bedrooms, living rooms, and kitchens, red can be used in any space where you'd like to bring in a sense of warmth, support, and optimism. Layer throw pillows in different shades of red on your couch or bed for an instant fall design upgrade. Add a bold red accent chair to your office to instantly invoke the spirit of the season or go all out and paint an accent wall in a rich Bordeaux shade.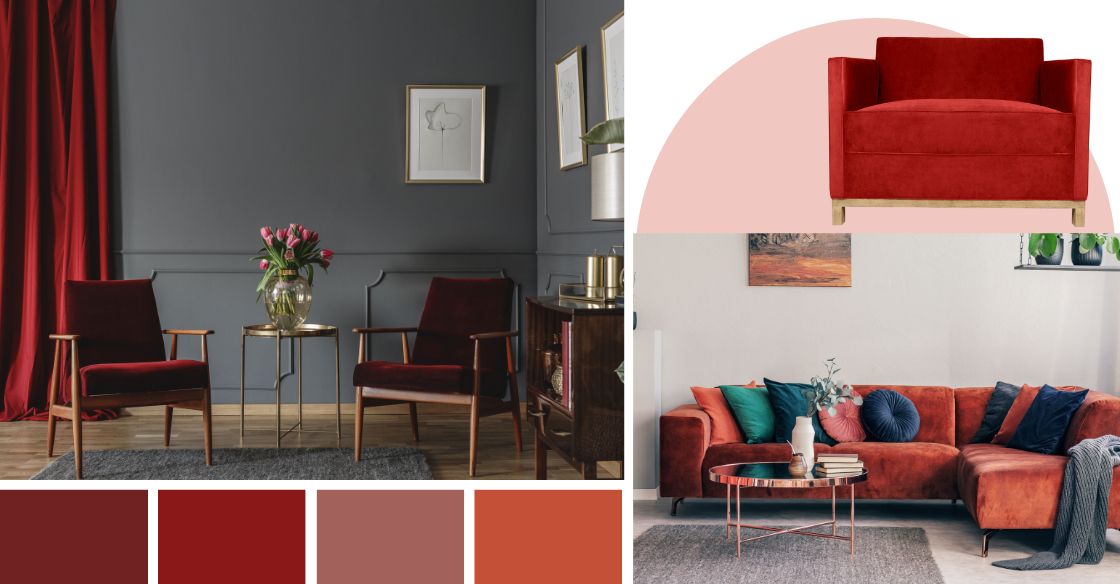 Earthy Greens
No fall color scheme is complete without shades of green. Representative of nature, green brings a sense of balance and tranquility to a space. According to color psychology, it's also an uplifting shade that can promote feelings of revitalization and harmony.
Deep greens like emerald and pine pair well with browns and other seasonal colors to create a naturally luxurious look. Earthy greens like olive and moss make for inspiring organic wall colors, while pale greens like pistachio shine as accent colors against pops of orange and charcoal grey.
Use green in areas of the home you'd like to bring in a sense of calmness or the outdoors such as a bedroom, bathroom, or dining room. Incorporate green velvet upholstery with these gorgeous emerald dining chairs for cozy and luxurious family dinners or place a velvet emerald throw on your bed. Paint bathroom walls an olive shade and accessorize with a patterned orange shower curtain. If you're not ready to commit to a full decor overhaul, plants like fiddle leaf fig and neon pothos instantly bring a natural hint of greenery to your fall home decor.
Burnt Orange
Shades of orange are the epitome of the fall season. Pops of orange in your fall color scheme can add a touch of warmth to an otherwise neutral color palette. Its more subtle shades such as burnt orange can also have a calming effect. Combined with off-white and green hues, orange decor offers some seasonal spice to your fall home decor.
Sienna, pumpkin, or terracotta are all excellent paint colors for impactful accent walls. In order to really pull off this vibrant color, it needs to be used sparingly. Liven up your common areas with brightly colored scatter cushions, autumnal artwork, or modern kitchen barstools. Instantly transform a room by painting a small area like the foyer or by hanging richly colored orange curtains in your kitchen and bedroom. No matter where you use orange, it will certainly make a big impact and get you in the fall spirit!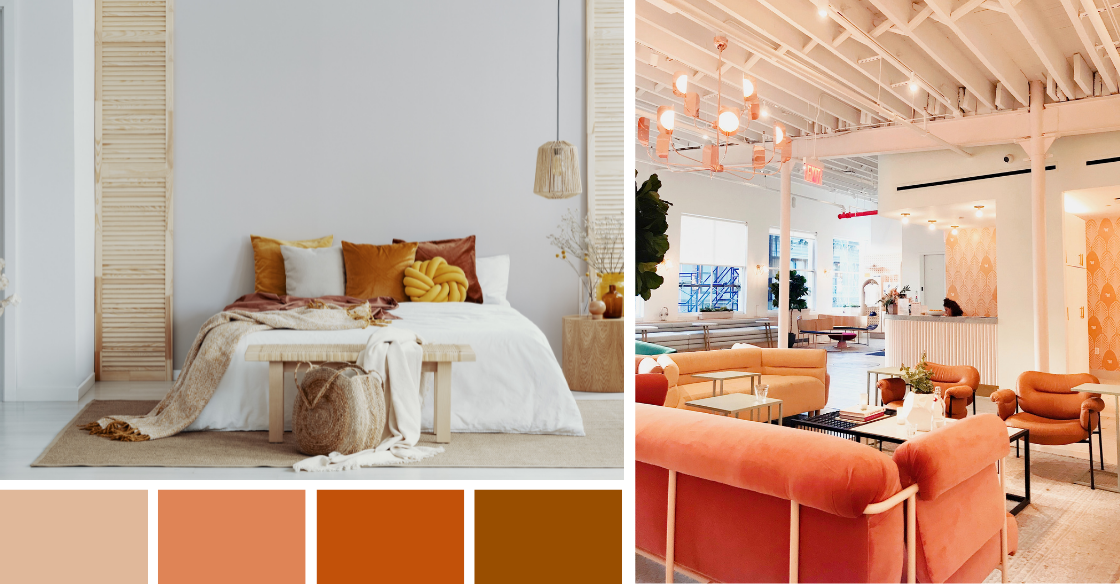 Chocolate Brown
Chocolatey browns and chestnut hues are seasonal staples that reflect the warmth and comfort of the season. While browns are great at bringing depth to a color scheme, working with a singular shade throughout your home can become monotonous. Instead, experiment with different shades of brown like chestnut, coffee, and mushroom that complement and enhance brighter tones like red, orange, and purple.
Because brown is such a classic shade for furniture, it can be used in virtually any area of your home. Bring depth to already bright rooms with a chestnut coffee table, assorted throw pillows, or a chocolate throw blanket When in doubt, you can never go wrong with a classic leather couch.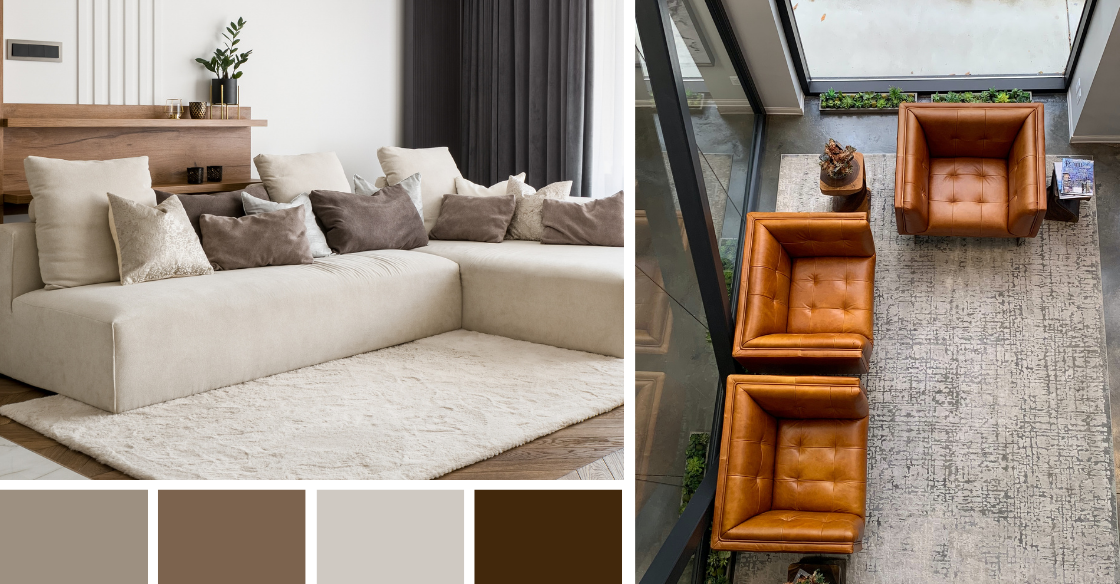 Luxury Fall Home Decor and Interior Design
Need help bringing your fall decor ideas to life this season? The award-winning, high-end Nativa interior design team has gained its experience over the last 20 years through more than 1000 projects servicing Southern California, across the nation and internationally. Very diverse in taste & style, whether you are looking for Mediterranean, Modern Mountain, Contemporary, Transitional or Coastal décor style, we'll be able to pair you with the best representative to match your needs.
Connect one-on-one with our designers to discuss how we can help you incorporate the latest fall trends into your home.