The hot rays of this anything-but-ordinary summer are fading, and a crisp autumn breeze is blowing into San Diego. The beginning of fall is a wonderful time to spruce up your home interior and add some cozy decor that will make curling up with a cup of cider at home the number one thing on your to-do list.
This year has made us spend more time than usual at home, so comfortable and multi-purpose spaces will be essential for your home interior design this season. We've compiled six of our favorite fall interior design trends that will seamlessly take your home from summer to fall with just a few simple tweaks and additions.
Incorporate a Splash of Autumn Into Your Color Palette
Classic fall hues like earth tones and neutrals can bring the warmth of the colorful foliage into your home interior. Science has proven that color has the power to influence our emotions and the warm, natural tones associated with fall tend to create a calming and relaxing atmosphere.
Adding golds, rosy pink, olive, burnt orange, and deep browns into your color palette will instantly give your home a quick fall makeover. Check out these 43 versatile fall color palettes for even more inspiration. Try incorporating these colors into your home with throw pillows, rugs, or vases.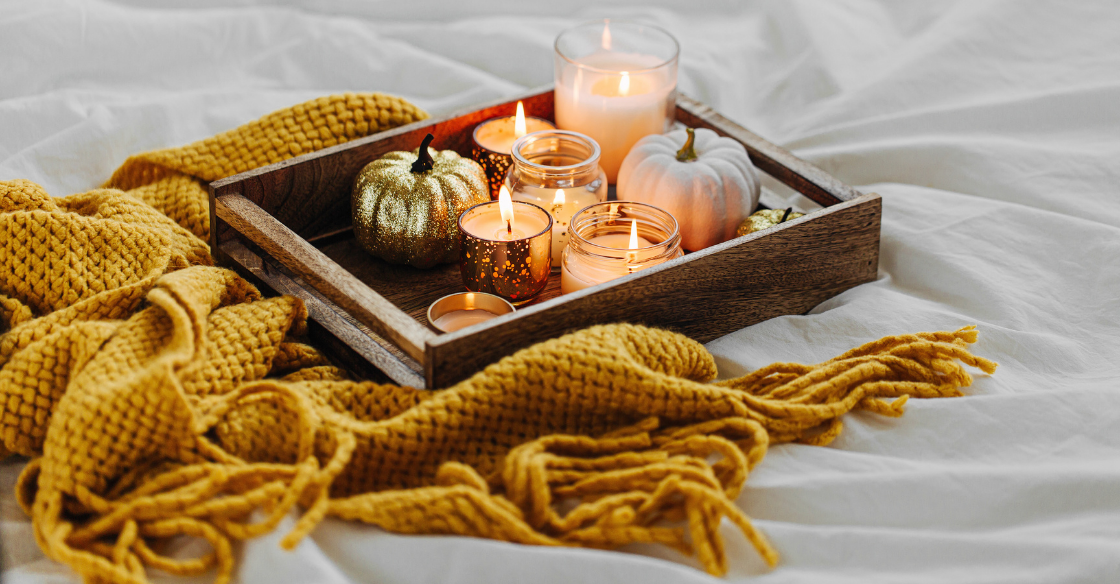 Update your Plant Collection
With all of the extra time on our hands, many of us tried out our green thumbs, and indoor greenery became a huge summer design trend. Adding plants and other organic pieces to your home interior has several positive effects that you can continue to take advantage of over the fall.
Add some staple fall flowers to your floral arrangements such as Amaranthus, Dahlias, and Sunflowers. Small potted trees like ficus and figs are a simple way to bring the outdoor fall foliage into your home. You can even add small organic accents like pinecones to centerpieces for a fresh fall update.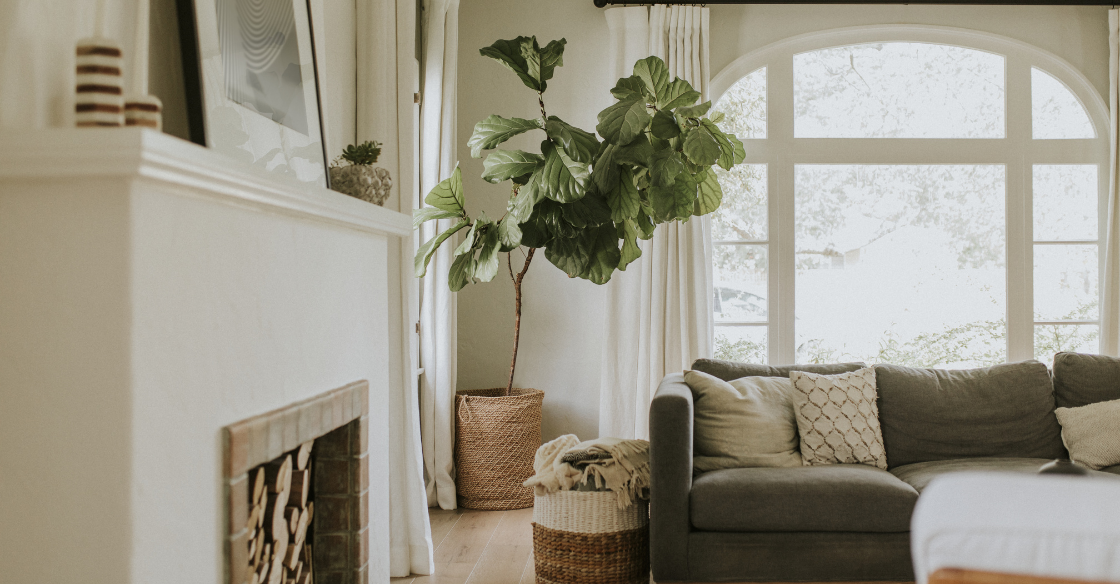 Accessorize with Cozy & Lush Accents
You've undoubtedly spent a lot of time at home this year and have begun to truly appreciate the need for cozy spaces. No longer just for relaxing, our homes have now become offices, gyms, and restaurants. Defining comfortable rooms with luxury interior design is necessary for differentiating between work and play. Cozy, plush fabrics in organic hues such as beige, light brown, and taupe will create the perfect fall backdrop for relaxing this season.
In line with 2020's bohemian trend, try layering fabrics like velvet, suede, flannel, and furs with blankets, rugs, and throw pillows. Find comfortable furniture pieces like this Chantel Accent Chair that you won't be able to resist hunkering down in with a cup of tea and a good book.
Set the Ambiance with Layered Lighting
Playing with lighting is a simple but effective way to change your home's ambiance when transitioning between seasons. Layering lighting can evoke emotion and dramatically transform a space.
Candles are an excellent lighting option for fall. Not only do they provide atmospheric lighting, but they allow you to bring delightful fall scents like cinnamon and chai into your home interior. Brass candlesticks or wall sconces are alternative lighting options that add a glam touch while giving the same dramatic layered effect that will be popular this fall.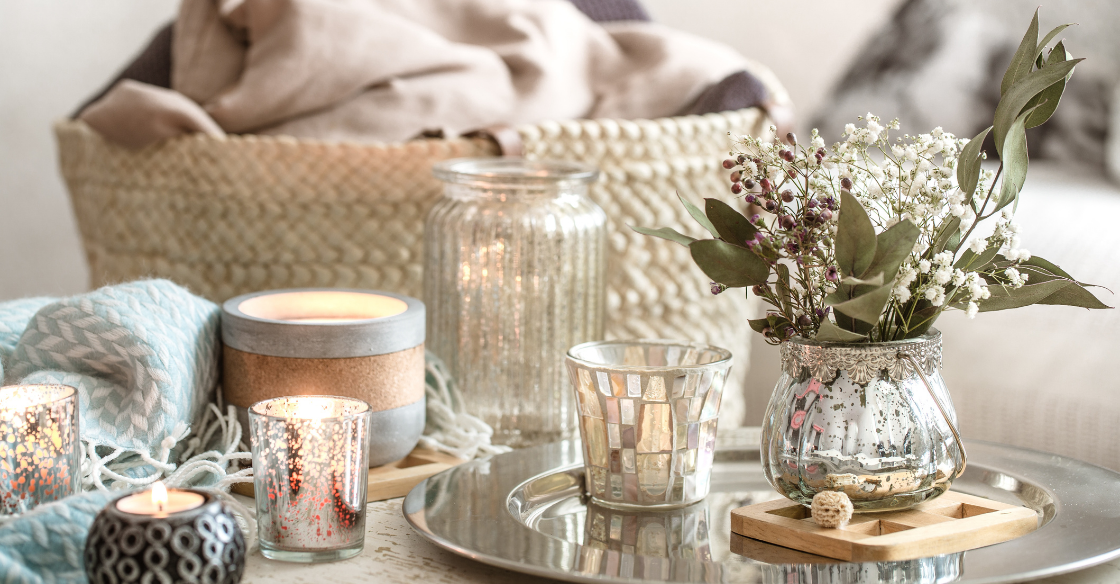 Move Your Rattan Furniture Indoors
Once relegated to patios, rattan has become a must-have material for indoor furniture pieces in 2020. The easy and charming nature of rattan can be used in modern, transitional, boho styles, and more. Incorporating rattan pieces in your home invites an organic element that seamlessly transitions from summer to fall.
Embrace the Curves
Curvy shapes are experiencing a renaissance in interior design this year. Inspired by the style made popular in the 60s and 70s, rounded furniture creates dimensionality and movement within a space. Include upholstered pieces like sofas, chaises, and benches with rounded corners and asymmetry into your home to instantly create an upscale fall vibe. For an even more dramatic fall upgrade, look for curved furniture pieces in warm earth and neutral tones.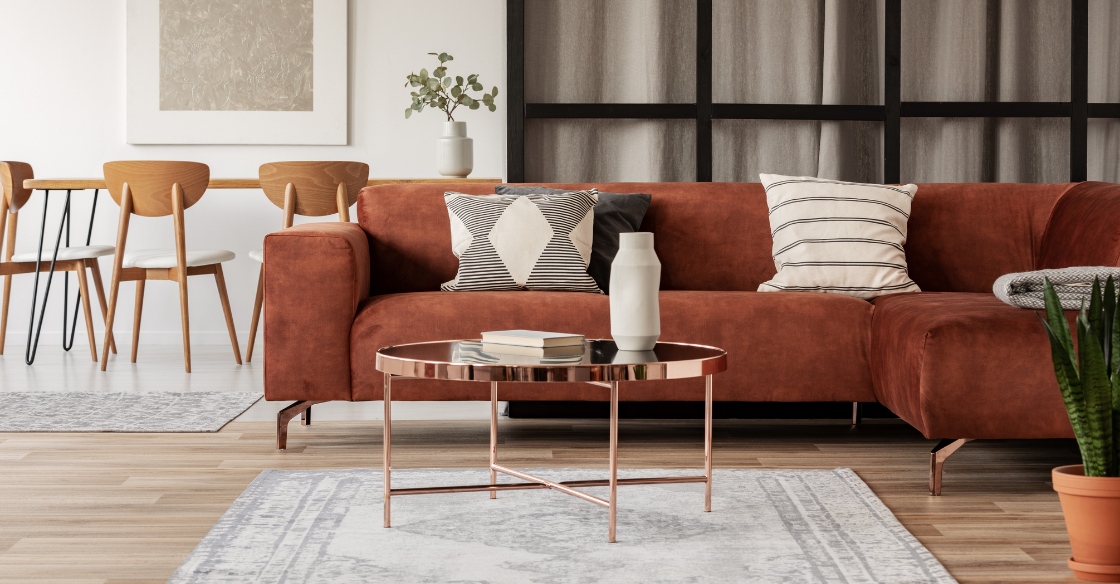 Create the Perfect Fall Home Interior
Our award-winning high-end interior design team has gained its experience over the last 20 years. Very diverse in taste & style, whether you are looking for Mediterranean, Modern Mountain, Contemporary, Transitional, or Coastal décor style, we'll be able to pair you with the best interior designer to match your needs.
Meet with one of our designers today to discuss how we can incorporate these fall interior design trends into your home this season.