Vacationing is a rite of passage into the bright, warm, summertime months. Nothing screams summer more than lounging around a resort all day, sitting on the beach with a fruity drink, and soaking up the sun. Although we'd all probably love nothing more than to be sipping a Pina Colada in a cabana right now, sometimes life gets in the way of summer vacation plans.
However, you don't have to sacrifice your vacation this summer. We've created the ultimate guide to turning your home into the perfect summer staycation destination. With a few simple summer decorating ideas you can make your home feel more luxurious and ready for a staycation at home.
Indoor Summer Decorating Ideas
When redecorating your home for the perfect staycation, start with the inside of your home. A few tweaks and additions can give your home the high-end yet relaxed atmosphere you find in resorts. Try out these indoor summer decorating ideas for the perfect staycation:
Greenery
The quickest and easiest way to make your home feel like a tropical getaway is to incorporate greenery into your design. Indoor plants offer a natural accent to your home that will make the layout feel more organic and inviting. House plants have been proven to improve your mood so having a few leafy friends inside of your home will make you feel as happy as you do on island time.
You can bring greenery into your home in the form of terrariums, potted plants or hanging plants. Terrariums are a creative way to add a touch of chicness to your home and we love them because they're completely customizable. You can place any combination of succulents and sprouts in your terrarium and they come in a variety of geometric shapes and sizes. Oversized potted plants are a staple in luxury resort interior design and can completely transform a space. Pick up a few decorative planters and opt for tropical plants such as bird of paradise, banana trees or dracaena to pull off the ultimate at-home resort look.
Resort Grade Linens
Arguably one of the best parts of any hotel stay is the high-end linens. Bedding can make a huge difference in not only the look of your bedroom but also your quality of sleep. Vacations are all about relaxing and treating yourself, so why not start with a plush place to lay your head at night?
The type of sheets you invest in depends on your personal preferences and style. You can find hotel quality sheets in various materials, thread counts, and price ranges. Temperature regulating sheets are ideal for those hot summer nights, so you can stay cool and comfortable. Don't be afraid to add in some pops of color through accent pillows and throws to give the room a tropical vibe.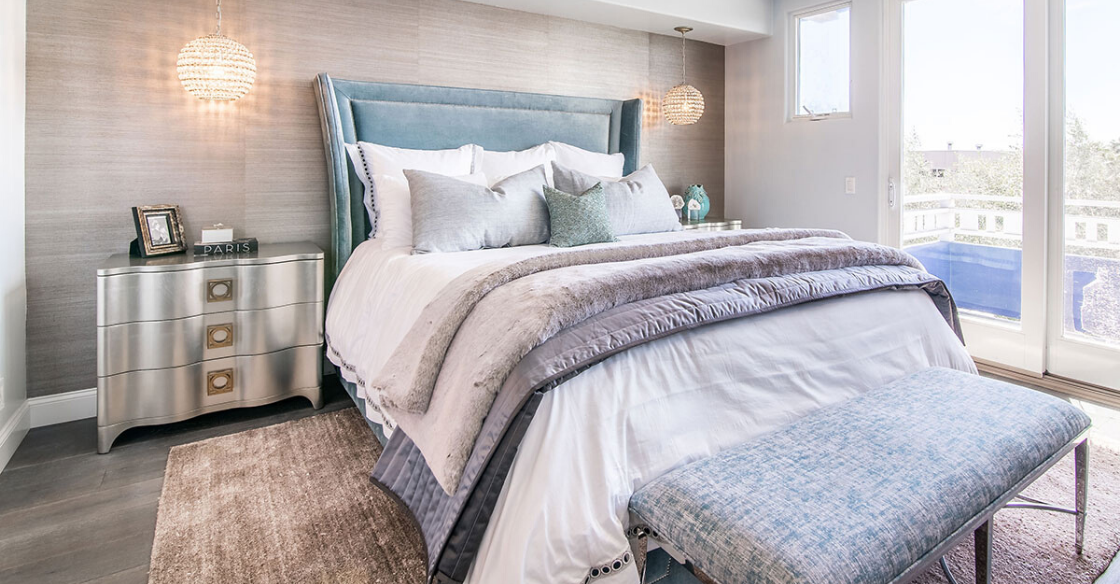 Fun Fragrances
Bring the adventure right to your doorstep with the help of fragrances. Our sense of smell is heavily intertwined with our emotions and memories, so having destination-themed scents around your home will quite literally take your brain to another place. Dubbed as an 'instant sensory get-away', Jonathan Adler's J

et Set Candle Collection is an easy and affordable way to transform your home into a staycation getaway. These soy blend candles use a variety of scents like sea moss, sage, balsam, cedar wood, and pineapple to transport you to your own personal paradise.
Upgrade Your Bathroom to a Spa
The clean and minimalistic look of resort bathrooms makes lounging in the tub and relaxing just that much better. You can give your own bathroom a spa-style makeover by adding just a few small accents. Investing in new bath towels will automatically give your bathroom to make you feel like you're at a luxurious 5-star resort. Adding a vibrant shower curtain to your bathroom is a great way to bring a pop of color and dimension into the space while keeping the rest of the room cohesive with matching hardware and neutral tones. Finally, don't forget to splurge on a big, fluffy bathrobe, because what screams vacation more than mimosas in a robe?
Outdoor Summer Decorating Ideas
An outdoor oasis is essential for turning your house into the perfect summer staycation destination. Lounging outside with a cold drink and the breeze in your hair is the epitome of vacation vibes. Even if you don't have a lot of outdoor space, you can still use a few tips and tricks to completely transform your backyard or patio. Try out these outdoor summer decorating ideas for the perfect staycation:
Comfy Seating
Ditch your old plastic patio furniture and invest in outdoor furniture made from natural materials like wicker or bamboo to achieve the ultimate resort-style look. Our California Outdoor Collection has a variety of water-resistant barstools, armchairs, sofas, and tables made from teak wood that will create a bohemian atmosphere that's perfect for your staycation. Hanging rattan chairs and hammocks are also great outdoor seating options that are perfect for lounging around or curling up in with your favorite summer reads.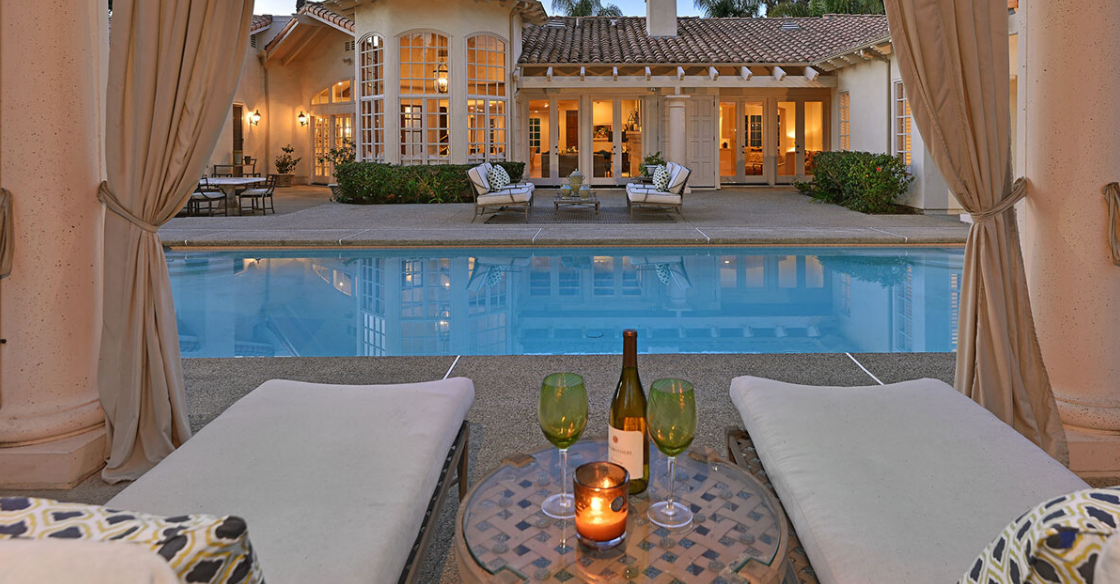 Lighting
Lighting will set the tone for your space, so having multiple light sources will help you create the perfect ambiance for your staycation. String lights and lanterns can instantly make an outdoor space feel more luxurious and relaxing. You can also opt for flameless candles, which effortlessly turn any space into a romantic and relaxing sanctuary.
Tropical Textiles & Patterns
Many people are hesitant when it comes to mixing patterns and bright colors in their home decor, so if you're wary about using these accents inside of your home, your outdoor space is the perfect area to play with bold colors and textiles. Look for patterns with leaves, florals, ikat or bright colors to use for outdoor accent pillows and throws to achieve this look. Play with various textures such as pom poms, woven material and fur to create more dimension and movement in your outdoor seating area.
Get Your Home Summer Ready
By incorporating a few of these summer decorating ideas into your design you can have the vacation of your dreams from the comfort of your home. Small changes and additions to your space can make a massive impact and transform your home into the quintessential summer staycation destination. Need a professional eye to help you revamp your home? We offer a free interior design service that allows you to meet with one of our experienced designers to bring your ideas to life. Fill out the form today to get started!