You may have a natural eye for design, but it never hurts to get some inspiration from professionals of interior design inspiration when embarking on your own home decorating journey.
Interior design is the art and science of creating an aesthetically pleasing environment that optimizes and enhances a space. Between choosing furniture, balancing color schemes, perfecting the lighting, and adding accessories, tips from interior designers can help you expertly elevate your home. We've compiled five secret tips from our San Diego, CA interior design experts that will help you decorate like a pro.
1. Focus on the color scheme
Color schemes are crucial to setting the overall tone of a space, which is why it's often the first place professionals start. Before you choose your color scheme, nail down the style you're aiming for by getting some inspiration from popular interior design styles. Selecting a color scheme that speaks to your style is an excellent way to reflect your personality. However, it's important to consider the effect your color palette will have on your home's mood and cohesion.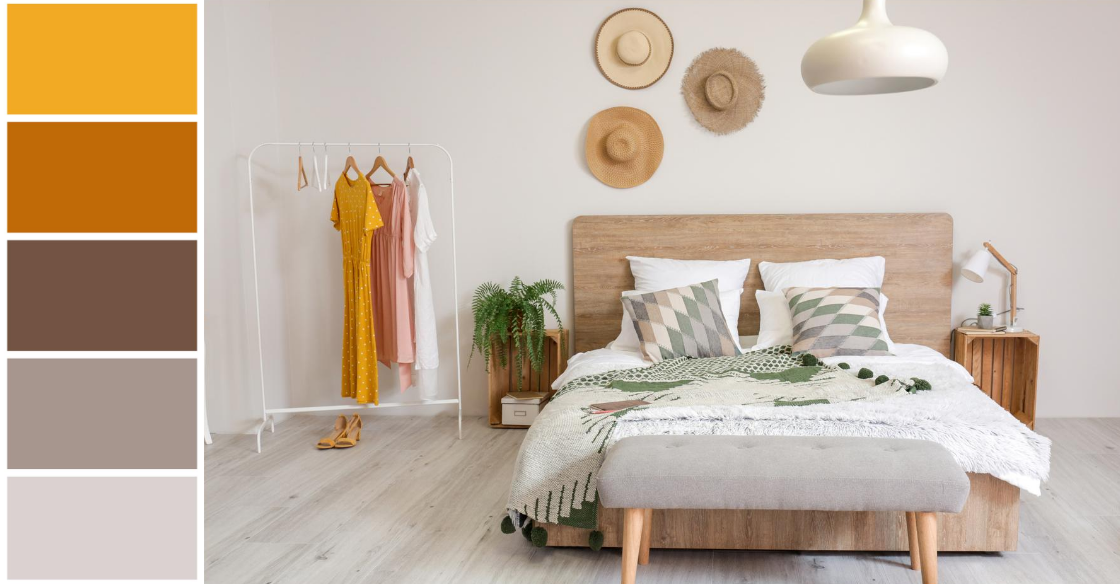 Interior designers use color theory and color psychology to ensure hues complement each other and invoke certain feelings. Applying these techniques when choosing the color scheme for your home will allow you to achieve your desired atmosphere while giving it an upscale vibe rooted in design principles.
One method for choosing a professional grade color scheme is to start by picking three colors: the primary color (walls), secondary color (furnishings), and accent color (accessories). Almost any three colors that feel authentic to your style will work with this technique. You just have to adjust the hues and saturation to make sure they work together. Using three colors will make your home feel more luxurious without it looking too busy.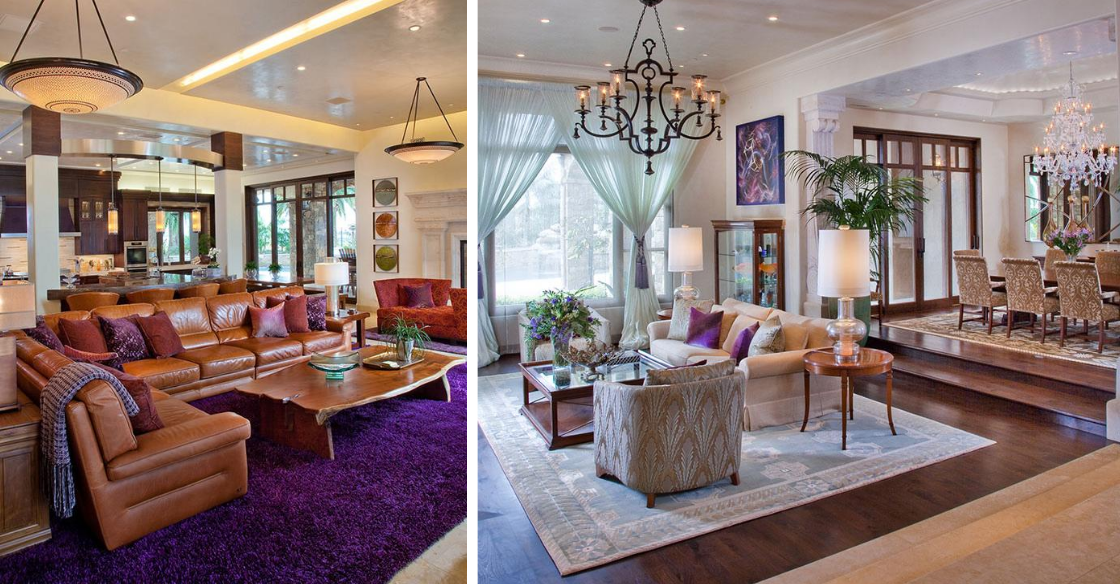 We used this technique in a laid-back living room design we did for a project in Rancho Santa Fe. Cream is the main color used for wall paint, brown shades are used for the secondary in the furniture and cabinetry, and purple is used as an accent color to add vibrancy with the plush rug, throw pillows, and accessories.
Using the three-color formula and other color scheme tips from interior designers will give your home interiors dimension and flair worthy of a Pinterest board.
2. Play with texture
When you have a monochromatic color scheme or a minimalist design, it can be challenging to make the space feel three-dimensional. Texture is an excellent tool that interior designers use to add dimension to an otherwise flat area. You can play with texture in your own home by using different fabrics, tiles, patterns, shapes, and materials to make a room more dynamic.
This dramatic dining room we designed for our Santa Luz project is the perfect example of how textures can elevate a simple color palette. Although the main furnishings in this room are in white and brown shades, the diverse textures, shapes, and accent colors bring the space to life and give it a high-end feel. Combining woods, glass, metallics, and lush fabrics provide a beautifully layered contrast. The bold blue patterned wallpaper and dramatically shaped end chairs with matching blue seat cushions seamlessly tie the design together. All while creating exciting yet subtle visuals.
3. Choose statement furniture pieces
First and foremost, your furniture should be comfortable and functional. But furniture also offers a great opportunity to make an impactful design statement.
Statement furniture pieces are a timeless design trick that can completely transform a space. Try mixing a large colorful sofa with a thin framed coffee table or pair a chunky armchair with a small thin-legged stool. No matter what combination of furniture you choose, just make sure that there's a variation to play with proportion and sizing. Visit our showroom for more stunning statement furniture pieces.
4. Declutter with stylish storage
Ample storage is the key to any good interior design because it keeps clutter at bay and helps you hide-away unsightly items. Instead of clear storage bins and cheap stacking drawers, use storage devices that are both functional and stylish.
Stylish storage is one of those tips from interior designers that you can easily add to your arsenal to add a professional touch. Use wicker baskets, glass bowls, and metal trays to organize loose items artfully. Ottomans and trunks can store blankets or kid's toys while acting as bold statement pieces. You can even use large furniture pieces like this sleek armoire that doubles as a hidden bar cart.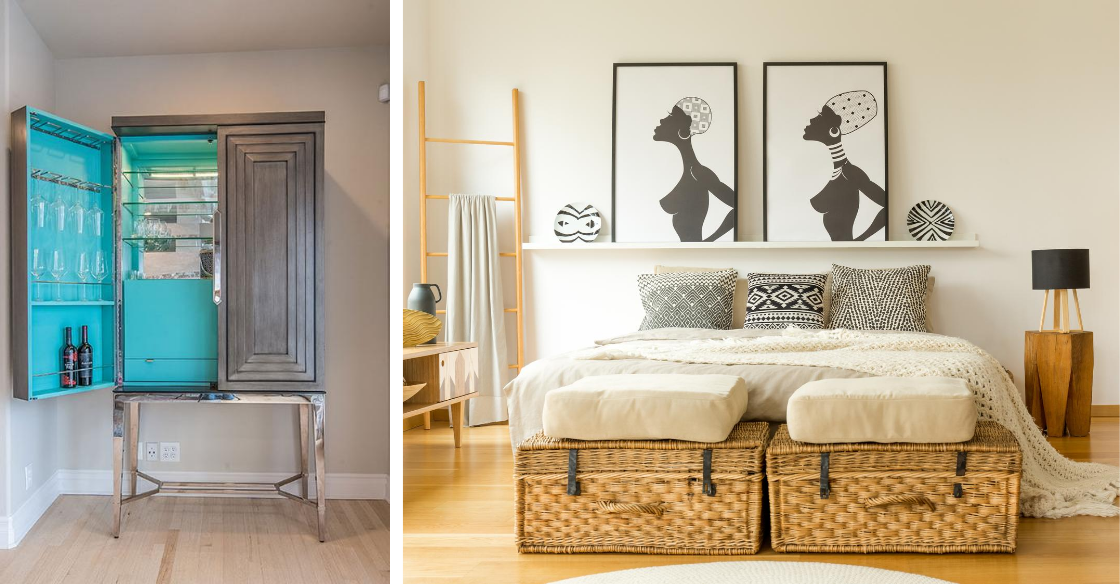 5. Add natural elements to every room.
Adding plants and other organic elements to your interior design scheme will add a lively and fresh quality to your home.
Plants are a design industry staple because they're versatile enough to fit into any style or color scheme. Apart from its design aesthetic, greenery boosts mood, increases productivity, and improves air quality. Some of our favorite ways to use greenery include:
Oversized potted plants
Hanging baskets
Terrariums
Succulents
Flower arrangements
Potted trees
Although fresh plants are ideal, artificial plants will create the same effect if you're not as confident in your green thumb. However, when it comes to flowers, always go with fresh arrangements. Fresh flowers are a signature flourish professional designers use as a finishing touch that pulls the entire concept together. Plus, they'll make your home smell incredible.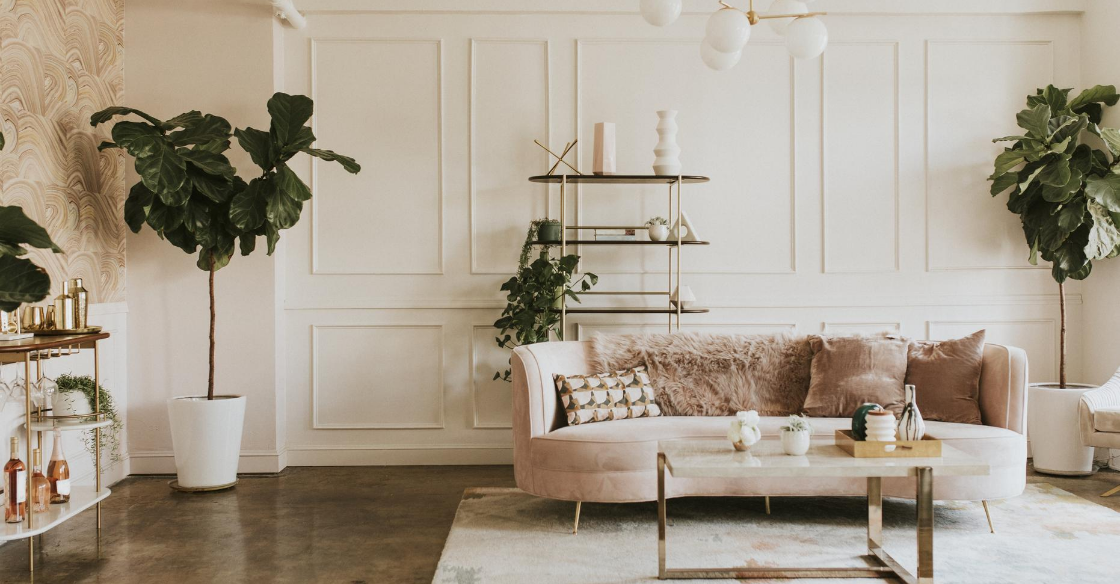 Learn More Home Decorating Tips from Interior Designers
Designing your home can be overwhelming, but with these industry secrets, you'll be able to convert any space into a stylish, inviting home. Contact our experienced design team for more inspiration and style ideas for your next home renovation.