For over 20 years, professionals have relied on Pantone's Color of the Year to guide product development and purchasing decisions across multiple industries, including fashion, product packaging, graphic design, and of course, interior design. Much like the unpredictability of 2020, the highly anticipated announcement of Pantone's 2021 Color of the Year was unconventional and unexpected.
Pantone couldn't decide on just one color to encapsulate the energy of this upcoming year, so they did something unprecedented – picked not one but two colors for their 2021 Color of the Year!
PANTONE 17-5104 Ultimate Gray + PANTONE 13-0647 Illuminating, two independent colors that highlight how different elements come together to support one another, will be the star color trends of 2021.
"The union of an enduring Ultimate Gray with the vibrant yellow Illuminating expresses a message of positivity supported by fortitude," says Leatrice Eiseman, Executive Director of the Pantone Color Institute, "Practical and rock-solid but at the same time warming and optimistic, this is a color combination that gives us resilience and hope. We need to feel encouraged and uplifted; this is essential to the human spirit."
As we work through continued uncertainty, these emboldened shades' color psychology will give us the confidence, stability, inspiration, and support to approach this year with optimistic fortitude. Continue reading to learn how you can infuse Ultimate Gray and Illuminating into your home interior design this year: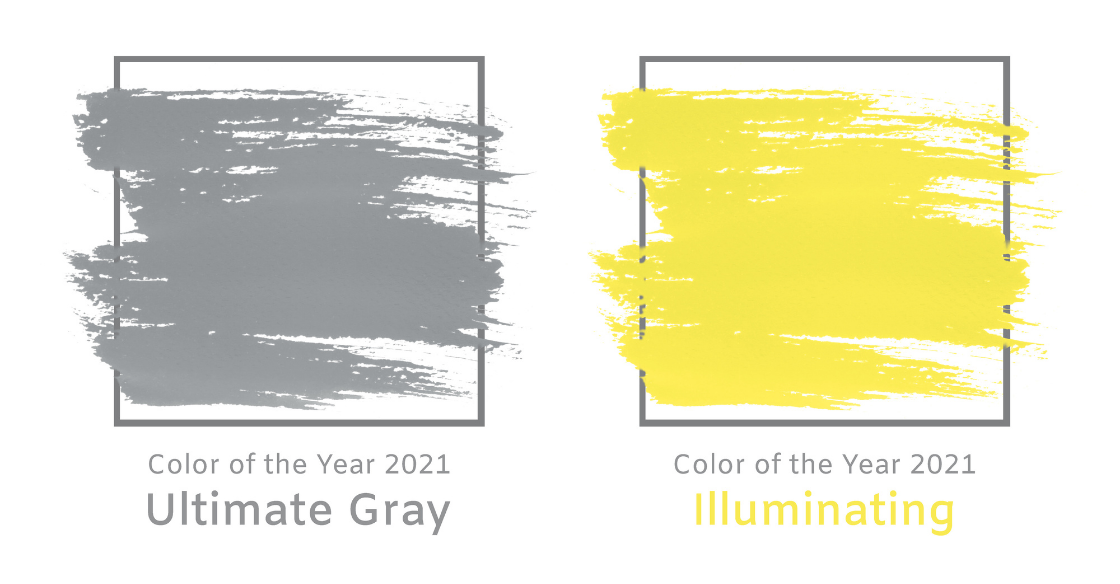 3 Ways to Use Pantone's 2021 Color of the Year:
It can be difficult to know exactly how to incorporate new colors into your palette, but this year's tones may prove especially challenging since there are not one but two shades to consider. For this reason, hiring an interior designer may be a good idea, but if you want to try out this trend on your own, here are three interior design tips for incorporating Pantone's 2021 Color of the Year into your home:
Brighten up the Kitchen
As the heart of the home, the kitchen serves as a wonderful starting place to incorporate this lively color combo. Painting your cabinets or walls a shade of calming Ultimate Gray with pops of bright Illuminating yellow creates an undeniable energy in your kitchen that you'll fall in love with in 2021. Colorful backsplashes are currently having a moment, so consider choosing warm yellow tiles for your kitchen backsplash to add an unconventional pop of color. You can even take it up a notch and switch out your traditional stainless appliances with a bright yellow stove or refrigerator to create a modern retro feel.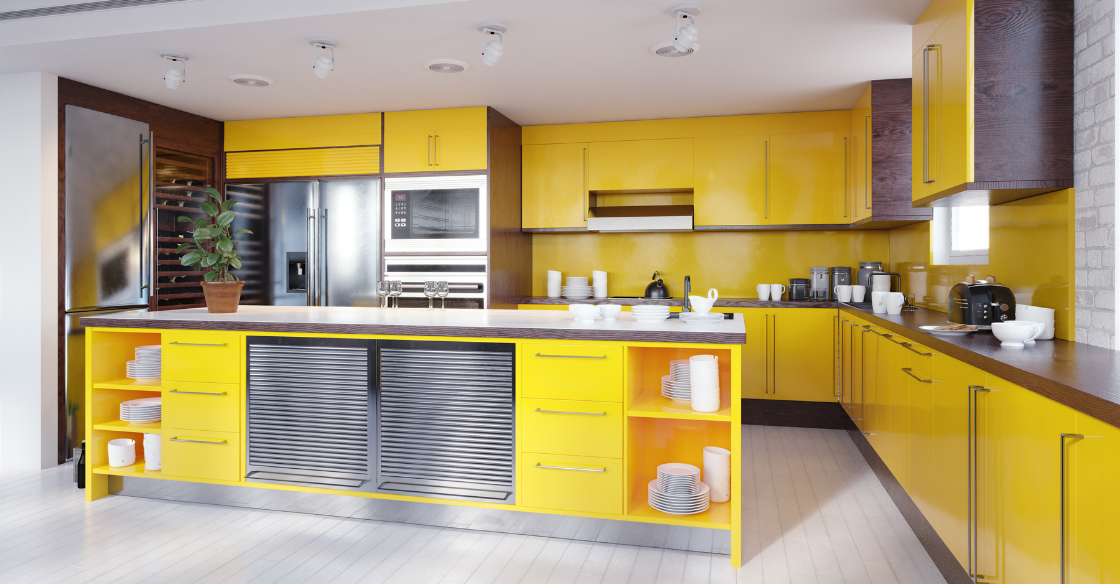 If yellow appliances and cabinets are a bit much for your style, you can easily incorporate Illuminating + Ultimate Gray with more subtle accents. A decorative basket of lemons in a cement bowl will give you the same organic industrial feel on a smaller scale. You can also use yellow plants like tulips, sunflowers, and lemon trees throughout your kitchen to bring some organic elements into your home. Because Illuminating is such an impactful color, a little goes a long way, but don't be afraid to embrace the boldness of this color combination in the New Year.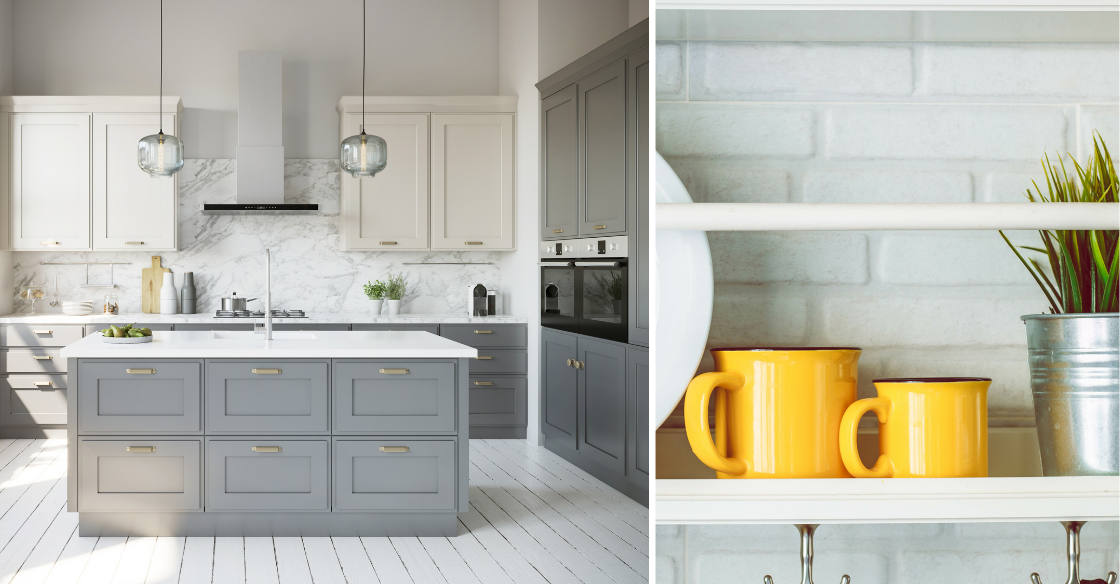 Create a Showstopping Entryway
First impressions are everything, and your foyer offers a perfect location to create a bright and inviting entrance to your home. Although it's a small space, Illuminating + Ultimate Gray can be integrated into entryways in several creative ways.
Bright yellow walls will make your entrance feel bigger and more inviting, while gray walls will make it feel more intimate and cozy. If solid colors feel too overwhelming, consider painting these colors in floral, chevron, or geometric patterns on your wall to make an immediate bold statement in your entryway.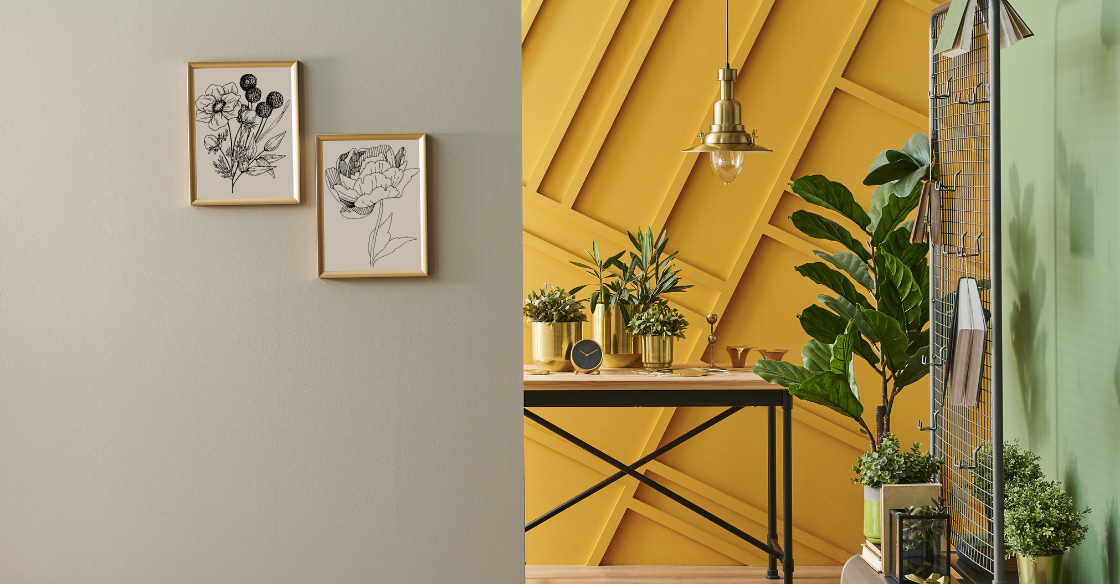 Once you've picked your wall color, you can begin to accent with the other shade through art, furniture, and decor pieces. For example, you can place this gray Hanely Accent Chair against solid Illuminating yellow walls or hang a statement art piece with yellow shades on Ultimate Gray chevron-patterned walls to nail this look.
If you want to take this look to the next level, paint your front door Illuminating yellow to give your entrance a bright and cheery makeover.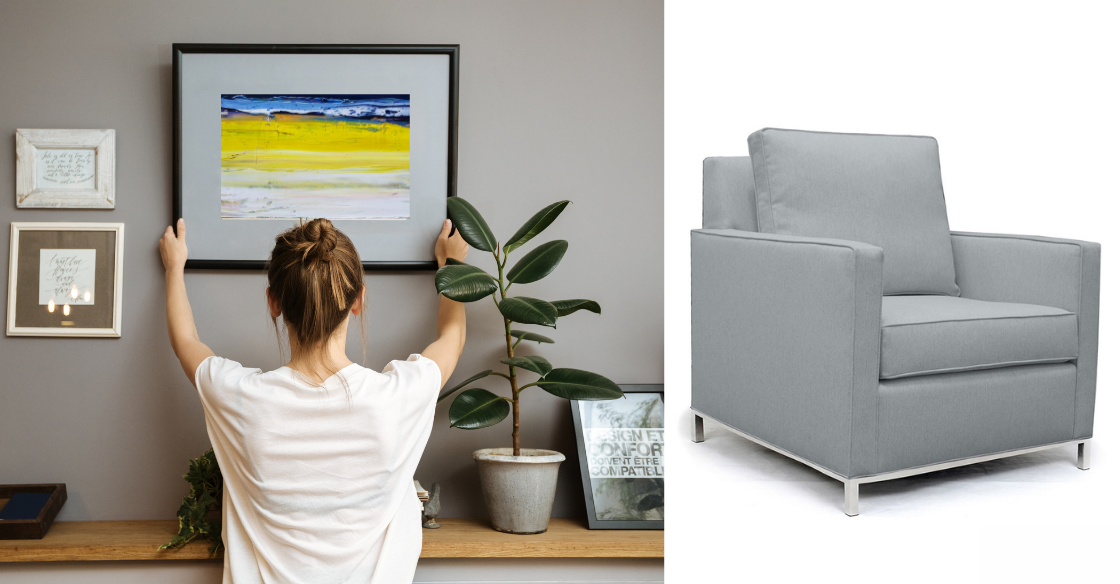 Jump on the Color Blocking Craze
Color blocking has expanded beyond the fashion industry and become a tried and true way for interior designers to elevate any space's look and feel. The goal is to break up a room using color by creating different geometric shapes, such as squares, circles, and rectangles. Color blocking works particularly well with Pantone's 2021 Color of the Year. This trend often mixes colors that don't necessarily go together – like yellow and gray – for a striking visual effect.
Here a few tips for using color blocking with Illuminating and Ultimate Gray in your home:
As a rule of thumb, work with an odd number of colors (in this case, Illuminating, Ultimate Gray, and a third neutral color like cream)
Use painters tape to divide a wall into a few sections of geometric shapes (squares, rectangles, and triangles)
Use natural architectural breaks, such as a fireplace, cabinet, or bookcase to help define the blocks of color
Choose one of the colors to paint the entire ceiling and the other for the floor to create two more large color blocks
Once you've color blocked your walls, it's time to accessorize! Look for fabrics and furniture with geometric shapes to continue the color blocking theme throughout the space. For example, this cream Bahia Sofa with geometric patterned cement finishing would look fantastic against a yellow, gray, and cream color-blocked wall in a modern living room or office.
Color blocking with Illuminating and Ultimate Gray will create more dimension in an area and help bring in a wave of positivity and calmness to your home.
Bring Your Home Into The New Year
Based on Patone's decision to select two tones for their 2021 Color of the Year, we expect this year to be anything but ordinary! The stability of Ultimate Gray, combined with Illuminating's cheeriness, offers us an exciting opportunity to experiment with contrasting colors in our homes this year.
The award-winning high-end interior design team here at Nativa has gained its experience over the last 20 years through projects servicing Southern California and clients across the nation and internationally. Diverse in taste & style, whether you are looking for Mediterranean, Modern Mountain, Contemporary, Transitional, or Coastal décor style, we'll be able to pair you with the best representative to match your needs.
Connect one-on-one with our designers to discuss how we can help you incorporate the hottest shades of 2021 into your home this year.