If you've browsed the internet for furniture lately, then you're likely familiar with the hold that Scandinavian design has had on the interior design world over the past decade. This tried and true interior design style has crept its way into our hearts and homes as a way to create a simplistic yet functional aesthetic. However, if the extent of your knowledge about the Scandinavians plateaus at a few ABBA hits, but you'd like to try your hand at incorporating Nordic-inspired design into your home, then this blog is for you!
Scandinavian interior design balances comfort, minimalism, and function. As one of the key styles that have shaped modern interior design, many of its characteristics have echoes of modernism, including clean lines and minimal decor.
Read on to learn the basic principles of Scandinavian interior design and gain some inspiration for achieving this popular look in your home this season.
Basics of Scandinavian Design
The aspect that most differentiates Scandinavian design from other decor styles is what the Nords call "Hygge." Hygge involves creating an environment that encourages feelings of warmth, contentment, and comfort through the "less is more" mantra. This is often achieved through cozy minimalist decor and furniture.
In addition to furniture and decor, color palettes should be limited to calm and neutral tones. An authentic Scandi palette typically has no more than four key shades: whites, grays, black, and blue hues. These colors harken back to the wintery landscape and skies of Nordic countries and do a wonderful job of reflecting natural light to create feelings of tranquility.
Another essential aspect of Scandi design is form & function. Every design element must offer some functionality to the space. Using carefully curated storage pieces and furniture that double as stylish decor will help you really nail this look.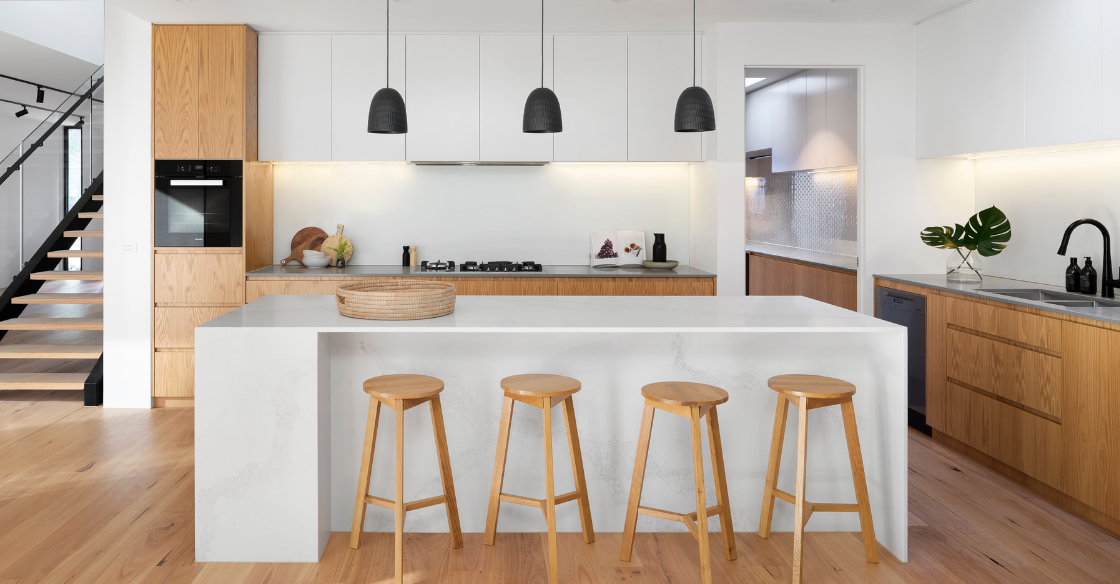 Incorporating Nordic Design Into Your Space
Now that you learned the basic principles of Scandinavian home design, let's take a look at how you can incorporate this interior design trend into your home through furniture and decor.
1.Cozy Comfort
Can you think of anything better than having your home feel like a nice, warm hug? Well, comfort is the name of the game in Scandi style. Nordic countries are prone to freezing temperatures, so cozy textiles like wool and shearling are essential to this style. Think fuzzy sheepskin rugs, worn leathers, woven fabrics, and cable knit blankets paired with a simple and chic couch.
Not only do these cozy textiles add warmth to the space, but they also soften the often sterile look of a minimal Scandinavian interior. These fluffy additions are a functional and stylish element that can easily be added to any design aesthetic.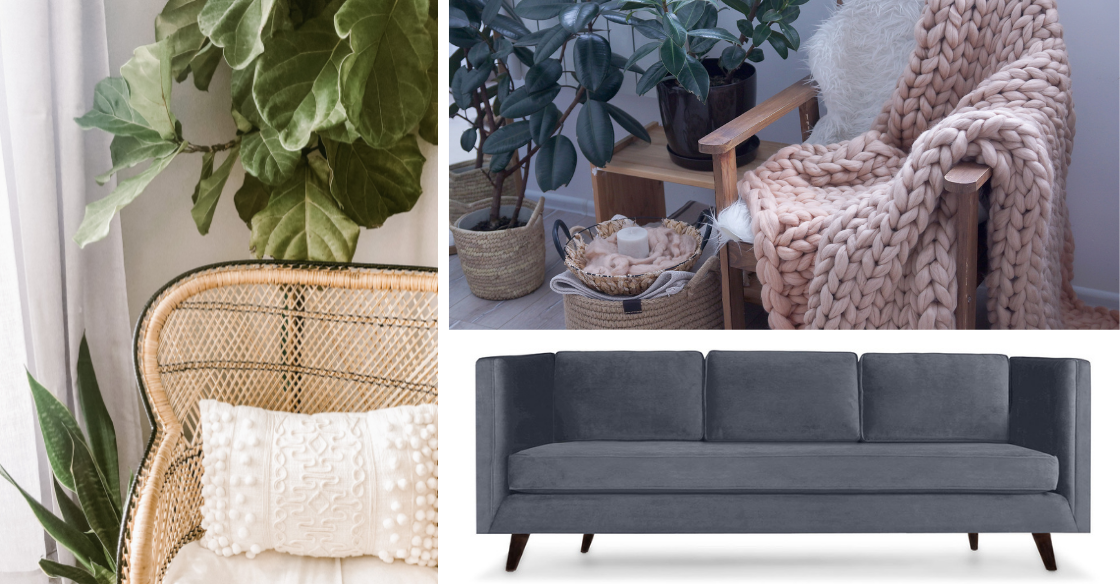 2. Multifunctional Pieces
Every item must earn its keep in Scandinavian design, meaning that each piece must have a specific function. A sure-fire way to accomplish this is through storage pieces that double as stylish decor. Whether it be a coffee table that opens up into a storage chest or open shelving decked out with trinkets and accents, selecting multifunctional elements is essential for this style.
For example, this wooden credenza is the perfect addition to a Scandinavian dining room as a stylish design element and functional space to store dishware and dining essentials.
3. Mid-Century Modern Furniture
Mid-century modern furniture designs are by far the most common for Scandinavian-style homes. Simple, clean lines paired with interesting shapes and forms transform ordinary furniture pieces into functional works of art.
This Scandinavian-chic Karah Danish Chair is a fantastic accent in any bedroom, office, or living area that needs a pop of Hygge style. The hardwood chair's unique design features a 3-position adjustable system that encapsulates Nordic design styles' comfort, form, and function.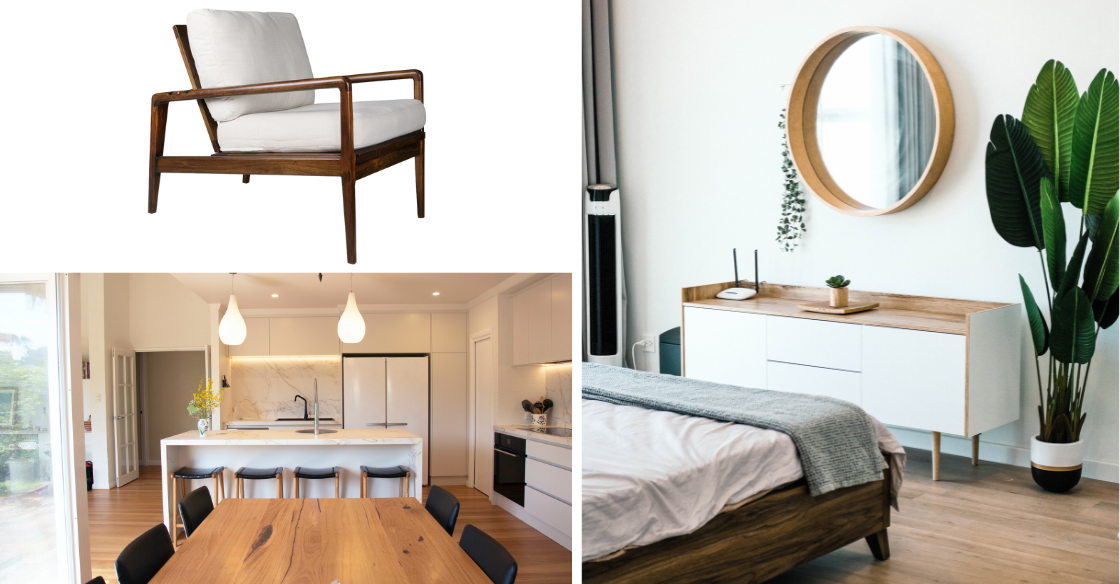 4. Natural Design Accents
Because Scandinavian design uses a neutral color palette, the style can often become a bit stark. To combat this without sacrificing the traditional Scandinavian style, add some natural design elements to brighten your spaces.
Our favorite way to do this is through plants, woods, and other organic accents. Greenery brings an earthy element to the already natural feel of the style while allowing you to incorporate subtle pops of color. Light woods such as birch, alder, or maple can also create an understated, organic atmosphere that will help you get in touch with nature while staying warm and cozy in the confines of your home.
This live-edge dining room table uses the original gnarled shape of the wood slab to create a carefully preserved, natural look that lends itself perfectly to Scandi-inspired design.
Bring Scandinavian Design to Your Home
While the simplicity of Scandinavian design may seem easy to achieve, the nuances of the style can actually be quite tricky to nail.
Our award-winning high-end San Diego interior design firm has over 20 years of experience working on projects in not just Southern California but across the world. Very diverse in taste & style, whether you are looking for Scandinavian, Modern Mountain, Contemporary, Transitional, or Coastal décor style, we'll be able to pair you with the best representative to match your needs.
Connect one-on-one with our design team to get started on transforming your home into a Nordic-inspired work of art or shop for Scandinavian furniture at one of our Southern California showrooms.