Creating tranquility in our homes is a must. From its health benefits to its stylish aesthetic, natural home decor has become a popular way for people to reconnect with nature and bring the outdoors into their homes. Decorating with natural elements such as greenery, jute rugs, and pottery can inspire feelings of peace, relaxation, and even joy!
Let's take a look at some of our favorite decorating tips for incorporating natural elements into your home.
Woven Baskets
Baskets are one of the classic interior design secrets used by the pros in natural home decor. Decorative baskets made from woven material such as cedar bark, seagrass, rattan and wicker are a lightweight yet durable decor option. They are both stylish and functional decor elements that can store items such as blankets, toys, magazines. Woven baskets lend themselves well to almost any style, making them a great addition to any space needing simple and affordable spruce up.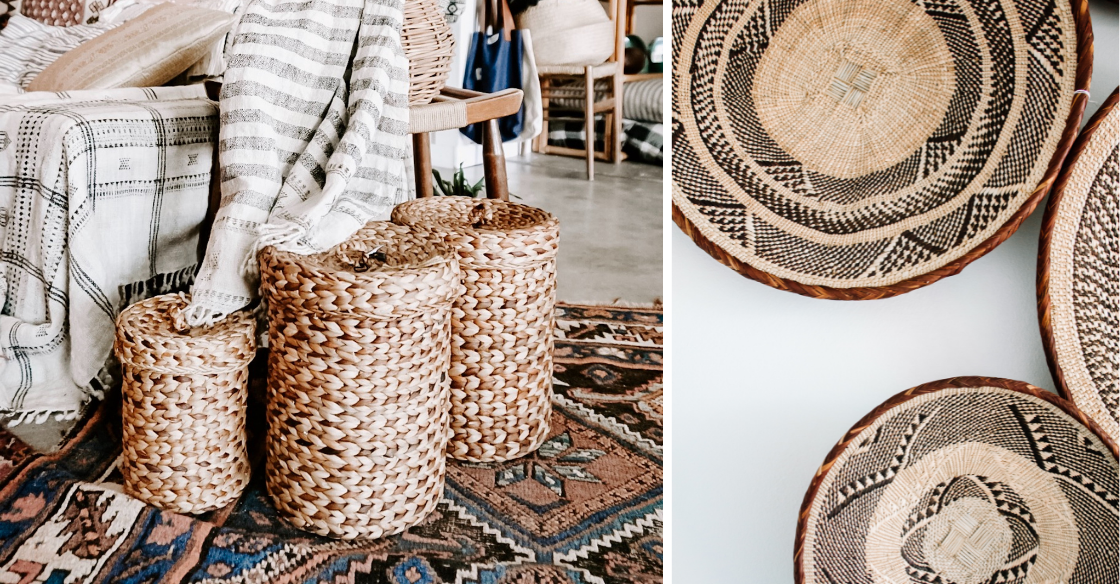 Plants
One of our favorite ways to incorporate natural elements into homes is plants, greenery, and florals. Not only do plants add beautiful organic shapes and colors to any space, but they also help purify the air and boost your mood. Bring greenery into your home in the form of terrariums, potted plants, flowers, or hanging plants. Try varying the shapes, types, and sizes of the plants you choose for additional texture and visual interest.
Reclaimed Wood
Using reclaimed wood in your home is not only a trendy interior decor trend, but it's also a sustainable one! Look for furniture pieces, beams, and decor accents made from easily reclaimable woods like birch, chestnut, oak, and elm. These woods create an understated, organic atmosphere that will help you get in touch with nature from the comfort of your own home.
Because natural wood is so durable, it makes for a great dining room table option—and as a bonus, it's a no-mess, kid-friendly style. Our live-edge dining room table uses the original gnarled shape of the wood slab to create a carefully preserved, natural look that lends itself perfectly to natural home decor.
Nature Motifs
If plants and shells aren't really your thing, but you want to bring a little bit of the outdoors to your decor, look for representations of nature on fabrics, artwork, and wallpaper. Abstract interpretations bring a layer of sophistication that can fit into any home decor aesthetic.
Complement your other natural home decor with a stylistic art print or painting of animals, nature scenes, or botanicals. Nature-inspired wallpaper is another one of our favorite natural home decor ideas that instantly transforms any space, no matter the size. Using banana leaf, floral, or animal patterned wallpaper instantly gives rooms a bold and professionally designed feel.
Natural Outdoor Furniture
Ditch your old plastic patio furniture and invest in high-end outdoor furniture sets made from natural materials. Many natural materials are durable enough to withstand the elements and chic enough to fit a Boho aesthetic.
Lightweight rattan furniture adds texture to a space with elegant ease. We also recommend pairing your natural outdoor furniture with patterned pillows or cushions to add color or texture.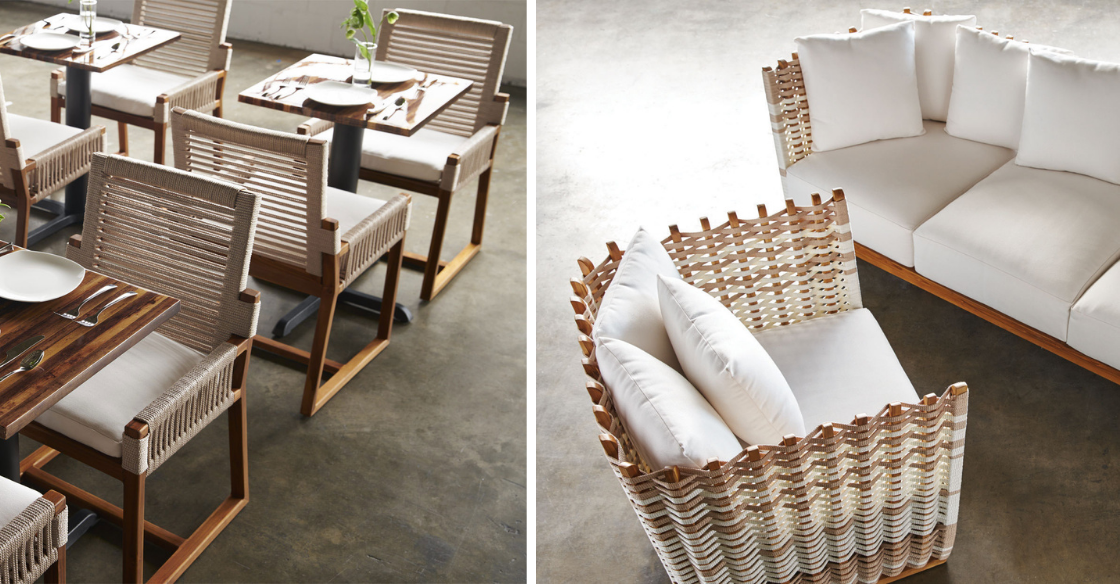 Leather Sofa
Finding furniture pieces that complement natural elements is essential to pulling off a cohesive look. Leather is an often overlooked organic material that instantly creates a sophisticated vibe in homes. A leather upholstered sofa is a timeless piece of furniture that acts as a perfect base piece for natural home decor. Leather seamlessly pairs with other natural elements like rattan, woven baskets, and reclaimed wood. Because leather comes in many different shades and finishes, it can be customized to almost any color palette and style.
Natural Vignettes
A vignette is a grouping of items corralled together to make one eye-catching decorative element. Vignettes are perfect for those looking to add a touch of nature to their space. Pieces such as ceramic vases, branches, pinecones, seashells, and houseplants work well in these groupings and can be placed on coffee tables, bookshelves, hutches, and more.
Start by finding a place for the largest accessory and then place smaller complimentary items around. For example, you can place a large vase on a shelf and then place smaller items like plants and seashells around it to create a vignette.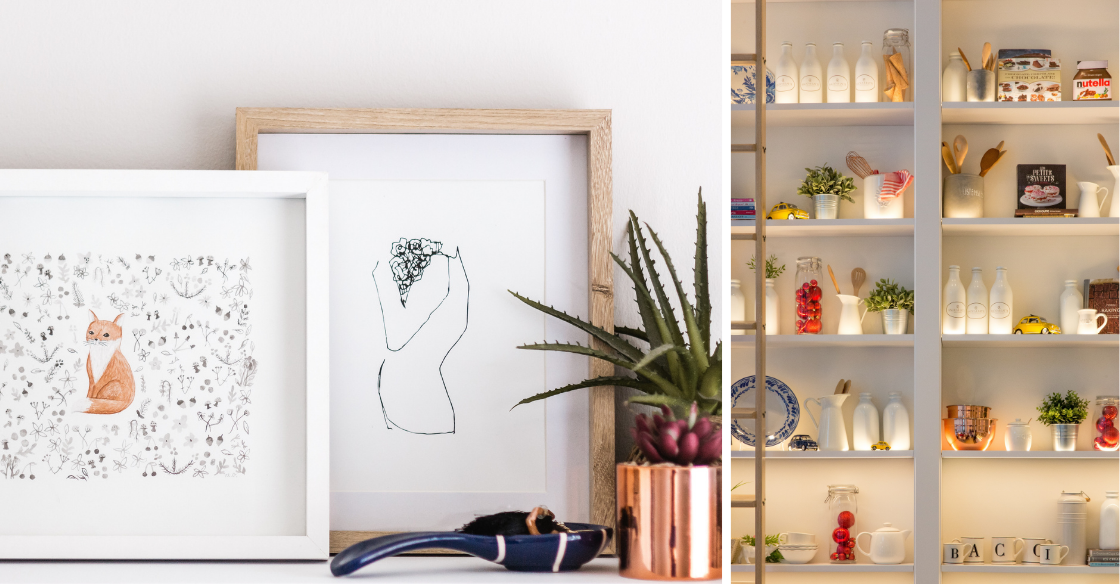 San Diego Interior Design Experts
Incorporating natural design elements into a home requires a keen eye. The award-winning high-end interior design team here at Nativa has gained its experience over the last 20 years through more than 1,000 projects around the world. Diverse in taste & style, whether you are looking for Mediterranean, Modern Mountain, Contemporary, Transitional, or Coastal décor style, we'll be able to pair you with the best designer to match your needs.
Connect one-on-one with our designers to discuss how we can help you accessorize your living room with luxury interior design styles this season!