Baja California Norte and Southern California have very distinctive interior design styles that reflect the region's coastline. Minimal yet warm and eclectic, the California-Cool interior design trends focus on highlighting the surrounding vistas' beauty. The California interior design style often has echoes of beach life, earthy desert color palettes, and Latin influence, creating an atmosphere as light and breezy as the neighboring ocean.
Style fads tend to come and go, but California-Cool never goes out of style. If you're looking to add a touch of coastal flair to your home, try out these home decorating tips to achieve the California-Cool look.
Breezy Color Palettes
In step with the relaxed California vibe, coastal color palettes tend to be light and monochromatic. Creamy whites, warm browns, and neutral color schemes are a staple in California-Cool homes that allow the lush coastal backdrop to be the star of the show.
Using warm earthy tones in various hues and textures prevents the monochromatic palettes from feeling too sterile. Linens and other breathable, organic fabrics can be found in troves throughout homes in the Southern California area. Wooden furnishings offer this otherwise soft style masculinity while maintaining a natural atmosphere. We executed this trend in this Coronado Beach home. Our interior design team used a minimal color palette with wood detailing and cool-toned accents to give the space warmth and texture.
Versatile Outdoor Spaces
Outdoor spaces are given just as much consideration as the bedroom design when it comes to California homes. With expansive vistas, sandy beaches, and breathtaking sunsets, integrating luxe outdoor spaces into your home will allow you to take advantage of the stunning scenery. If you're still in the early stages of a home build, hiring a landscape architect can help you optimize the indoor-outdoor flow of your home.
Patios and pools are a dime a dozen in California, so focusing on lighting, furniture, and accents will allow you to create a unique space that seamlessly transitions from day to night. Complete with poolside chaise loungers, a canopied sofa, grilling area, and side tables, this patio we designed for this Santa Luz home is textbook California-Cool. Quality patio furniture is essential for pulling off this look, so find pieces in rattan, wicker, and wood materials.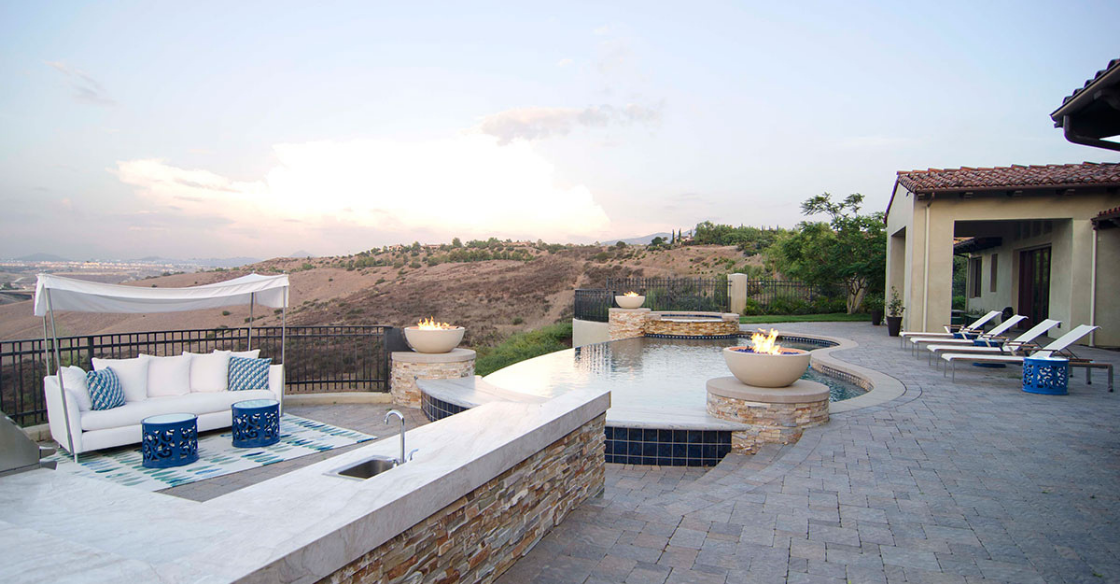 Pops of Color
Because neutral color schemes are pervasive in California homes, art, rugs, and decor accents are a great way to introduce pops of color to the space. Blues, yellows, greens, terracotta, and reds all work well within the bright California interior design style. They offer an impactful pop of color reminiscent of the region's Mediterranean, Indigenous and Latin influences.
In this entryway display we created for a Pacific Gate condo, we chose a colorful abstract piece as the focal point to add a touch of sophistication, worldliness, and drama to this mid-century modern home.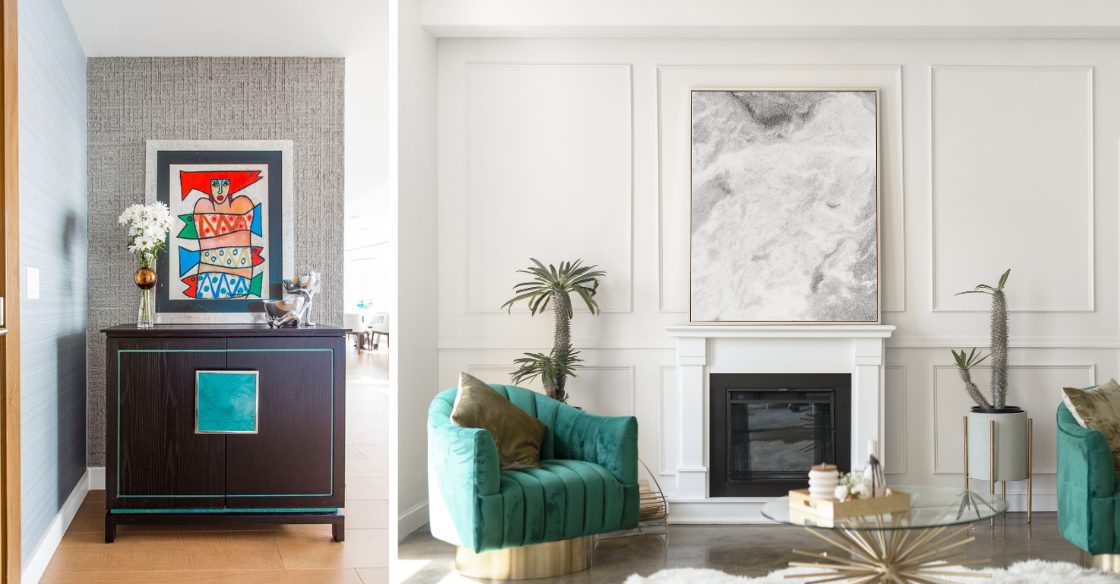 Spa Bathroom
For the residents that call San Diego home, every day is a spa getaway. No Southern California home is complete without an elegant bathroom with mixed metals, a large shower, and a free-standing soaking tub. Adding organic elements like seashells, plants or wood instantly creates the signature coastal style of Southern California.
This high-end bathroom we designed for a San Granados home uses a clean white color scheme to create serenity and is fitted with organic elements, marble finishes, and a luxurious porcelain tub.
Artistic Tiling
Another one of our favorite home decor tips for incorporating color into your palette is tiling. From backsplashes to fireplaces, mosaic tiles have been a mainstay in California interior design styles. Inspired by Mediterranean design, mosaics offer a bright and bold way to infuse texture and color into the home. Coming in an array of eye-catching shapes and tones, tiles can completely transform a space and give it a luxury resort vibe. Opt for floor-to-ceiling tiling as we did in this Santa Luz living room to capitalize on this trend.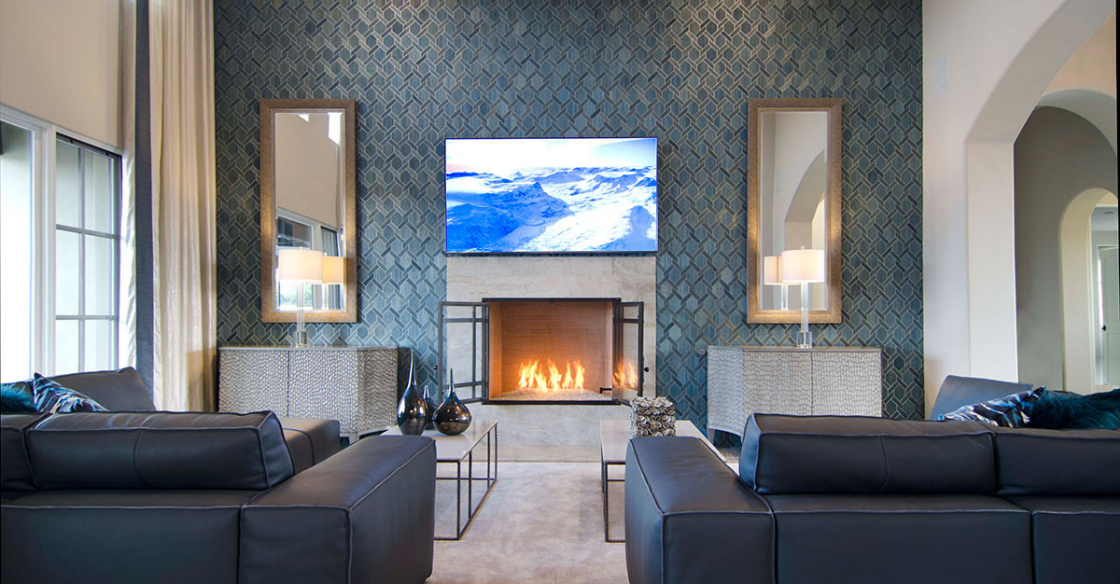 Bring The California Interior Design Style to Your Home
With spring cleaning coming to an end, a California-Cool home would be ideal to enjoy the summer season. For even more summer inspiration, read these tips from us and other leading design experts: 13 Ways to Refresh Your Home for Summer.
Our award-winning high-end interior design team has gained its experience over the last 20 years through more than 1000 projects servicing Southern California and some outstanding works across the nation and internationally. Very diverse in taste & style, whether you are looking for Mediterranean, Modern Mountain, Contemporary, Transitional, or Coastal décor style, we'll be able to pair you with the best representative to match your needs.
Meet with one of our designers today or stop by one of our San Diego showrooms to discuss how we can incorporate these signature California-Cool interior design trends into your home!