A recent trend that we've loved in the luxury hotel interior design field is finding ways to create welcoming and intimate spaces for guests through design elements. Innovative interior design trends help hoteliers stand out from a sea of sterile rooms while also providing guests with a high-end and inviting experience. Luxury interior design makes travel even more alluring and elegant for guests seeking to indulge in a getaway. Looking for ways to enhance your hotel design before welcoming back guests?
Here are 5 luxury hotel design ideas that guests just won't be able to resist Instagramming:
1. Biophilia design
Biophilia has become a popular trend in luxury hotel interior design over the past decade as travelers seek venues that allow them to escape city living confines and get in touch with nature. Greenery offers an affordable and natural accent that will make any hotel layout feel more organic and inviting. Because plants have been proven to improve mood, decking a hotel out with a few organic elements is not only an excellent aesthetic choice, but it makes guests happier!
Living walls have increased in popularity since the rise of social media because of their ability to immediately create an Instagram-worthy backdrop for travelers. A living wall consists of panels of plants grown vertically on free-standing structures like pillars or walls. Living green walls are sometimes called vertical gardens, green walls, living walls, or eco walls. While many living walls are constructed with natural plants, installing an artificial green wall will eliminate the need for watering or sunlight, making it ideal for any space in a luxury hotel.
Other touches of greenery can be introduced to a hotel layout in the form of terrariums, potted plants, hanging plants, floral arrangements, and decorative baskets of organic elements like seashells and potpourri. Oversized potted plants are a staple in luxury hotel interior design and can completely transform areas like the lobby, dining areas, and guest rooms. Opt for tropical plants such as bird of paradise, banana trees, or dracaena to pull off a lavish luxury resort look.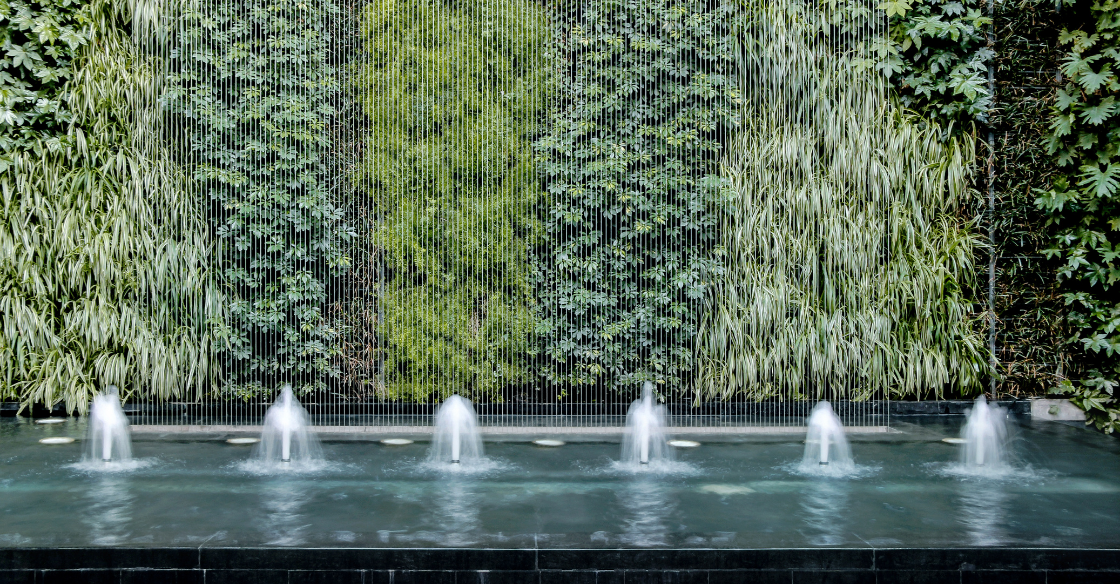 2. Upholstered Walls
Upholstering walls in fabrics—in guestrooms, lobby areas, and even bars– instantly makes a room feel cozier and warmer in a way that paint or wallpaper just can't. Upholstery can envelop an entire room, a framed panel, or a single wall depending on the intended atmosphere and budget.
Fabrics like wool, silk, velvet, cotton, and linen can work well in this design style. We recommend choosing one material and pairing it with two vibrant prints to create some eye-catching dimension in the space.
An added benefit of upholstery is sound reduction, something every hotelier struggles with within their interior design. With upholstered walls, footsteps don't resonate, speech is quieted, and that hollow echo that sometimes fills a room is absent, making it perfect for areas where you want to create an intimate, relaxed experience.
3. Dark Hue Drama
A fresh coat of paint is the easiest, most affordable way to transform a space, especially when working with darker hues. Through the power of color psychology, dark hues like inky blues, rich greens, charcoal grays, and chocolatey browns instantly give hotels a 'face lift' that creates a warm and sultry environment dripping with luxury.
Using dark paint in bedrooms creates a cozy atmosphere for guests, while in community areas, deep hues are showstoppers that create a fantastic backdrop for brighter upholstery, art, and greenery. In the Les Oliviers, a property we designed in the French Riviera, deep blue walls in the kitchen area create a dramatic contrast that elevates the space while maintaining a level of comfort.
Dark hues can also be incorporated in smaller doses throughout a hotel to create thoughtful moments of drama. White paint is the standard go-to for doors and trim, but black is an unexpected yet very sophisticated alternative. Painting ceiling beams, doors, moldings, and baseboards in a high gloss black or another deep hue immediately adds a glamorous edge. When using dark paint, make sure to consider the lighting and align it accordingly with the mood of the room.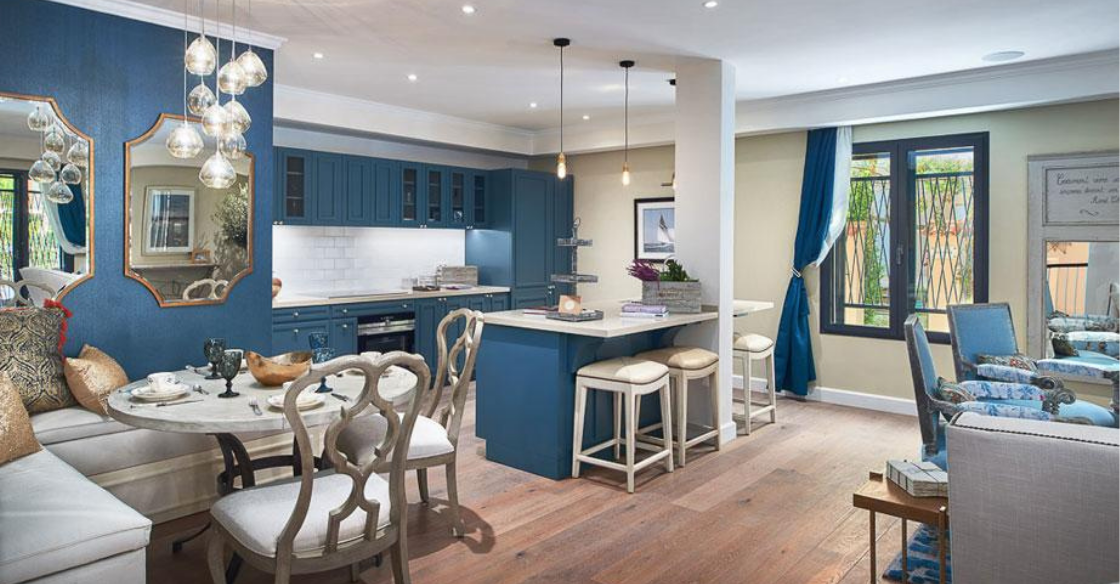 4. Luxurious Seating
Nothing says 'luxury boutique hotel' like a seating area within an already sumptuous bedroom design scheme. Ditch the basic wood chairs and polyester sofas and invest in some luxury seating to create spaces where your guests can kick back, relax and feel like royalty.
Oversized armchairs that envelope you in velvet? Yes, please! Cozy wicker chairs draped in sheepskin on the patio? Absolutely! We placed an upholstered bench at the end of the bed in front of the fire, along with a loveseat and multiple seating areas in this room we designed for the La Quinta Resort Club to create a dynamic and welcoming space for guests.
The key to perfecting seating in luxury hotel interior design is creating blends of texture, color, and size that offer guests multiple seating options where they can cozy up throughout their stay.
5. Spa Bathroom
Oversized tubs, fluffy robes, and unparalleled views are the mark of unadulterated luxury for many vacationers around the world. The hotel bathroom has become a design statement for many of the most luxurious properties across the globe. It's an opportunity for interior designers to pamper guests and create a delightful experience they'll never forget.
Tile is a great place to incorporate some luxe into bathroom design and bring enticing textures and patterns into the space. Marble countertops, ceramic tile backsplash, and high gloss floors all scream elegance.
Although minimalism has dominated powder room design in the past, a bathroom doesn't have to feel sterile. Chic details like a vintage chandelier, oversized plants, and wall art can instantly warm up a bathroom and make it more inviting. Elements like an upholstered velvet couch, full-length mirror, and even heated floors will transport guests to a spa getaway.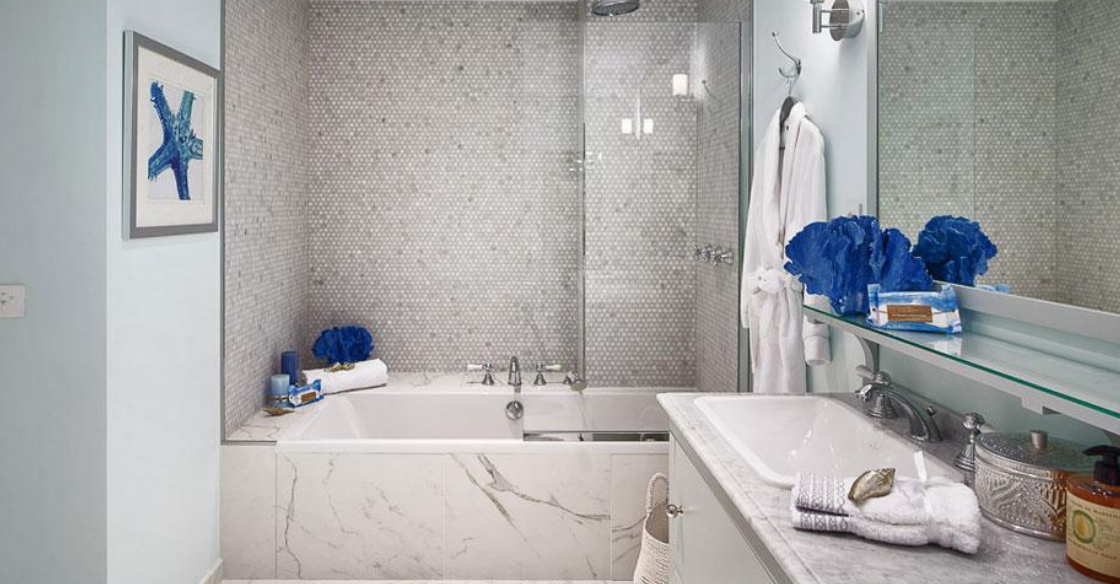 Upgrade your luxury hotel with interior design
The award-winning high-end interior design team here at Nativa has gained its experience over the last 20 years through thousands of projects servicing Southern California and clients across the nation and internationally. Diverse in taste & style, whether you are looking for Mediterranean, Modern Mountain, Contemporary, Transitional, or Coastal décor style, we'll be able to pair you with the best representative to match your needs.
Connect one-on-one with our designers to discuss how we can help you upgrade your luxury hotel with these elegant interior design styles.