We can't believe it either, but the holidays are right around the corner, which means that it's time to refresh your space with some home decor ideas for the holidays. Whether you want to go all out and deck out every hall of your home or you're looking for more understated decorations, there are tons of holiday decor options that will fit within your current interior design scheme.
Can we let you in on a little-known interior design secret? Decorating for the holiday season doesn't actually require all that much work! If you're strategic about your color scheme and invest in a few statement pieces, the following tips will instantly give your home a festive holiday face life.
From subtle front door wreaths to elaborate living room displays, we've put together some of our favorite statement-making holiday decor ideas to help you bring your winter wonderland to life.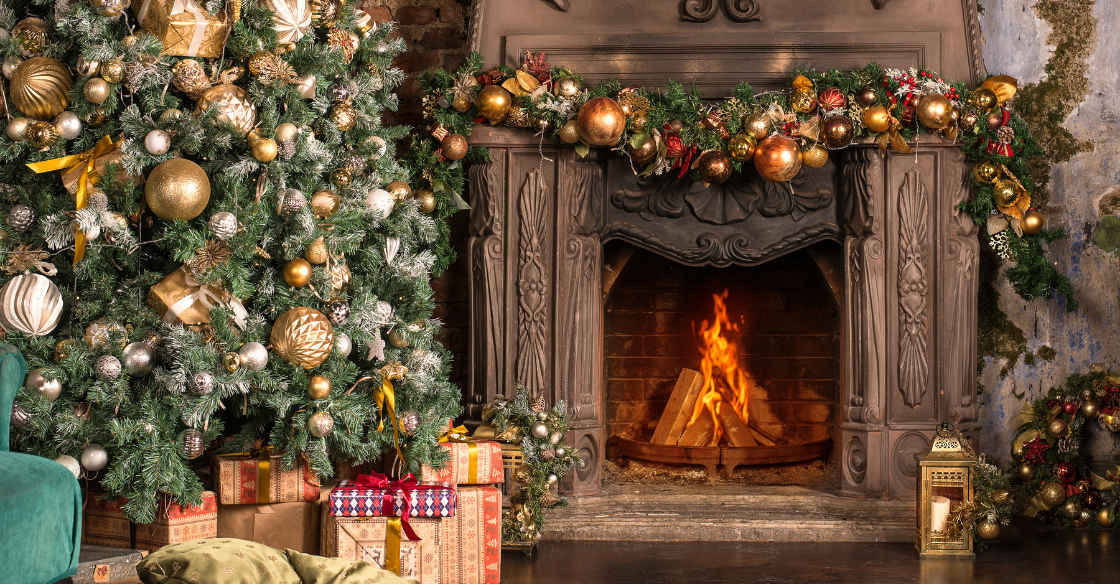 1. Unexpected Color Schemes
Although traditional green and red shades are a staple for holiday decor, many people are venturing out into more unique holiday color palettes. Working with an interior designer can help you integrate your holiday decor without it feeling out of place by creating a color scheme that fits with your existing interior design style.
For minimalist and traditional styles, pair slate gray and silver with berry red accents. A giant white tree with silver tinsel and red ornaments instantly brings a bright yet tranquil feeling to homes.
Modern and bohemian interior design styles can make use of metallic shades like silver, copper, and gold to bring an iridescent yet unique lightness to your design. Virtually any home can use a color palette of different hues of blue to create dimension and depth that reflects the tranquil nature of the season.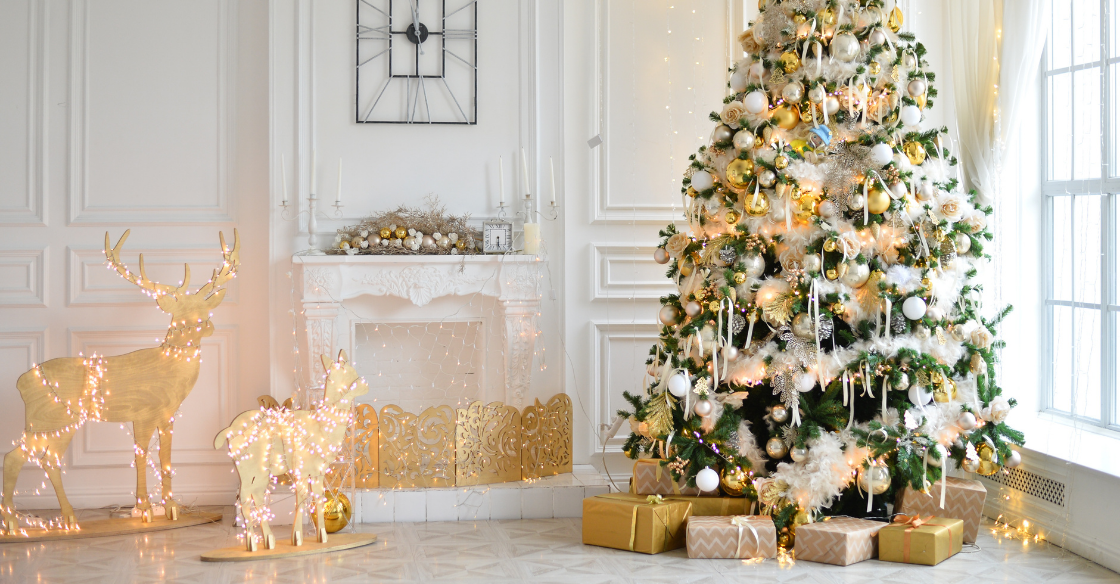 2. Creative Garlands
Garlands are simple holiday decor staples that instantly bring the spirit of the holidays into your home. While traditional holly and pine garlands are always a safe choice, more unconventional garlands can really set the tone for a unique holiday design and give you a chance to get crafty.
String your own citrus garland with blood oranges and twine for a fresh spin on traditional garlands that will have your home looking and smelling fantastic. Craft a mitten garland by stringing gloves together for an adorable kid's room decoration. For an updated classic look, make a garland with scented pinecones, juniper boughs, and twine.
You can hang garlands almost anywhere in your home, including peg rail-lined shelves, fireplace mantles, windows, and staircase railings to instantly add a festive flair.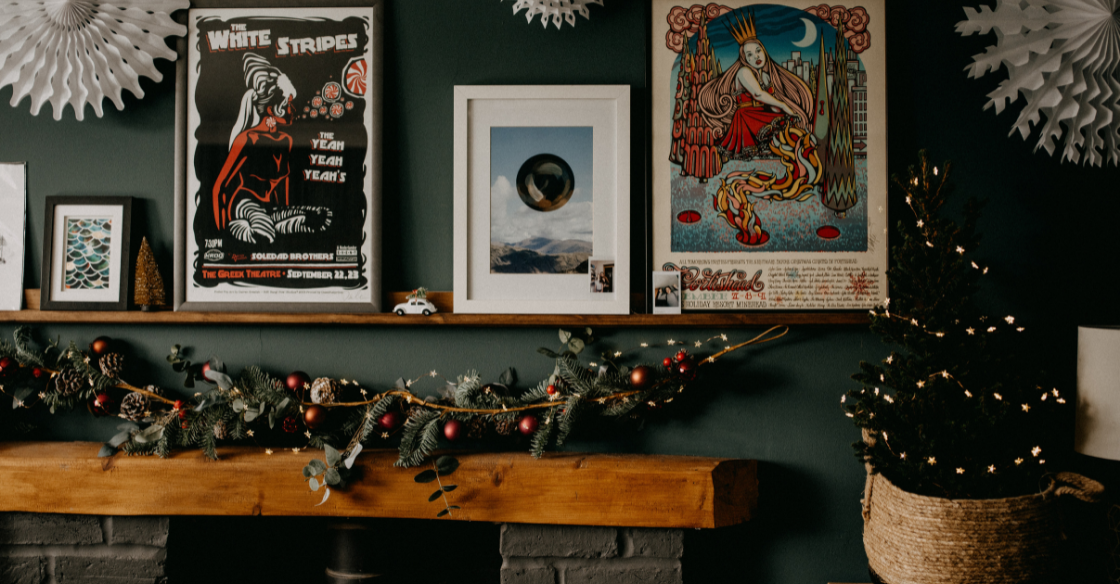 3. Subtle Holiday Decor
Small accents can go a long way when it comes to chic holiday decor. Elaborate wreaths, buffalo check throw pillows, and carefully curated living room vignettes call in the spirit of the season without overpowering your home. Statement furniture pieces like a cherry red accent chair or walnut coffee table are festive yet functional pieces that can be used year-round.
Entryways are also a great opportunity to make a showstopping first impression on neighbors and guests before they even step foot in your house. An elegant wreath and greenery are enough to bring a front porch to life and welcome in the holiday season.
Taking advantage of smaller areas of your home such as the bathroom or foyer can bring unexpected holiday decor opportunities as well. Scarlett hand towels, a snowflake encrusted shower curtain, and a pot of poinsettias in the guest bathroom can create a simple, yet elegant, holiday theme. Don't underestimate the power of the little details!


4. Stairway to the North Pole
If you want to skip the tree this year, staircases offer an unexpected opportunity to create a statement-making holiday decor display. String garlands with evergreen boroughs, winter berries, pinecones, and tinsel through your staircase railing for an easy, yet impactful decoration.
Add fluffy stockings, potted poinsettias, and LED snowflakes and you have a festive place to put your gifts without the hassle of tree maintenance. For a touch of personalization, we recommend adding family photos and letters to Santa to your display.


5. Multiple Mini-Trees
Figuring out how to elegantly decorate a Christmas tree can be one of the most difficult parts of holiday interior design. Instead of one extravagant tree, consider decorating with multiple mini-trees with different themes throughout the house. This gives you the opportunity to play with different aesthetics and color schemes throughout your home rather than committing to one specific style.
For example, a mini-tree in the kitchen can be adorned with organic ornaments like dried oranges, acorns, pinecones, and dried flowers. Deck out a mini-tree in a playroom with handmade ornaments exploding with color and geometric shapes. Place a mini-tree in the bedroom with soft twinkling lights, family photos, and sentimental ornaments. Reserve your main tree in the living room or entryway for traditional ball ornaments, candy canes, and tinsel for a classic focal piece.


6. Low-Maintenance Table Decor
Contrary to popular belief, you don't need a fancy tablescape to make your dining room shine. A rustic burlap table runner paired with a pine garland and brass candlesticks creates a simple and elegant holiday vibe. Tie bunches of foliage, berries, and ribbon to the back of your dining room chairs for an instant festive upgrade.


Bring the Holidays to Your Home
As we continue to spend more time at home this season, creating a cozy and festive atmosphere is a must for the holidays. Holiday decorating doesn't have to be burdensome, a few simple upgrades can completely transform your home. If you're looking to impress this year, Nativa's interior design services can help bring your ideas to life in style.
Our award-winning high-end interior design team has gained its experience over the last 20 years through more than 1,000 projects servicing not only Southern California but with some outstanding works across the nation and internationally. With our diverse tastes and styles, we'll be able to pair you with the best representative to match your needs. Whether you are looking for Mediterranean, Modern Mountain, Contemporary, Transitional or Coastal décor style, we're here to help.
Meet with one of our designers today to discuss how we can incorporate these Christmas decoration ideas into your interior design this season.