This week, we're giving you an exclusive look inside one of our favorite San Diego interior design projects: this gorgeous Solana Beach house.
Our award-winning luxury interior designers put their 20 years of experience to work on this high-end property. By pairing modern and traditional design styles, our team created a luxurious beach home that's cozy enough to relax by the waves, but chic enough to host a cocktail party.
The nautical color palette our team chose perfectly encapsulates the breezy San Diego beach to create a soothing yet vibrant atmosphere. Here's a sneak peek into this stunning property and the insider interior design tips that brought it to life:
Living Room
The living room of this home was designed with both function and form in mind. These cream couches and striped armchairs offer ample seating for gathering friends and family around the fire for long chats or cozy movie nights. Speaking of the fireplace, this custom design features a layered stone surround, tiled hearth, and wooden mantle that give the room dimension through texture and color. The built-in entertainment center offers convenient storage that perfectly frames the widescreen TV and fireplace.
In true San Diego interior design fashion, we used accents of blue to breathe life into the otherwise neutral color palette, while the clean white base offers stability and brightness. This airy living room is the ultimate setting for an elegant beach getaway.
Office
This stylish home office puts a luxurious twist on minimalism. Neutral tones and large uncovered windows create a focused environment that is sure to spark inspiration even within the deepest of creative blocks.
These blue velvet chairs—that are to die for—add an impactful pop of color that ties the office together with the home's broader design style. While the gray wash, woodgrain accent wall further brings out the metallic pops of silver dotted around the room and adds an additional layer of sleek texture. Finished off with an ergonomic white chair and wooden desk with lucite legs, this office is truly a work of art.
Bedroom
The master bedroom is one of our favorite rooms in this Solana Beach property. The king-sized bed with a velvet teal backboard is the perfect place to lay your head at night after a long day in the sun.
These metallic three-drawer bedside tables are perfect for hiding unsightly items and managing clutter, and as a bonus, they look fabulous! The crystal pendant lamps give the room an elegant and whimsical feel, while the warm neutral tones make the space inviting.
We'd be remiss not to mention this lovely vanity (below) we set up in this master. The mirrored vanity table is chic storage that not only looks amazing but will keep your makeup collection out of sight while keeping the essentials accessible. The mirrored design of this piece also reflects the natural light that flows into the bedroom and truly makes it seem even larger. Topped off with a geometric-shaped mirror and comfy white chair, this vanity station screams luxury.
With a balcony opening up to an ocean view, this stylish bedroom is what beach house dreams are made of.
Bathroom
We took a clean, minimalistic approach when it came to the bathroom of this Solana Beach home. The pure white color scheme makes it feel like a luxury spa. We can't think of a better place to unwind after a long day.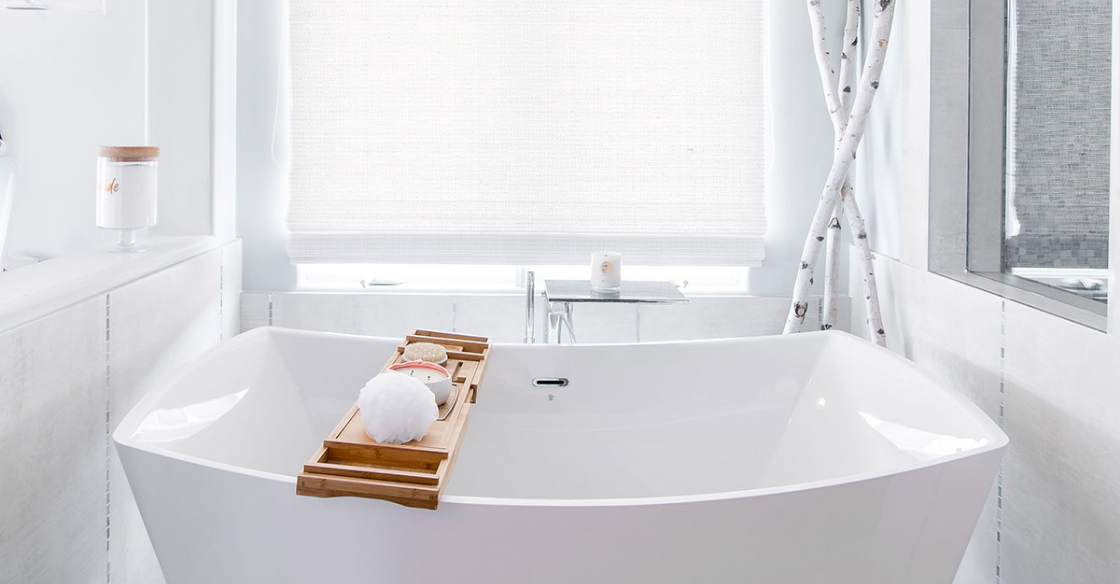 Natural accents like this wooden bath tray, and these aspen tree branches bring an organic element to the bathroom that completely transforms the space. Complete with a porcelain tub that begs one to indulge in a bubble bath, this is by far the most relaxing room in the home.
Lounge
This cozy lounge/sitting room/multipurpose room is just another example of how our designers use curated pieces to create an attractive yet functional space. These gray chaise lounges make for the perfect spot to curl up with your favorite book and a pastry from Claire's on Cedros. The lush, geometric-patterned area rug adds another layer of comfort while giving the room some dimension.
The textured sideboard cabinet, along with the gold sculpture and neutral-toned wall art, gives an artistic focal point to the space, making it a classic elegant lounge area.
The Details
In this home, as with any space we design, the details truly personalize and tie the room together. Crystal bowls, multi-colored vases, abstract wall art, plants, books, candles, and trinkets all work together to compliment this house's design style.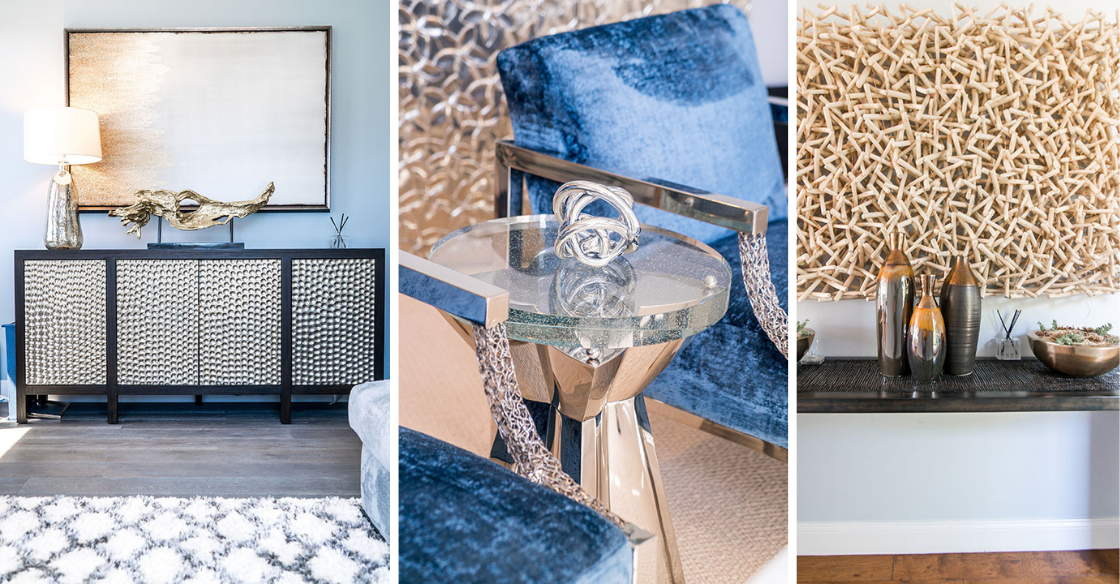 Each piece was deliberately chosen to reflect the clients' personality and add touches of elegance to every area of the home. Curated details make all the difference between a lovely home and a STUNNING home.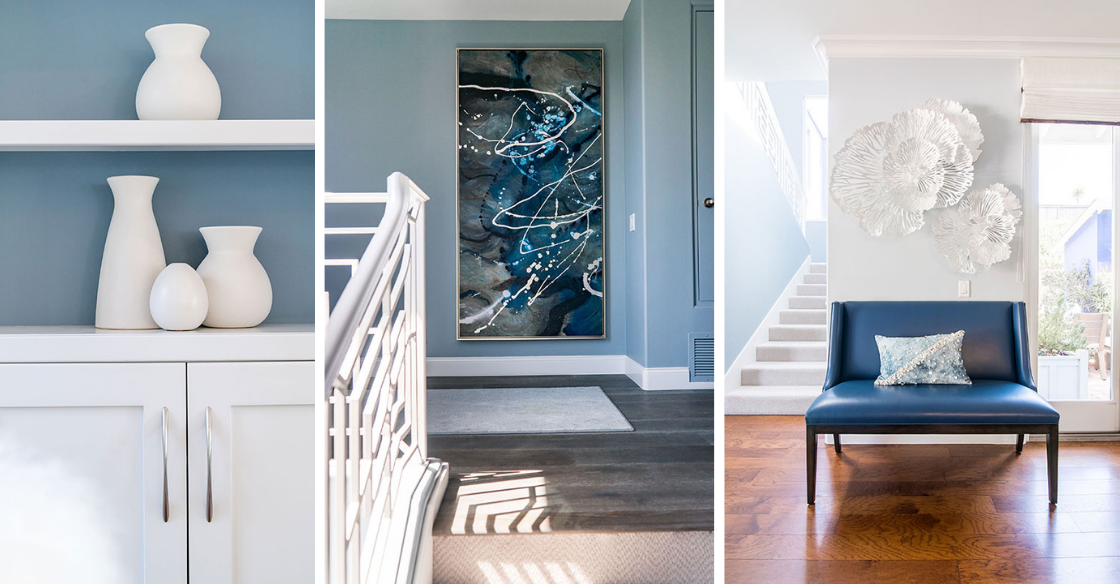 San Diego Interior Design Experts
Decorating this gorgeous Solana Beach house was such a wonderful experience for our design team. For more interior design inspiration, view our project gallery.
Our award-winning, high-end interior design team has gained its experience over the last 20 years through projects servicing not only Southern California but with some outstanding works across the nation and internationally. Very diverse in taste & style, whether you are looking for Mediterranean, Modern Mountain, Contemporary, Transitional, or Coastal décor style, we'll be able to pair you with the best interior designer to match your needs.
Connect one-on-one with our designers to discuss how we can elevate your next interior design project.