We're so excited to give you an exclusive look into our San Diego interior design project of the month: a luxurious Pacific Gate condo. Our award-winning luxury interior designers put their 20 years of experience to work on this high-end property. We paired modern and coastal design styles to elevate this luxury condo and create the perfect entertaining space.
Here's a sneak peek into this stunning Pacific Gate condo and the San Diego interior design trends we used to pull it off:
Kitchen
The kitchen of this luxury condo was designed with both function and form in mind. We used a combination of colors, tones, and textures to create interesting focal points while keeping the room light and airy. The solid white island is the star of the show offering the perfect place to prepare dinner, sit down for breakfast, or grab a midnight snack. The modernized wood-finished cabinets contrasted with the bright white creates an effortless California-cool aesthetic. Dramatic pendant lighting over the island and an elegant chandelier above the dining table offers multiple lighting options that are also beautiful decorative pieces. Finally, we introduced pops of color to the space through plants, centerpieces, and other accessories to tie it all together.
Bedroom
Creating an inviting yet elegant master bedroom is the key to quality San Diego interior design. Our interior designers chose a suede bed frame with a matching headboard and bench to instantly warm up the space. These matching two-drawer bedside tables are perfect for hiding unsightly items and managing clutter, plus they look fabulous! We added a chaise lounger near the window, which is the ideal place to curl up with a book after a long day. Finally, the subtly patterned wallpaper in neutral tones behind the bed ties the entire room together without overwhelming the design. With large windows that provide ample natural light and city views, this stylish bedroom is what dreams are made of.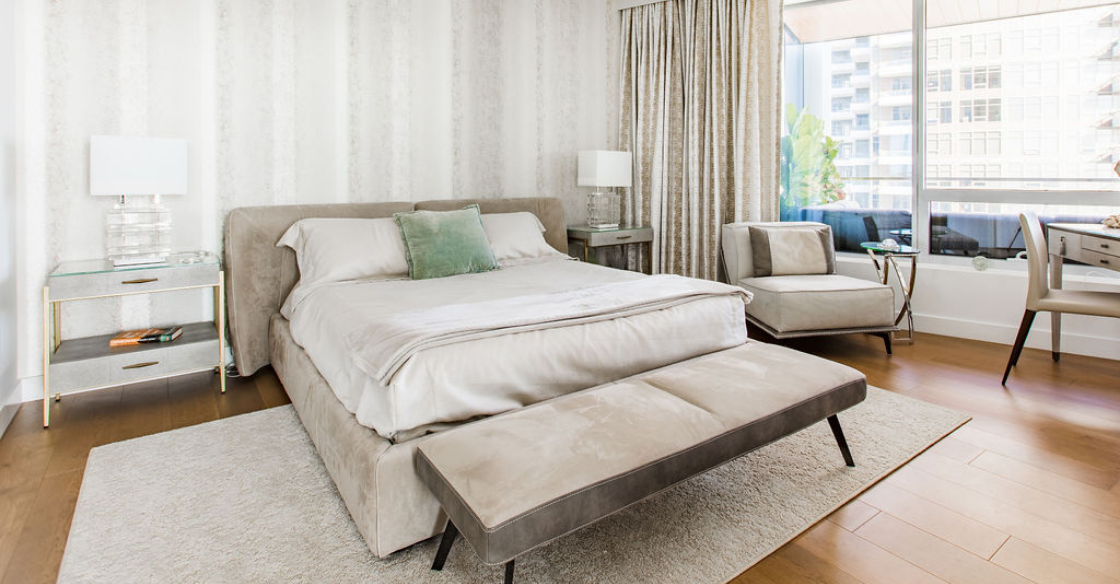 Patio
One of our favorite parts of this Pacific Gate condo is the spacious patio overlooking the city. We used high-end patio furniture to create a comfortable seating area perfect for entertaining guests or curling up with a book to watch the sunset. Large floor-to-ceiling windows give an air of luxury while offering expansive, uninterrupted views of Downtown San Diego. By adding oversized plants and decorative elements, we transformed this patio into the perfect little high-rise hideaway.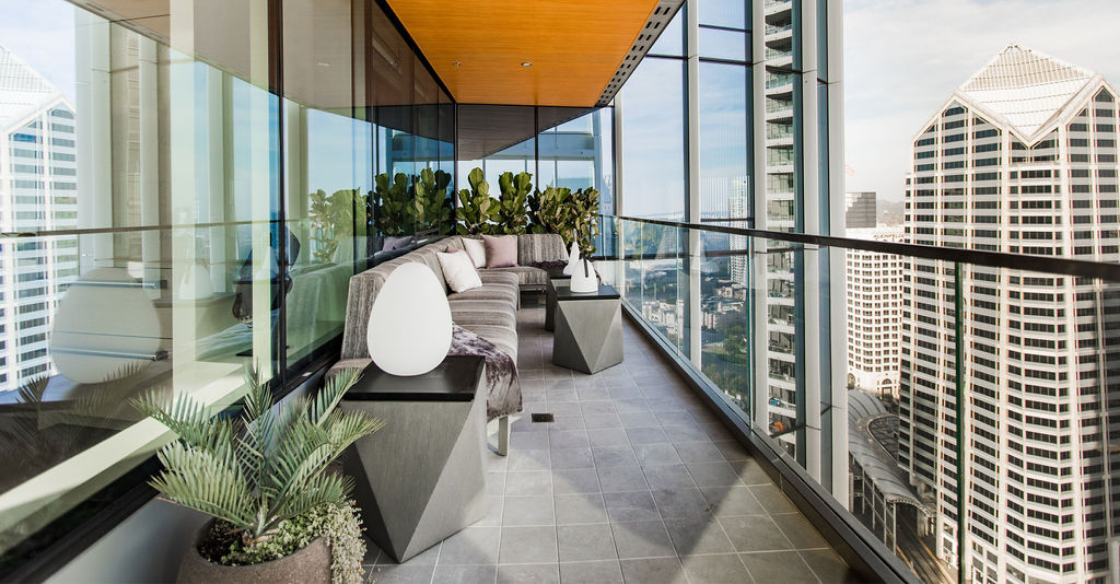 The Details
Neutral, breezy color schemes are the standard in San Diego homes, so art, rugs, and decor accents are a great way to introduce pops of color to the space. In the condo entryway display, we chose a colorful abstract piece as the focal point to add a touch of sophistication, worldliness, and drama to this mid-century modern home. We also incorporated bedside tables with pops of blue and lots of textured surfaces throughout the condo to achieve a dynamic look.
Each piece was specifically chosen to reflect the clients' personality and add touches of elegance to every area of the home. Curated details make all the difference when it comes to San Diego interior design.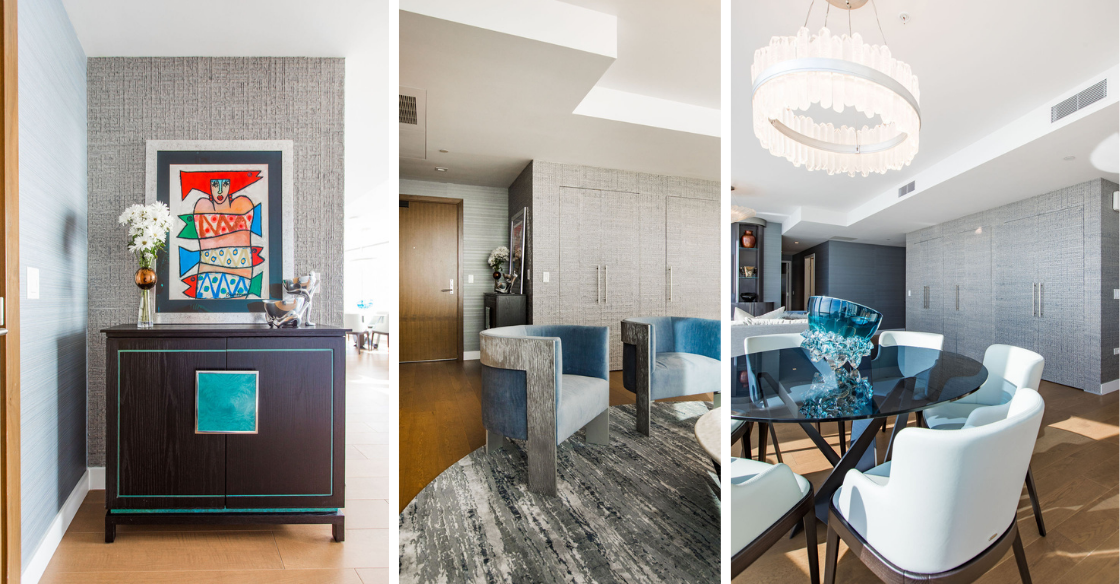 San Diego Interior Design Experts
Our award-winning high-end interior design team has gained its experience over the last 20 years through more than 1000 projects servicing not only Southern California but with some outstanding works across the nation and internationally. Very diverse in taste & style, whether you are looking for Mediterranean, Modern Mountain, Contemporary, Transitional, or Coastal décor style, we'll be able to pair you with the best representative to match your needs.
Connect one-on-one with our designers to discuss how we can bring these luxury home decor techniques to your next interior design project.