You know when you walk into a space and immediately feel comfortable because everything seems to be in the exact right place? That's the magic of accessories! While the entire interior design process can be fun and exciting, no part is as transformative as accessorizing.
Accessories offer an opportunity to infuse personality and warmth into space while also giving it a sense of cohesiveness. Specifically, living room design relies a lot on accessorizing to create vibrancy, character, and flow amongst contemporary furniture. Well accessorized, magazine-worthy living rooms are actually much more achievable than you may think. By taking a page out of the professional's book, you too can style a room down to the finest details. Here are a few basic home decorating tips that'll have you accessorizing your living room like a pro in no time.
Living Room Design 101
When it comes to accessorizing a room, it's a good idea to start with a blank slate. Start by clearing out all the decor items in your living room, such as lamps, trinkets, artwork, and pillows. A decor-free space will help you clearly visualize how you want to place your accessories and allows you to rearrange the furniture before you begin styling.
Choosing the Right Accessories
The number one most important part of accessorizing is choosing items that reflect your unique style and personality. Think of accessories as the soul of your home. You may be tempted to go out and buy a box store's latest collection in hopes of creating a cohesive layout, but resist! Store-bought collections tend to look contrived and uniform. Professional interior designers create carefully curated collections of artwork, trinkets, vintage pieces, and eclectic accessories over years of experience. Thrift shops, estate sales, and farmer's markets are all great places to start building your own collection. You may even have some existing items around your house that could make for great accessories in a new setup. Some of our favorite living room accessories include:
Vases
Plants
Rugs
Candles
Artwork
Trays
Throw pillows
Books

Layering
Accessorizing is all about bringing interest, beauty, and function into a space. Professional interior designers use a layering technique to uniquely combine different items to achieve a seemingly effortless look. Layering requires you to consider every element of a space, including textures, heights, materials, balance, and size.
To practice this layering technique in your own living room design, play with the decor you already have in your home and try to group them with items you think might work well together in a vignette. A vignette is a grouping of items corralled together to make one eye-catching decorative element. Start by finding a place for the largest accessory and then place smaller complimentary items around. For example, you can place a large vase on a shelf and then place smaller items like plants and trinkets around it to create a vignette.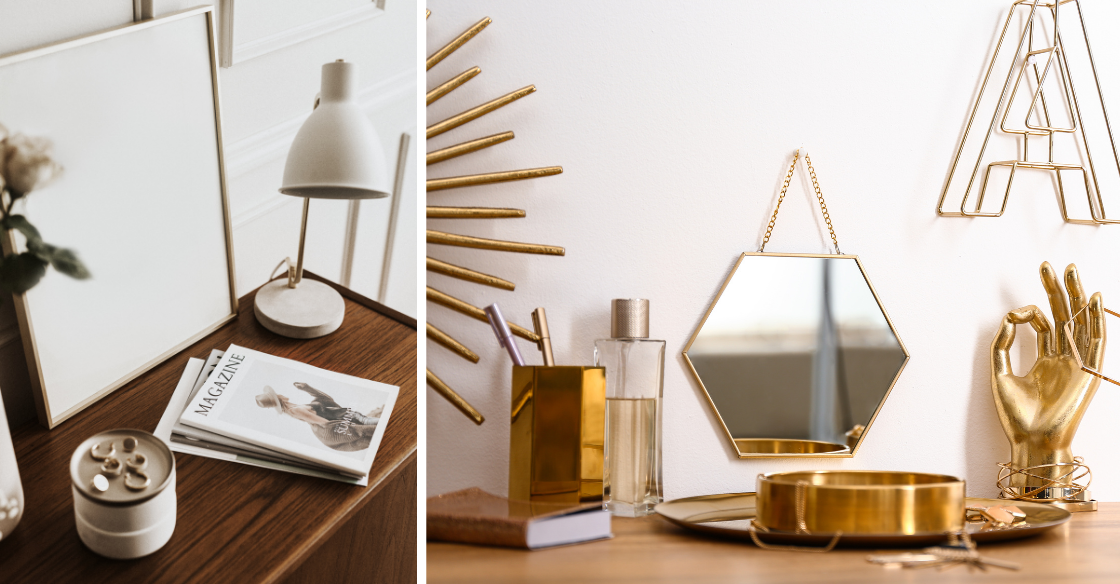 Here are a few rules of thumb to remember when practicing layering:
Use a variety of widths and heights to avoid bulky groupings
Display accessories using different techniques like hanging, propping, and stacking
When in doubt, add a plant
Avoid too many vignettes in one room
Arranging items in odd numbers (groups of 1,3,5,7, etc.)
Add dimension through shiny and reflective objects
Layering can instantly make your home feel more luxurious and give it that lived-in feel while introducing some personality to the space.
Consider Color
When it comes to picking your accessories' color, choose items that accentuate your living room's existing color palette. You can choose items that blend into the overall color scheme or ones that create contrast with an accent color. An easy way to start is by choosing accessories in two colors that coordinate with your wall color and furniture. Add in a third color for an eye-catching pop, and you're ready to go!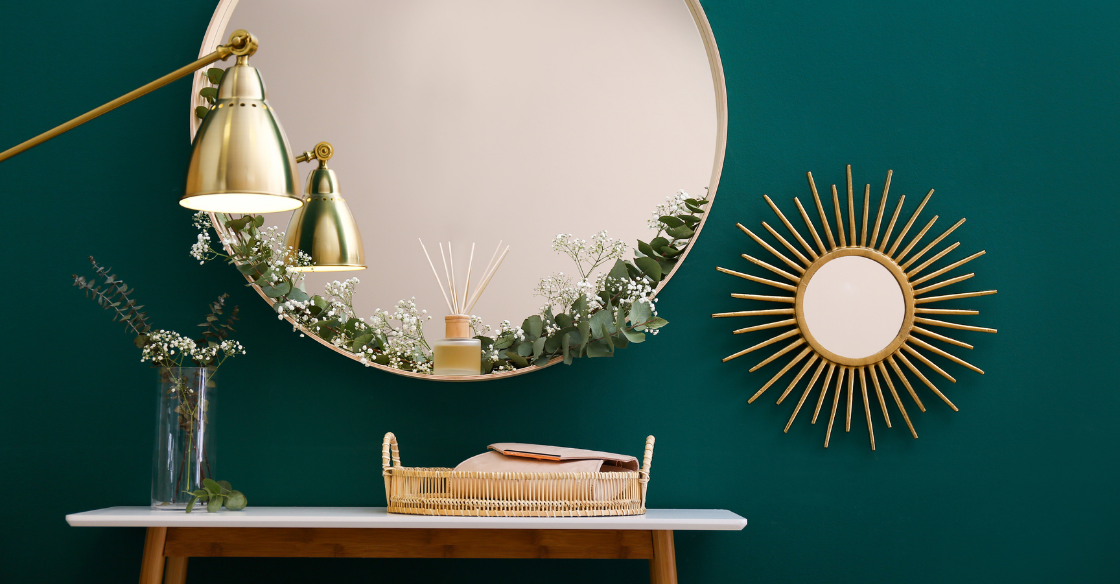 How to Accessorize a Living Room
Now that you know how to accessorize like a pro, try out these 4 living room decor ideas:
Coffee Table Decor
Coffee tables offer prime real-estate for accessorizing with carefully curated vignettes. Coffee table decor tends to become cluttered easily, so it's a good idea to start with a table tray. Get creative with your tray material and consider something like wood, marble, or even a mirrored surface to create dimension. Once you've got your tray, choose a focal point for your coffee table. It should be something large and eye-catching, like a vase or piece of art. Take smaller objects of different heights and widths like books, plants, candles, and figurines, and place them around your focal piece until you feel they're balanced. Balance is an essential component of any good coffee table display, so don't underestimate the power of symmetry here!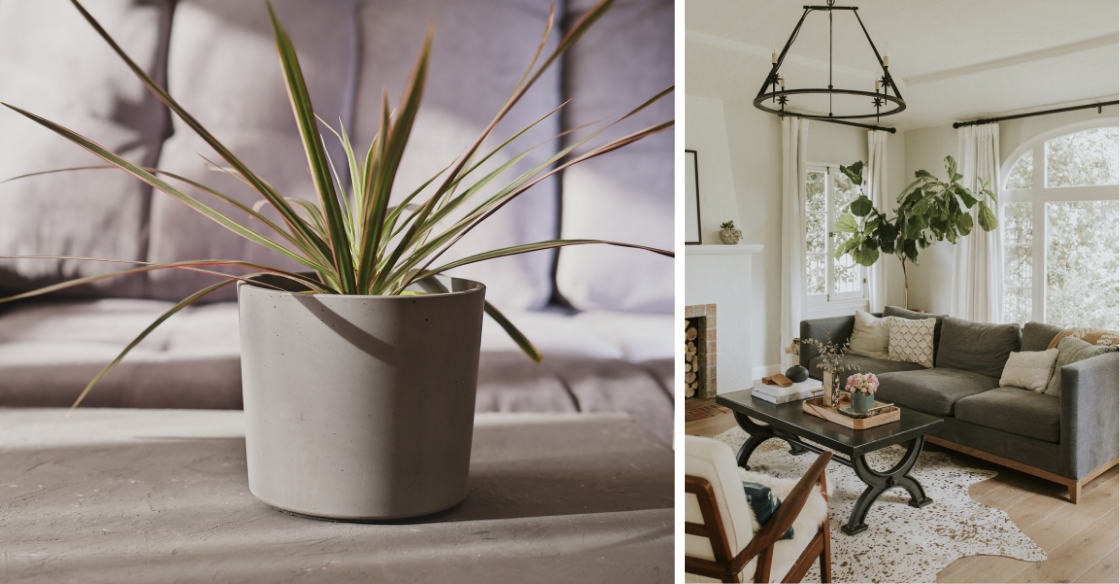 Rugs Are Your Friend
Styling with rugs is a tried-and-true interior design trick that you can easily implement when it comes to accessorizing your own living room. Rugs can complete a room by visually tying all the different elements together. You can make a rug the focal point of your living room to immediately create interest and warm up the space.
If your upholstery or wallpaper has a bold pattern, opt for a more subtle rug. If your design is fairly mild, you can try a busier pattern or bolder colors to create more dimension in the room. You can also use different-sized rugs to create a sense of variety within the room or to define different spaces, such as separating the living room from the foyer. You can even use a rug as a wall hanging for an unexpected accessory. When styling rugs, make sure to consider the size and proportions of the room to avoid a cluttered feeling.
Bookcase Styling
Shelf styling has gained popularity over the past few years to add personalized touches to a space. By layering items such as plants, artwork, photos, trinkets, and of course, books on a shelf, you can achieve a chic yet eclectic feel that ties your entire living room together. Start with the largest items like vases and picture frames and fill empty spaces with smaller decorative elements. Try placing large pieces of artwork toward the back of the shelf and layer smaller items like candles, gemstones, or trinkets in front of them.
When it comes to arranging your books, try creating various vertical and horizontally placed stacks to make a visually interesting mix of sizes and shapes. You can choose books with spines that match your color scheme or cover them in handmade jackets of patterned or solid colored paper. An important design rule is to have accessories positioned at different levels throughout a room. Use your book stacks as decorative pedestals to give your smaller trinkets a boost to really pull off this look like a pro.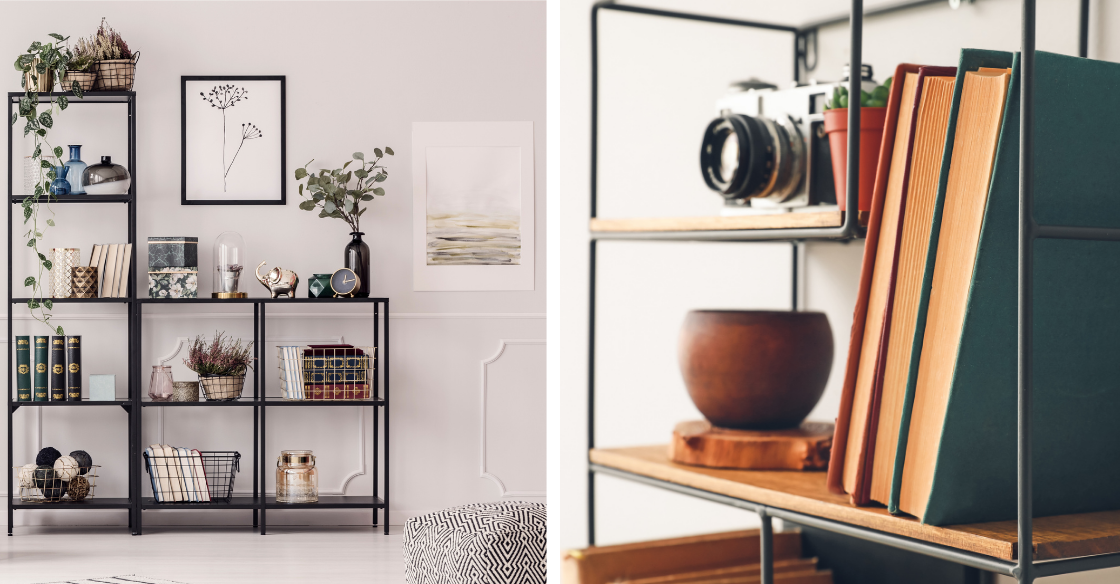 Pillows
Pillows are like jewelry to a room. Because they come in various colors, textures, and shapes, pillows are the perfect versatile accessory to change up your living room seasonally. To style your pillows like a pro, first, you'll want to choose an anchor color. The anchor color can be from a piece of furniture that brings in a pop of color, or it can be one of the primary shades in your color palette. Now, find pillows in different patterns, textures, and shapes in that color. Mixing and matching styles and prints instantly elevate a room's design and give it a professional flair.
Once you've found your favorite eye-catching pillows, you can create a vignette by layering your throw pillows on the couch and adding a cozy textured throw blanket. If you like the look of asymmetry, try an arrangement that looks more random and effortless. If you prefer a more balanced look, get doubles of each pillow and layer them symmetrically on either side of your couches and chairs. However you choose to arrange your pillows, just make sure they help tie in your living room's overall look.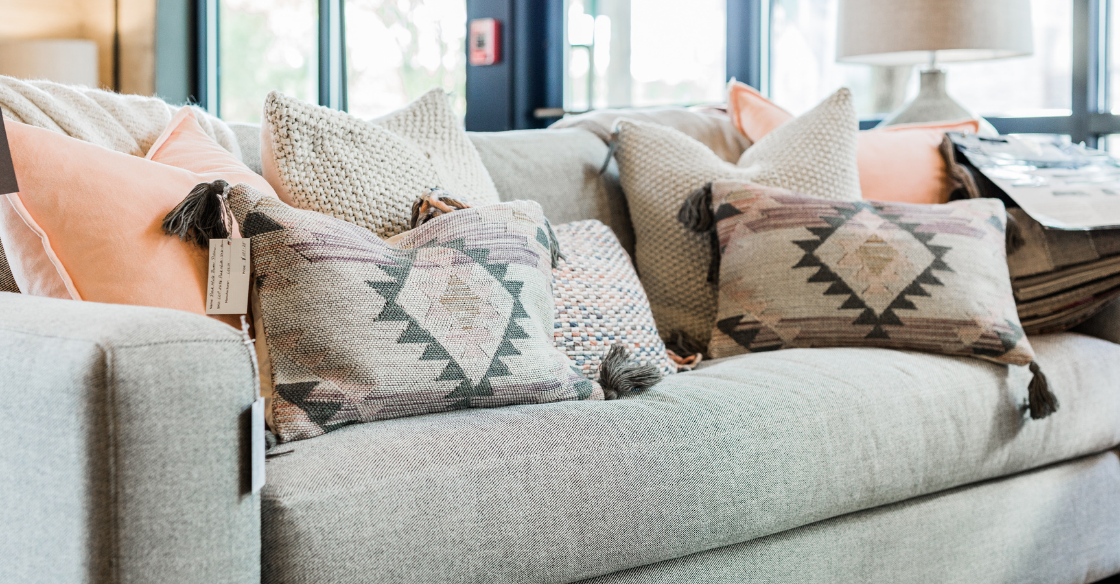 San Diego Interior Design Experts
Accessorizing is one of the best parts of interior design, but it can prove to be a lot more difficult than it looks. The award-winning high-end interior design team here at Nativa has gained its experience over the last 20 years through more than 1,000 projects servicing Southern California and clients across the nation and internationally. Diverse in taste & style, whether you are looking for Mediterranean, Modern Mountain, Contemporary, Transitional, or Coastal décor style, we'll be able to pair you with the best representative to match your needs.
Connect one-on-one with our designers to discuss how we can help you accessorize your living room with luxury interior design styles this season!