The kitchen is often the last stop on the home renovation tour, mostly because homeowners don't know how to update their outdated styles without breaking the bank. Whether your kitchen design is a true 70's-era fixer-upper or you're just ready for a refresh, a few impactful changes can go a long way. This year's interior design trends are chock-full of bold colors, functional design, and eco-friendly options that can help usher your kitchen into the present day. Here are seven unique ways to upgrade your outdated kitchen design and reclaim the heart of your home.
1. Refresh with a Color Update
A great place to start when it comes to updating your kitchen design is a fresh coat of paint. Unexpected paint colors can completely transform a space and make it feel brand new. Pantone's 2021 Color of the Year is not one but two colors: Ultimate Grey and Illuminating Yellow. These colors instantly create contrast and warmth in any space, making it a fantastic kitchen option. You can play with other color combinations based on color psychology to create the perfect atmosphere for your new favorite gathering space.
Try color blocking –a trend that's sure to overtake the design industry this year– with fun shapes to define specific areas of the kitchen and create an eye-catching focal point. In 2021, plain white kitchens are out, and bold, colorful kitchens that reflect your style are in!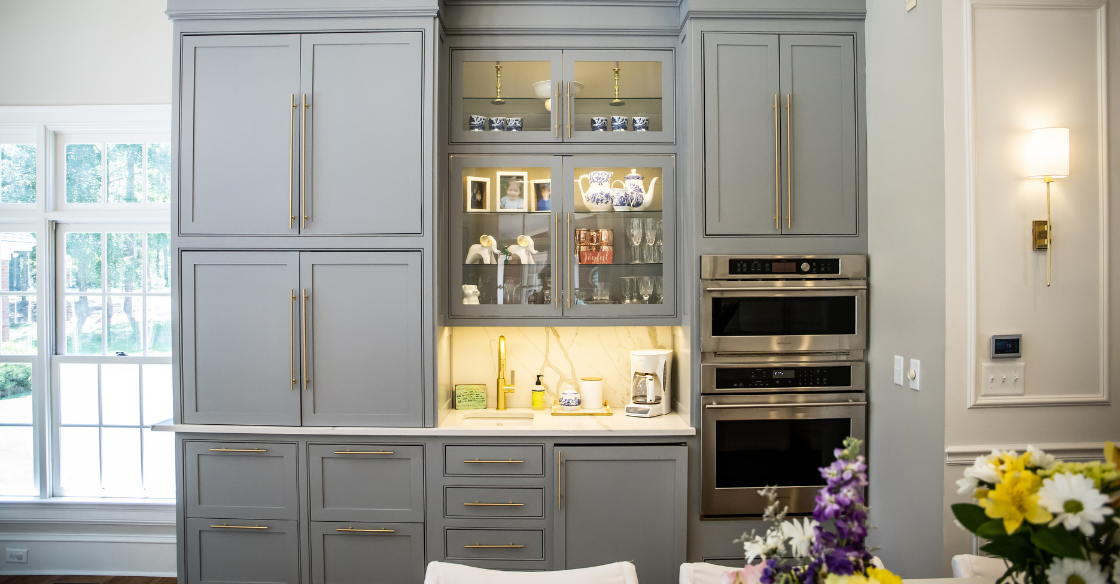 2. Nix your upper cabinetry
Wood cabinets are a design tool of the past used to house unsightly dishes and endless stacks of mismatched Tupperware. As more homeowners lean towards minimalism and open floor plans, an increasingly popular kitchen trend is to nix your upper cabinetry altogether to open up the space. Cabinets can distract the eye and make kitchens feel overcrowded and small. Removing your cabinets will free up wall space and allow for modern open shelving.
Open shelving offers a wonderful opportunity to showcase your artisan dish sets and your perfectly curated mug collection. Floating shelves also provide a space to add decorative elements like plants, framed artwork, and trinkets that add a touch of personality to your kitchen.


3. Don't Desert Your Island
A massive, eye-catching island is the perfect statement piece for any luxury kitchen. If you already have an island and you're looking for a dramatic way to change up your kitchen design, consider a color change. By painting, staining, or tiling your island, you can completely transform your kitchen's look and feel. A brightly colored island in yellow, blue, or green is sure to make a bold statement, or you can opt for a darker finish if you have a more understated design style. Add some colorful bar stools, a floral arrangement, and a bowl of lemons, and your kitchen will feel brand new.


4. Upgrade your metals
Outdated materials can typically be found in kitchen hardware. Updating your light fixtures, range hood, and drawer pulls is a simple yet impactful way to bring your kitchen into the 2020s. For years, we've been told we need to pick one metal and stick to it, but it's time to break that rule! Mixing metals is a savvy interior design trend that pushes boundaries and makes a statement.
The metals you choose depend on the interior design style you're trying to achieve. If you like more contemporary designs, focus on using stainless steel, chrome fixtures, or an on-trend polished copper. For Tuscan and farmhouse styles, you can't go wrong with brass. Once you choose a primary metal, select an accent metal with a similar finish to incorporate throughout the kitchen. Working with an interior designer can help you perfect this look and take your kitchen to the next level.


5. Industrial countertops
Countertops take up a large amount of real estate in your kitchen, making them a top priority when it comes to renovations. Tile-and-grout countertops or cheap vinyl instantly make kitchens look dull and dated. Upgrading your countertops to a modern and durable material is a great way to improve form and functionality.
There are endless options when it comes to modern countertops choices. There's an option for every style and budget, from solid surfacing to natural stone like marble and granite. Lately, designers are embracing durable structural materials to align with the industrial style trend. Take a page out of their book and consider countertop materials like concrete, brick, and tile to modernize your kitchen design.


6. Eco-friendly appliances
These days, we're all trying to do our part to lessen our environmental impact, and outdated kitchen appliances are a great place to start. Many homeowners are gravitating towards sustainable appliances that enhance the look and performance of kitchens. Energy-efficient appliances in bold colors or sleek finishes will help you achieve a modern look while reducing your energy consumption and utility bills. Consider replacing your low-flow kitchen faucets as well to conserve water. Kitchen updates aren't just important for aesthetics; they're important for our environment as well.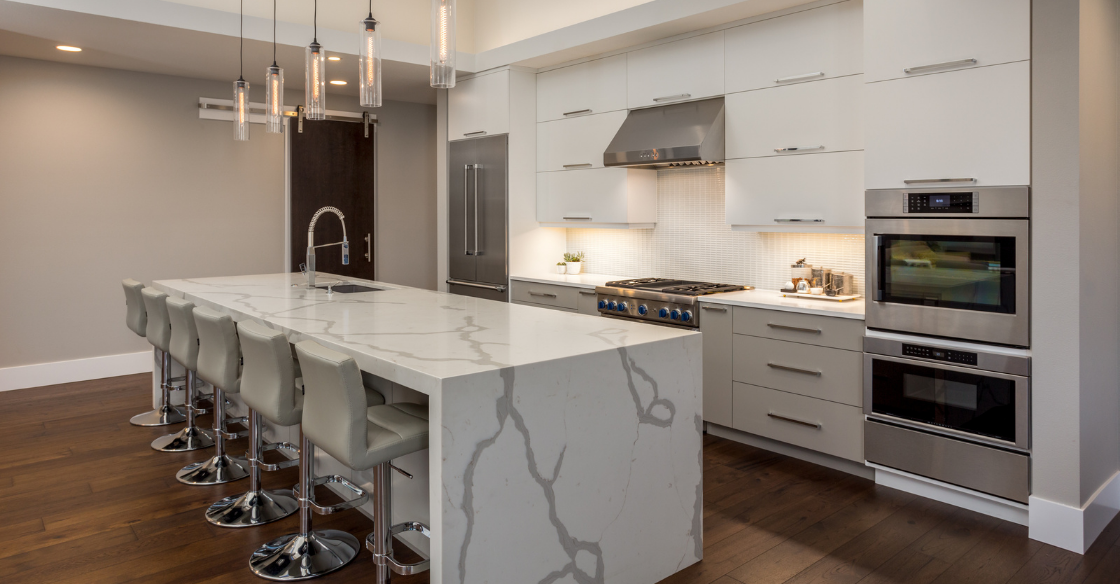 7. Light it up
When mentioning kitchen update ideas, we'd be remiss not to mention lighting. Although kitchen lighting can sometimes be an afterthought, it's a major component of the area's safety and ambiance. Overhead fluorescent lighting is an interior design cardinal sin that can easily be upgraded to recessed lighting for a modern alternative. Consider installing a dimmer switch for versatile lighting while entertaining, cooking, or popping in for a midnight snack. Pendant lighting over a kitchen island, under cabinet lighting, and chandeliers are all modern kitchen lighting trends that you can easily apply in your own home.


Updated your San Diego kitchen design
The award-winning high-end interior design team here at Nativa has gained its experience over the last 20 years through more than 1,000 projects servicing Southern California and clients across the nation and internationally. Diverse in taste & style, whether you are looking for Mediterranean, Modern Mountain, Contemporary, Transitional, or Coastal décor style, we'll be able to pair you with the best representative to match your needs.
Connect one-on-one with our designers to discuss how we can help you modernize your outdated kitchen design and transform it into the cooking space of your dreams!